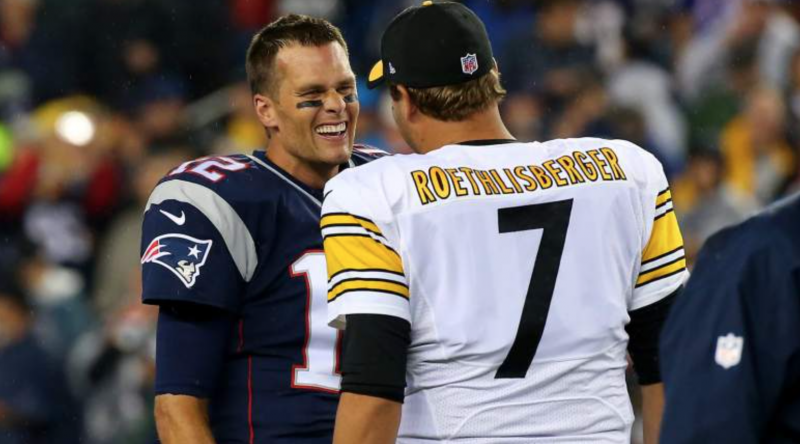 Ultimate Patriots-Steelers Betting Guide
You may have heard: Week 15 features a game so massive, so consequential that it'll shape NFL narratives for weeks to come and the playoff picture long after that. We're talking about Broncos-Colts, of course. Thursday Night Football, baby! Color rush unis! Get excited!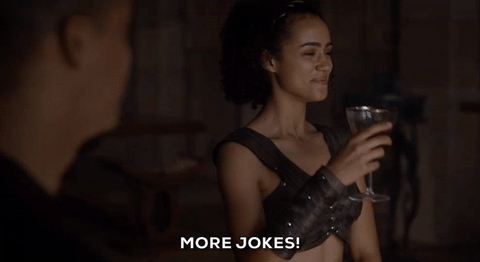 What, that's not the game you were thinking? Hmmm, let's see, what about Patriots-Steelers? Sound better? It should: Brady vs. Ben … 10-3 vs. 11-2 … Road chalk vs. home dog. Not even Game of Thrones would out-rate this sucker!
And where there are big games, there will be action. Lots and lots of action. Which is where we come in, with a deep-dive for the ages.
---
THE SETUP: Patriots (-2.5) at Steelers  |  O/U: 53
Betting market: Coming off the Patriots' high-profile loss to the Dolphins, Pinnacle opened the Pats as 1-point road favorites. Bettors quickly pounced, pushing the line up to New England -3, before Steelers action pushed it back down to -2.5. — PJ Walsh
Injuries to watch: The Steelers' committee approach in replacing Ryan Shazier at linebacker led to Joe Flacco scoring a career-high 38 points last week. Pittsburgh will be without CB Joe Haden (leg) against the Patriots' league-best offense in pass DVOA. New England won't have WR Chris Hogan (shoulder), but TE Rob Gronkowski will return from his one-game suspension. Steelers WR JuJu Smith-Schuster (hamstring, questionable) will be greeted by a suddenly healthy New England secondary if he can suit up. — Ian Hartitz
The situation: This is a great spot for the Steelers, who will attempt to avenge an AFC Championship loss against a New England team coming off of a short week to play its third consecutive road game. But fading the Patriots based on situation hasn't worked out too well in the past. —Stuckey
Noteworthy trends: Teams that have won 80% or more of their games in a season and still find themselves as home dogs have gone 33-23-1 ATS since 2003. That's good for Pittsburgh. Of course, Brady is the GOAT when it comes to covering against teams with winning records (72-48-6 ATS). — John Ewing
Now let's take a look some of the specific matchups that will determine this game.
---
WHEN THE STEELERS HAVE THE BALL
DFS edge: Antonio Brown is on pace for a season-long 121-1,857-11 line; thresholds only he and Jerry Rice have passed in the history of the league. Next up in his path of destruction is a Patriots defense that he's averaged a 7.4-90.8-0.6 line against in five career meetings. The Patriots haven't allowed more than 250 passing yards since Week 6, but betting against Brown and his quarterback's success at home hasn't historically been a winning decision. AB's positive Projected Plus/Minus in our Pro Models indicates he's still a bit undervalued, even with an industry-high salary among all wide receivers. — Ian Hartitz
QB note No. 1 to file away: Big Ben as a home dog = good — Evan Abrams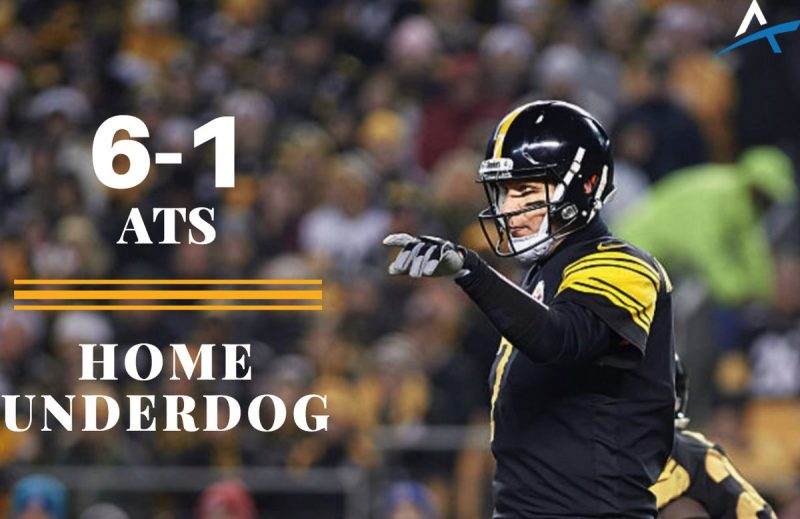 Scouting report: Patriots will certainly give up yards, but more often than not, they find a way to hold you to 3 instead of 6. New England ranks seventh overall in red zone TD percentage. Pittsburgh's offense, for all of its playmakers, has had trouble in this area, ranking just 25th.
After allowing 32 ppg in their first four games, the Patriots have benefited from playing much more man coverage with CBs Stephon Gilmore and Malcolm Butler on the outside and breakout second-year player Jonathan Jones in the slot. The point? New England has the horses to hang with the Steelers receivers (knowing, of course, you're never going to completely shut down Brown).
The Steelers need to run the ball with Le'Veon Bell and James Conner to win this game. New England's defense is most vulnerable on the ground, ranking dead last in yards per rush allowed (5.0). The Steelers have the elite offensive line and workhorse back to wear the Patriots down and keep Brady off the field … if they commit to not throwing the ball 50 times. — Stuckey
---
WHEN THE PATRIOTS HAVE THE BALL
DFS edge: It's hard to cast shade at Brady — who leads the league with 324 completions, 3,865 yards passing, and 8.6 adjusted yards per attempt (AY/A) — but he doesn't have a great matchup. The Steelers rank 10th against the pass in DVOA, and they have the interior pass-rushers (Cameron Heyward and Stephon Tuitt) to make Brady uncomfortable. It helps that tight end Rob Gronkowski (suspension) will return to action — Brady without Gronk is a different quarterback — and Gronk will have a much easier time without Shazier following him in coverage. Brady has a position-high ceiling projection in our DraftKings Models, but the Steelers have held opponents below their implied Vegas totals in eight games this season. Brady investors have some cause for concern. — Matthew Freedman
QB note No. 2 to file away: Tom Brady off a straight-up or ATS loss = good — Evan Abrams and John Ewing
Scouting report: If you watched the Dolphins' shocking MNF upset over the Pats, you saw the blueprint for how to slow Brady & Co. Play tight man coverage, generate consistent pressure with a four-man rush, hit Brady early and often, and take away his quick throws.
The Steelers don't run a 4-3 man-coverage scheme. In fact, they've done pretty much the exact opposite for the past decade-plus, employing a 3-4 zone blitz defense. And when you play zone against Tom Brady, you're asking to be picked apart. TB12 has done just that in the Pats' past six matchups against Pittsburgh, to the tune of 1,889 yards (315 ypg),19 TDs, and 0 INTs. Extrapolated over a 16-game season, that's 5,000-plus yards, 51 TDs, and no picks. Decent.
In the offseason, the Steelers openly discussed needing to play less zone to win a Super Bowl. But they haven't, instead opting to stick with the same old schemes, by and large. And after Pittsburgh lost Shazier to a season-ending back injury, I'm not even sure they'd be effective playing man against the Patriots anyway. The Ravens carved up the Steelers' backup linebackers, and New England has far more worrisome weaponry. Man, zone, whatever … the Pats are going to move the ball. — Stuckey
---
A WORD ABOUT SPECIAL TEAMS
In the third quarter of last week's game, something weird happened: A Patriots opponent started a drive inside New England territory. It marked the first time in 100 possessions that had happened, the longest streak in 25 years, according to Evan Lazar of the Boston Herald. This speaks to a few things: 1) The Pats don't turn it over much (just 10 times this season, second-best in the league) and 2) They have excellent punt and kick coverage units, led by Matthew Slater. New England is the only team in the NFL to have their opponent start inside its own 25-yard line on average. Those hidden yards add up over the course of a game … and a season. —Stuckey
---
PASS OR PLAY?
Play Patriots -2.5. There's no way around it: Belichick and Brady have owned Pittsburgh as a duo, compiling a 10-2 record (including postseason). New England's coaching advantage will be especially evident in the second half. Lay the points. — Stuckey