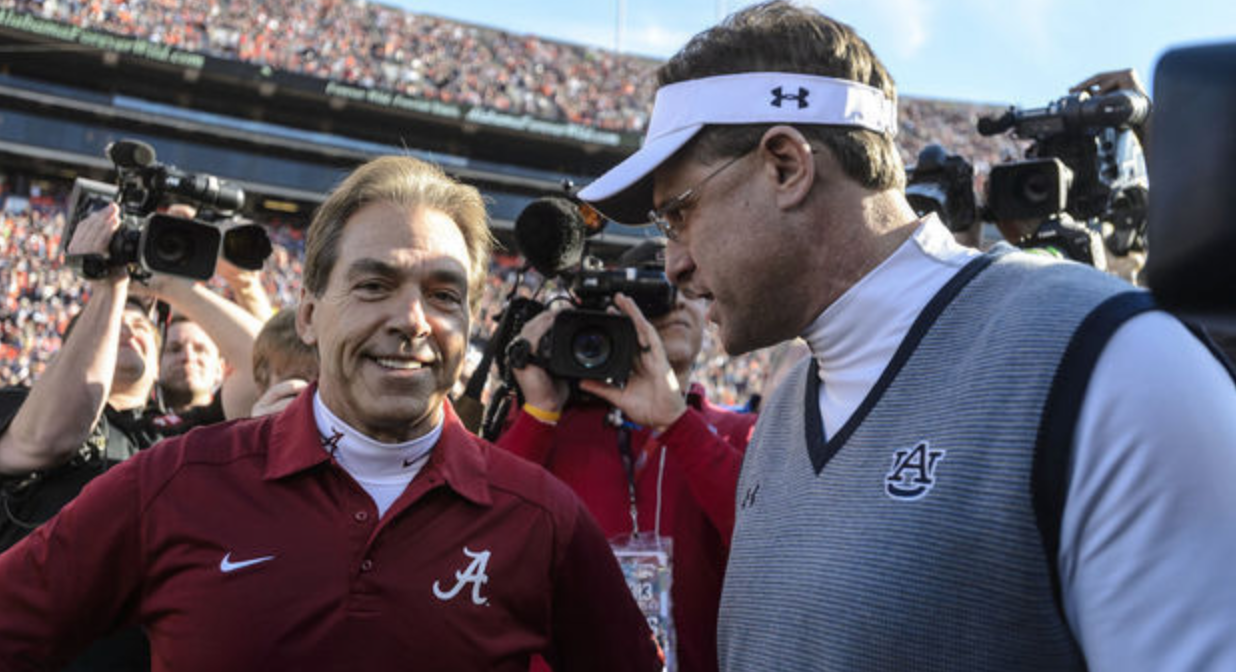 Ultimate Iron Bowl Betting Preview
The path to the College Football Playoff clearly runs through Auburn in what is essentially a playoff game in itself. The betting line, currently Alabama -4.5, is the shortest spread for an Iron Bowl since 2010, suggesting this game will be much more competitive than recent matchups.
So let's take a look at the betting market, a few trends, the advanced metrics, and the marquee one-on-one matchup, before one of our experts makes a pick in this pivotal rivalry game.
To get all the betting/DFS info your heart can handle, follow us on Twitter @ActionNetworkHQ and subscribe to our daily newsletter here.
The betting market
At the time of publication, the majority of the tickets and dollars are on the Tide (see chart below, data as of Tuesday evening). And yet the line remains at -4.5, indicating that the larger, sharper bets have taken the points.
With the line holding strong at -4.5, the best value in the current market is grabbing Auburn off the key number of four. — PJ Walsh
For live ticket and money percentages for the Iron Bowl and practically every other sporting event, become a subscriber.
Edge: Auburn
The trends
Bama struggles to cover the number against Top 25 SEC West teams: 18-20-1 ATS, compared to 19-6-1 ATS against all other ranked opponents.
As undefeated teams advance through the season, they historically become more and more overvalued by bettors. College football teams with zero losses are 116-123-5 (48.5%) ATS in November and December. That number drops to 25-43-1 (36.8%) ATS when looking at only the College Football Playoff era. — John Ewing
Edge: Auburn
The advanced metrics
· S&P+ — an all-encompassing metric that measures a team's explosiveness and per-play efficiency — makes this game Alabama -5.3 on a neutral site. The line sits at -4/-4.5 at Auburn. The Tigers' home-field advantage should be worth more than a point.
· The Crimson Tide have injuries all over the roster, specifically a linebacker and along the O-line. This shows in the advanced numbers: Alabama's offensive line ranks 105th in Adjusted Sack Rate, which accounts for sacks and adjusts for intentional grounding penalties and situation/opponent. Auburn's No. 4-ranked D-line in sack rate should get to Jalen Hurts early and often.
· On the other side of the ball, Alabama's defense ranks 96th in rushing Power Success Rate while Auburn's rushing attack ranks 12th in Power Success Rate, which measures an offense's ability to convert in short-yardage situations on third and fourth down.
· The biggest weakness for Auburn: Special teams coverage. The Tigers rank 129th and 115th in average yards allowed on kickoffs and punts, respectively. In fact, Auburn's past four SEC opponents have averaged more than 40 yards per kick return and 30 yards per punt return.
· Low scoring affair? Both defense rank in the top 5 for defensive Finishing Drives, another fancy metric that measures points allowed past the 40-yard line. So it was no surprise to see the total move from 50 to 47.5 shortly after opening. — Collin Wilson
Edge: Auburn
The matchup to watch
Alabama WR Calvin Ridley vs. Auburn CB Carlton Davis
Calvin Ridley arrived in Tuscaloosa in 2015 as the nation's No. 1 wide receiver recruit and made an immediate impact as a true freshman, leading the team with 89 receptions and seven touchdown catches and breaking Amari Cooper's single-season freshman receiving record with 1,045 yards. Comparisons to Cooper, however, are unlikely to cast Ridley in a positive light. Cooper hit 1,000 yards in 14 games as an 18-year-old. Ridley had 15 games to hit his mark, and he turned 21 at the end of his freshman season. As a 20-year-old junior, Cooper balled out with a 124-1,727-16 campaign in 14 games. Now a junior, Ridley turns 23 in just under a month, and in 11 games he has a 52-858-3 stat line.
On top of that, at the combine Cooper displayed good size (6'1″ and 211 pounds) and athleticism (4.42-second 40, 6.71-second three-cone). Ridley reportedly has good athleticism (4.35-second 40 in 2016 spring practices), but he's smaller (6'1″ and 190 pounds). Given his advanced age, Ridley is a near-lock to declare for the draft after the season, and he's received hype from draftniks as a potential first-round receiver. This weekend he'll face Auburn junior cornerback Carlton Davis, who has been a starter since his true freshman season. Davis himself has gotten some draft love because of his good size (6'1″ and 203 pounds) and steady coverage (10 passes defensed). If Ridley can get the best of Davis, that will go a long way toward helping Alabama win and alleviating concerns about his size. If Davis shuts down Ridley, it could mark the beginning of a long wintry road to the NFL draft. — Matthew Freedman
Edge: Auburn
The pick
Auburn +4.5
This is the game when Alabama's injuries at linebacker and offensive line finally catch up to them. Auburn's pass-rush and secondary is well equipped to prevent big plays out of Ridley in the passing game: They've allowed an average of just four catches for 51 yards against No. 1 receivers this season. And Expect Kerryon Johnson, who might be the hottest running back in all of football, to take full advantage of a Tide defense that has struggled in short-yardage situations. War Damn will win — or at least cover, which is what matters in these parts — this game in the trenches. — Collin Wilson