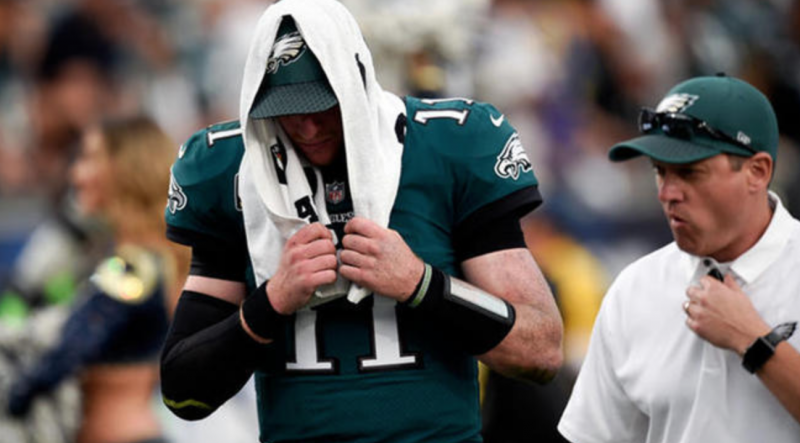 How Carson Wentz's Torn ACL Impacts Eagles' Odds
The Eagles got their biggest win of the season in L.A. on Sunday, but it might not matter in the long run. In a play that ended up being called back on a penalty, QB Carson Wentz dove for a touchdown before being hit hard in the knee area. What appeared to be a charlie horse at first glance is something much worse.
Eagles confirm Carson Wentz (torn ACL) out for the season. https://t.co/zci3iqWkAc

— FantasyLabs NFL (@FantasyLabsNFL) December 11, 2017
Wentz's left knee bent outwards when he tried to get off the field pic.twitter.com/GD9z72oiuU

— Barstool Sports (@barstooltweetss) December 11, 2017
Not good at all.
The natural follow-up from a betting perspective: How would this affect the Eagles' chances going forward? Immediately following the game, the Eagles moved from 5/1 to 10/1 to win the Super Bowl at the Westgate Superbook in Las Vegas before any diagnosis had been made. After the news was confirmed, Westgate moved them down even more to 12/1, behind the Vikings and Saints (8/1) and tied with the Rams in the NFC.
On Sunday night, Scott Cooley of Bookmaker.eu said that they would move the Eagles from 5/1 to 10/1 once they re-post Super Bowl odds.
The move is less severe than I thought. The Eagles' win on Sunday almost assures them a first-round bye, but just getting to the Super Bowl would require two wins in a stacked NFC, a tall order without Wentz, who was playing at an MVP level.
Before the season began, Wentz was seen as just a "Tier 6" quarterback by bookmakers, worth 1-2 points to the spread. Given his massive step forward this season, Cooley believes there is now a 3-4 point drop-off between Wentz and his backup, Nick Foles.
Luckily, Foles is at least a competent backup who has had success in Philadelphia before. The owner of the third-highest single-season QB rating in NFL history, Foles has bounced around the past few seasons — from Philly, to St. Louis, to Kansas City, and back to Philly again — struggling to land a starting job. There's no doubt Foles is better than most backups, but winning a Super Bowl may be a tall order.
If we look ahead to next week, the Eagles were 9-point road favorites against the Giants on the Westgate early line. Though the game is currently off the board, we'll likely see the Eagles open around -6 with Wentz ruled out.
At that point, it's up for the bettors to decide whether or not Philly is still a good bet without Wentz.
Keep your eyes glued to the Twittersphere and follow @ActionNetworkHQ for any more news as we learn more about the situation.