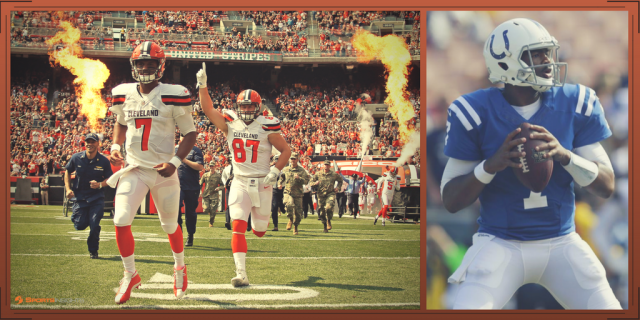 The Browns are…Favorites…
That's right, folks. The Cleveland Browns football team is currently a favorite against the Colts. On the road, too! How could you blame the books, though? Gotta pay them their due. Yesterday, DeShone Kizer's stat line was Tom Brady-esque 15-31, 182 yards, no TDs, three picks, and one headache. They lost just 24-10…all signs point to them being favorites.
This is practically as rare as a solar eclipse. The Browns have been favored on the road just 10 times before this dating back to 2003. That is 14 seasons plus yesterday's game against the Ravens, totaling 113 road games. Ten out of 113…yes, that is the worst in the league over that span, but the Raiders are right on their heels. They've been visiting favorites just 11 times since '03 thanks to a stretch from December 2005 to October 2015 in which they were favored on the road just once.
But back to the Browns. The last time they were favored in general was 12/13/15 against the 49ers and the last time they were favored on the road was 10/19/14 against the Jaguars—they lost 24-6. They've actually done quite well in this situation over the tiny sample size, going 7-3 ATS, but I wouldn't factor in a handful of covers from a decade ago into this week's game.
After their impressive loss last night, Bookmaker opened the line against the Colts at -2.5. Indy was god awful in week 1, but at least they put up a fight against the Cards yesterday before ultimately falling in OT. Bettors clearly have more faith in Jacoby Brissett than they did with Scott Tolzien, though. Or maybe they just hate the Browns that much…probably a bit of both.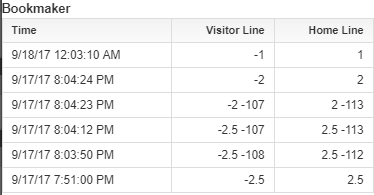 It took just a few hours for the line to move from 2.5 to 1 and so far, close to 80% of early bets are coming in on the Colts. The way this game is trending, this article may have a shelf life of about five minutes because this line may flip to Indy -1 in the very near future.
FWIW, back in April when CG Technology posted lookahead lines, the Colts were -9.5—biggest favorites of the week. Andrew Luck is one of the most valuable players to the spread, but not worth more than 10 points.
Check our free odds page throughout the week to see how this line shapes up and follow us on Twitter @SportsInsights for more NFL stories, line moves, injury updates, and more.