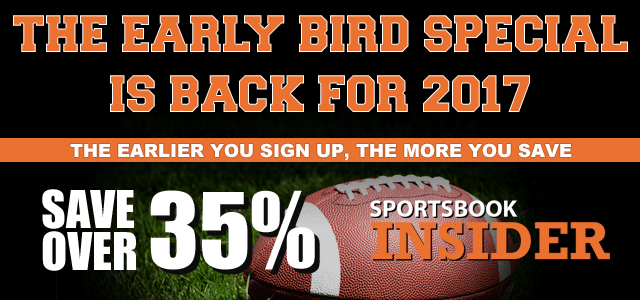 The 2017 Early Bird Special is Here! Save Over 35% Off Sportsbook Insider Pro
Football is back. You know what that means: our biggest and best deal of the year is here!
With the Early Bird Special, you can save over 35% off our best, most popular membership, Sportsbook Insider Pro.
Sign up today and you will receive service for the entire NFL regular season – more than 4 months. The subscription runs through January 2, 2018.
The Early Bird Special is here! Save over 35% off the Sportsbook Insider PRO: https://t.co/Iv0Pjs4Ud1 pic.twitter.com/Uc4E3ReOKg

— Sports Insights (@SportsInsights) August 14, 2017
The Sportsbook Insider Pro membership covers you for all sports, not just football. It includes real-time odds from over 50 different sportsbooks, public betting trends, betting and dollar percentages, the number of bets on every game, sharp money Bet Signals, including steam and reverse line movement alerts, our in-house contrarian plays, plus our exclusive Best Bet picks for all sports– NFL, NCAAF, MLB, NBA, NCAAB.
Our Best Bet Picks have been historically profitable for all five of the major pro and college sports. Since 2010, they've combined to produce +364.44 units. This means that a $100 bettor playing every pick since 2010 would have made a profit of nearly $36,500. Our MLB Best Bets are currently up +65.1 units on the season.
| Sport | Record | Win Rate | Units Won | ROI |
| --- | --- | --- | --- | --- |
| MLB | 2035-2198 | 48.1% | +185.33 | 4.3% |
| NCAAB | 1175-973 | 54.7% | +103.73 | 4.7% |
| NBA | 962-827 | 53.8% | +52.86 | 2.9% |
| NFL | 321-280 | 53.4% | +14.84 | 2.4% |
| NCAAF | 385-346 | 52.7% | +7.68 | 1.0% |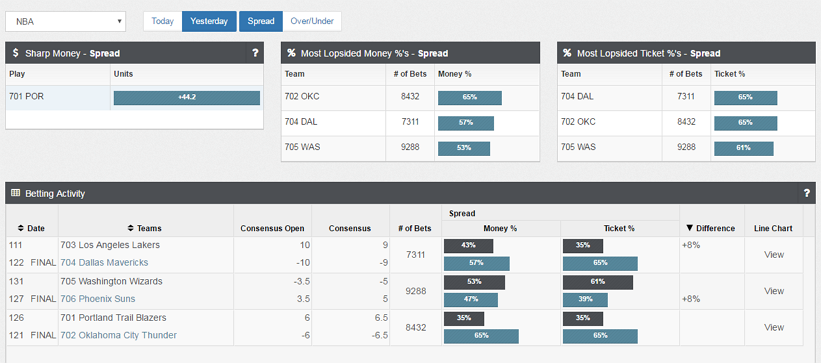 Early Bird subscribers will also receive our new Sharp Action Report and get exclusive access to our Sports Betting Hangout where we break down the live odds page, go over the most profitable games of the day, answer questions and teach our members how to utilize the live odds software to make smart bets.
Sportsbook Insider Pro members are also able to sync their membership with our smart phone app for iOS and for Android.
Already a Sportsbook Insider Pro member? No problem. You can still take advantage of this promotion. Any remaining service time on your current subscription will be tacked onto the Early Bird.
Hurry, this promotion expires September 11th!
It costs the same today as it would September 11th, so it's to your advantage to get in as early as possible. The sooner you buy it, the more time you get.
If you have any questions, contact us at 877-838-2853, send us an email help@sportsinsights.com or use the live chat option on the bottom right corner of the page.