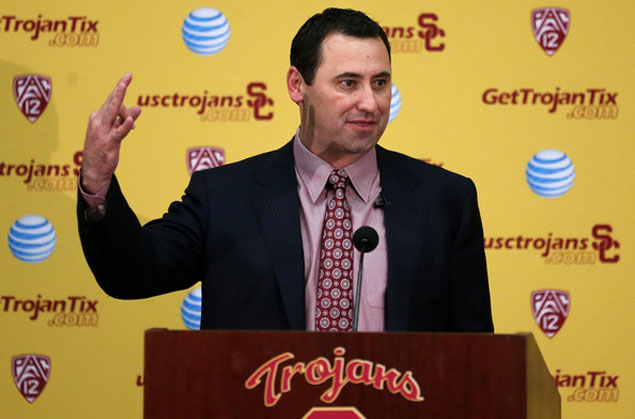 How do College Football Teams with New Coaches Perform in Bowl Games?
With high-profile coaching changes at USC, Washington and Boise State this season, we looked back in our database of sports betting information to examine how teams historically perform ATS (against the spread) with new coaches in bowl games.
Should we expect these teams to suffer a drop in performance? Or do college football teams rally around their new coaches and actually overperform, providing value for bettors?
To perform the analysis, we isolated each instance of a college team playing a bowl game with a new head coach and compiled the results (since 2005) in the table below:
| Teams w/ New Coaches | ATS Record | ATS Win % |
| --- | --- | --- |
| All Teams | 16-14-1 | 53.3% |
At first look, there didn't appear to be much of an edge with all teams led by new coaches posting a 16-14 (53.3%) ATS record. However, after dicing up the results a bit further, there is a significant difference in performance when comparing favorites to underdogs.
| Teams w/ New Coaches | ATS Record | ATS Win % |
| --- | --- | --- |
| Underdogs | 5-8 | 35.7% |
| Favorites | 11-6-1 | 64.7% |
While this sample size is incredibly small and not something we'd recommend solely using as a betting system, favorites clearly outperform underdogs when playing bowl games with new coaches.
Even with new coaches, teams that are still favored over opponents in bowl games are most likely expected to win due to greater talent. It makes sense that a team with superior or more experienced players is better equipped to perform well in spite of a late-season coaching change.
While this is our hypothesis, we encourage you to leave your thoughts regarding new coaches in bowl games in the comments section below.