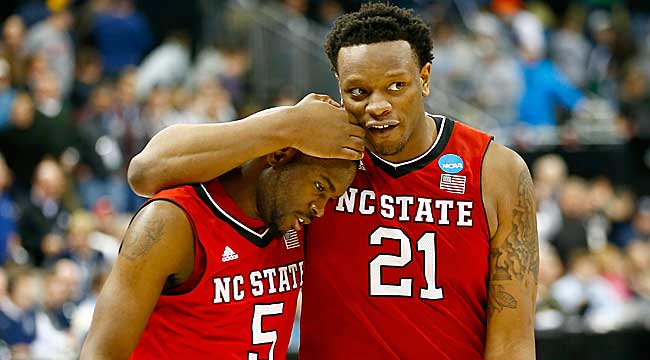 Sweet 16 Betting News and Notes
Two of this year's title favorites, Villanova and Virginia, were bounced in the Round of 32 leaving an East Region wide open. This was just the second time since 1997 that a region was without both the 1-seed and 2-seed before the Sweet 16. Kentucky is still the heavy favorite to win the title (+100) but odds on Duke, Wisconsin, and Arizona are shortening.
Here are some betting news and notes that we found intriguing heading into this year's Sweet 16:
– Kentucky (-13.5) is the second largest favorite in the Sweet 16 since 2005 (Florida -14 vs. FGCU in 2013).
– Best case scenario for Kentucky to win the title: WVU, Wichita, Xavier, UCLA. This gives UK a 58.9% chance to win, which is -143 on the moneyline.
– Worst case scenario for Kentucky to win the title: WVU, ND, Arizona, Duke. This gives UK just a 29.4% chance to win, which is +240 on the moneyline.
– The ACC has absolutely dominated this tournament with the only loss coming from Virginia against Michigan St. This is how the 2015 NCAA Tournament Conference records look so far:
ACC 11-1
Pac-12 7-1
MVC 3-1
Big Ten 7-5
WCC 2-0
Big East 5-5
Big 12 5-5
SEC 3-4
A10 1-3
AAC, MWC 1-2
Sun Belt, CUSA 1-1
All others 0-1 each
-Notre Dame escaped with a narrow win over Butler to get to the Sweet 16 but have failed to cover both games in this tournament. Here are some notable coaches' ATS record in the tourney since 2005:
Sean Miller (Arizona) 16-6
Mark Gottfried (NC St) 7-2
Greg Marshall (Wichita) 9-4
John Calipari (UK) 23-16
Mark Few (Gonaga) 8-12
Mike Brey (Notre Dame) 1-9
– This year there are two 7-seeds favored over 3-seeds (Michigan State -2 vs. Oklahoma, Wichita -1 vs. Notre Dame). From 2009-2014 there were only two 7-seeds total that made it to the Sweet 16.
– It's also fairly rare for a "higher" seed to be favored over the "lower" seed (i.e. 7-seed favored over 3-seed). Here are the six higher seeds to be favored over lower seeds in the Sweet 16 since 2005:
MSU 2014
UConn 2014
WVU 2008
GMason 2006
NCSt 2005
LVille 2005
– Teams receiving <40% of spread bets are 21-8 ATS so far this tournament and Oklahoma (17%) and Utah (17%) are currently the two least popular bets in the Sweet 16. Track all the latest odds, trends, injuries, futures and more at our Free Live Odds page.