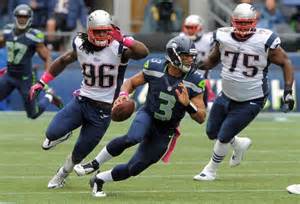 Super Bowl XLIX Lines
Now that the AFC and NFC Championship games are set, lines for potential Super Bowl XLIX matchups have been posted at 5Dimes.
Packers -2.5 vs. Colts  |  Total 54.5
Patriots -2.5 vs. Packers  |  Total 57
Seahawks -4 vs. Colts  |  Total 44
Seahawks -2 vs. Patriots  |  Total 46
NFC team -2 vs. AFC team  |  Total 50.5
Super Bowl Odds at 5Dimes:
Seahawks +127
Patriots +173
Packers +620
Colts +725
Super Bowl Exact Matchups and Exact Results at CRIS: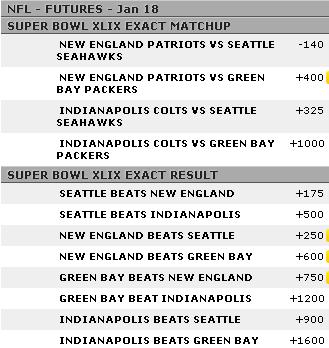 The Seahawks have been the favorites to win it all ultimately all season long, including the preseason where they were the +450 favorite at 5Dimes. Before the year the Patriots were the 4th favorite, listed at +750 behind the 49ers and Broncos, but will only have the Colts at home between them and the Super Bowl.
Is former Patriots coach Pete Carroll destined to meet up against his former team? Feel free to leave any thoughts or comments below.