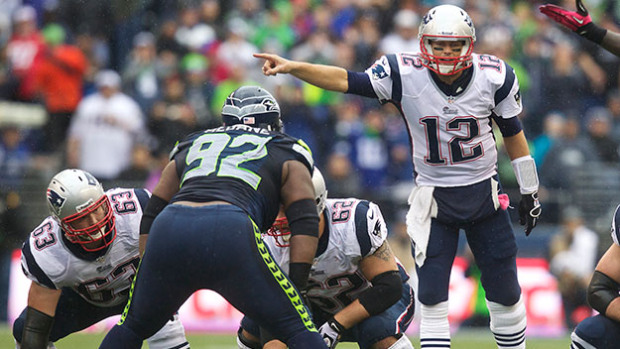 Super Bowl XLIX Betting Analysis
Similar to our College Football Championship Game analysis, this post will remain "live" until kickoff for Super Bowl XLIX between the Seattle Seahawks and New England Patriots. It will be constantly updated to reflect major line moves, public betting trends, sharp money indicators (action from professional bettors and/or syndicates), injury news and any other relevant betting analysis so please check back often.
Sharp offshores now at Seattle -1
– Posted 2/1/15 at 10:30 am ET
After CRIS moved the Seahawks to -1 yesterday, other sharp offshore books like Pinnacle and Heritage followed their lead. Books in Las Vegas have also begun swaying towards the Seahawks despite big bets on NE: David Purdum reported last night that The Mirage in Las Vegas has 60% of money on Seattle despite taking a million dollar bet on the Patriots earlier in the week.
Our Line Prediction feature is also forecasting a move from Seattle -1 to Seattle -1.5: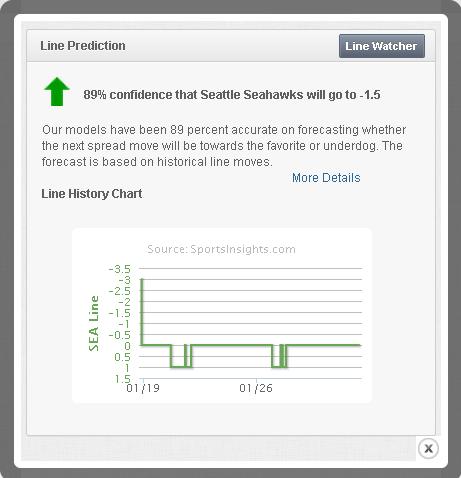 CRIS moves Seahawks to -1
– Posted 1/31/15 at 12:00 pm ET
Prominent offshore sportsbook CRIS moved Seattle to -1 this morning despite most of the offshore market still at a pick 'em and Vegas books at New England -1. This has signaled some sharp action on the Seahawks and Ed Salmons from LV Superbook in Las Vegas has also recently noted that the spread would move to a pick 'em at his sportsbook before moving NE to -1.5.
Offshore reverse-line moves
– Posted 1/30/15 at 10:15 am ET
Over the last week there still hasn't been any drastic line movement across the entire betting market; however, we've triggered 4 new Sharp Money moves on the Seahawks +1 meaning that individual offshore books are getting hit with Seattle money to move their line back to a pick 'em from +1.
In Las Vegas, most of the big bets so far are still on New England, as CG Technology has seen four times the money bet on the Pats than the Seahawks. The Mirage has reported the same action, with most of the money on the Patriots, according to David Purdum.
We've also seen many books like CRIS and Pinnacle moving their totals down from 47.5 to 47, which is notable since the O/U opened a full 2-points higher at 49. Betting trends on the total have been roughly 50/50, indicating that sharper money is indeed on the Under.
Books not budging off a pick 'em
– Posted 1/25/15 at 10:15 am ET
The Patriots had yet another press conference on Saturday afternoon with coach Bill Belichick addressing the deflated football situation again from last week, but we hardly learned anything new. The same can be said for the spread of the Super Bowl over the past few days with many sharper sportsbooks like CRIS, 5Dimes, and Pinnacle not budging off a line of pick 'em. However, some squarer offshore books like Sportsbook.com and SIA are still offering the Patriots -1.5 and we've triggered nine total reverse-line moves on the Seahawks over the course of the week, indicating that some sharper money is taking Seattle getting any points whatsoever.
Currently 74% of spread bets and a little over half of ML bets are taking the Patriots and you can keep up with all the latest moves and trends at our Free Odds page.
Value on the Super Bowl Under?
– Posted 1/22/15 at 3:15 pm ET
The market-setting Pinnacle sportsbook opened the Super Bowl total at 49, and public money was quick to pound the over. Within an hour of opening, the 62% of bettors were taking the over yet the total actually slipped to 48.5. This reverse line movement was an excellent indicator that sharp money likes the under in Super Bowl XLIX.
Since then, the percentage of public bets taking the over has leveled off at 60%, but the total dropped another half-point to 48. This is particularly interesting because 48 is the 6th most significant key number for NFL over/unders.
Betting the under during the postseason has been a historically profitable strategy, but that edge is magnified as we look at larger and larger totals. As you can see from the table below, betting all playoff unders has a winning record but would result in negative returns due to the juice. It's only when we eliminate all low totals that we begin to turn a profit.
| Under | Record | Units Won | ROI |
| --- | --- | --- | --- |
| All | 65-62 | -1.23 | -1% |
| >37 | 62-55 | +2.98 | 2.5% |
| >40 | 54-46 | +4.28 | 4.3% |
| >44 | 42-35 | +3.95 | 5.2% |
| >47 | 29-21 | +6.02 | 12% |
There have been no bet signals triggered on the total yet, but we will continue to monitor this situation as kick off grows closer.
"Deflate-Gate" Impact
– Posted 1/21/15 at 12:30 pm ET
On Tuesday evening, the NFL found that 11 of the 12 game balls used by the Patriots in their Conference Championship victory over the Colts had been significantly under-inflated. The NFL's investigation found that the footballs were inflated two pounds per square inch less than league regulations specify.
Although the league is not commenting at this time and it's unknown what type of punishment the Patriots are looking at, this news caused an explosion on twitter with some calling this a non-story and other's calling for head coach Bill Belichick to be fired (along with a number of other sanctions and punishments for the team).
Despite what would seem like huge news, the betting market has been essentially unaffected. Since yesterday, the percentage of spread bettors taking New England has remained stagnant at 77%, although there has been some line movement on the spread.
Despite the distraction of "Deflate-Gate," the #Patriots moved from a pick 'em to -1 last night at CRIS. http://t.co/qTw0JhOmi2 — SportsInsights.com (@SportsInsights) January 21, 2015
Opening Line Report
– Posted 1/19/15 at 11:30 am ET
With roughly 9 minutes remaining in the 3rd quarter of the AFC Championship Game and New England in full control, CG Technology in Las Vegas posted odds for the Super Bowl, assuming the Patriots would hold on to their comfortable lead over the Colts:
Early Super Bowl line from @CGTechnology_: Patriots +2.5 Seahawks -2.5 Over/Under is 49.5

— SportsInsights.com (@SportsInsights) January 19, 2015
Shortly after, LV Superbook in Las Vegas also posted a Super Bowl line of Seattle -2.5, but they opened the Total at 48.5, a full point below CG Technology. As the second half moved along and New England dominating, books started shifting their odds. Pinnacle opened Seattle -2.5 but before the game was over had already moved Seattle down to -1. This was due to how good the Patriots looked, but also because of nearly 80% of early bets taking New England and the points:
The #Patriots are getting 79% of spread bets for #SuperBowlXLIX. They've gone from +2.5 down to +1 at Pinnacle.  — SportsInsights.com (@SportsInsights) January 19, 2015
The Patriots were even backed early by some big money in Las Vegas:
.@TheMirageLV sports book just took a six-figure bet on Patriots -1 in the Super Bowl, per VP Jay Rood.

— David Payne Purdum (@DavidPurdum) January 19, 2015
Currently most sportsbooks around the market are listing Seattle -1 or Pick 'em, but Sportsbook.com lists New England -1 so be sure to shop for the best line.