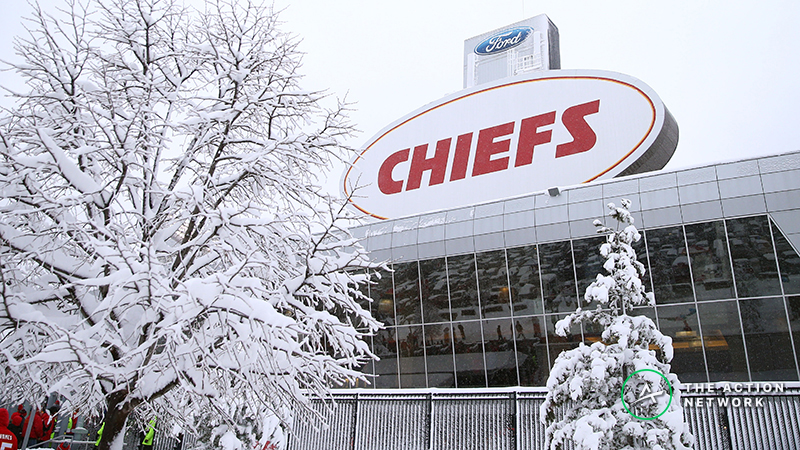 Weather Forecast Moves Patriots-Chiefs AFC Championship Odds … Again
From mainstream sports media outlets to right here at The Action Network, the weather for Sunday's AFC Championship Game between the New England Patriots and Kansas City Chiefs has received plenty of coverage.
As recently as Tuesday, the forecast at Arrowhead Stadium was calling for temperatures around 5 degrees at kickoff, inspiring bettors to jump on the under.
In fact, oddsmakers even moved the over/under Monday afternoon based solely on the weather forecast alone.
Just 24 hours later, however, an improving forecast has the Patriots-Chiefs over/under on the move once again, but this time it's tracking back toward the opener of 58.5.
At the time of writing, current forecasts are reporting temperatures around 22 degrees at kickoff that ultimately drop to the high teens as the game progresses.
While still extremely cold, temperatures in this range are hardly historic. According to our Bet Labs data, 98 NFL games have been played in average temperatures between 15 and 25 degrees since 2003.
Just five contests averaged temps of 5 degrees or below.
With the weather "warming," the Patriots-Chiefs over/under has ticked back up to 55 across the market. While this half-point move doesn't appear too drastic at first, 55 is an important number in NFL over/under betting.
It's only Wednesday, and as we've seen already this week, weather forecasts can fluctuate drastically over the course of just a few hours.
Be sure to download The Action Network's mobile app to track real-time line moves for both of Sunday's NFL conference championship matchups.
This article was originally posted on ActionNetwork.com by PJ Walsh. Sports Insights is part of The Action Network.