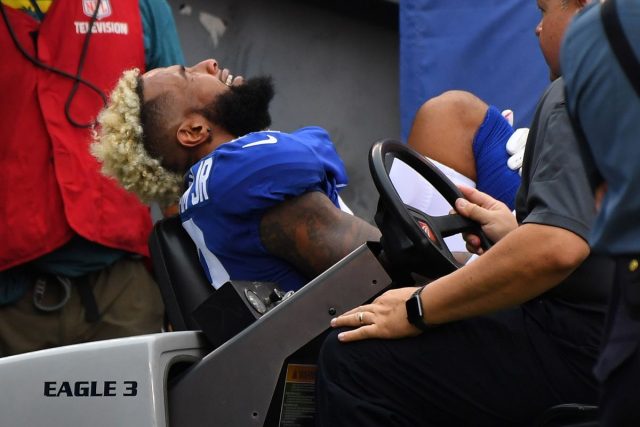 Stick a Fork in the Giants, They're Done
The New York football Giants had an absolute disaster of a Sunday. First, they blew a 9-0 lead and lost to the 0-4 Chargers at home. More importantly, though, is the fact that they lost their top four wide receivers to injury.
Obviously, the big blow is Odell Beckham Jr., who is done for the season with a broken ankle. Dwayne Harris is also done for the year with a broken foot, Sterling Shepherd is expected to miss two to three weeks with an ankle injury, and Brandon Marshall is questionable next week with an ankle injury.
They may have to play next week without WR1, WR2, WR3, and WR4. Yikes. Has this ever happened to a team in one game? Talk about bad luck.
They are now a double-digit dog this coming week in Denver…double digits! This was a team that began the year with 12/1 Super Bowl odds at Westgate, tied for sixth best in the league. That was literally just a month ago. Now they are 300/1.
Back in the Spring, New York was just a three point dog this week on CG Technology's lookahead lines. Last week, they were +6 on Westgate's early lines. And now? +10.5…not good!
Given the total of 40.5/41 around the market, the Giants have an implied total of just about 15. If Marshall can't return, their offense is going to be uglyyyy. Even if he does play, it will be ugly.
The New York Post suggests that they should sign old friend Victor Cruz, who is currently jobless. If they stick to internal options from the practice squad, expect to see Eli Manning throwing to some unfamiliar names on Sunday.
Should the Giants begin tanking? Their playoff hopes are all-but out the window right now and they're going to have a really hard time scoring points going forward. Our Twitter followers think that they're going to have trouble even surpassing the Jets' current win total of three.
POLL: How many games will the #Giants end up winning?

— Sports Insights (@SportsInsights) October 9, 2017
Keep track of the Giants' line this week by bookmarking our free NFL odds page.