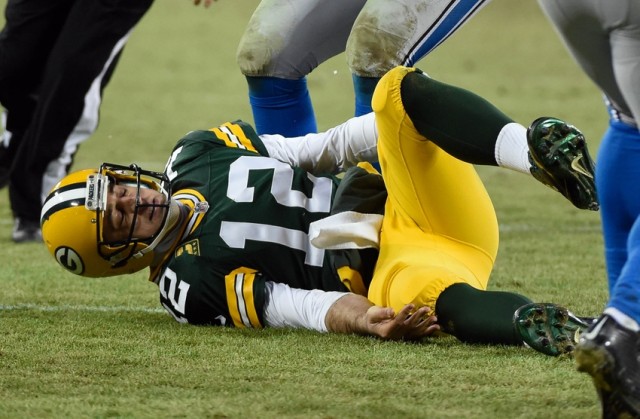 How Are Sportsbooks Reacting to Aaron Rodgers' Calf Injury?
The divisional round of the 2015 playoffs kicks off on Saturday when the New England Patriots (-7) host the Baltimore Ravens, but the sports betting community seems to be more interested in Sunday's matchup between the Dallas Cowboys and Green Bay Packers. At the time of publication, the Cowboys/Packers game was the most heavily bet game — a fact that is particularly noteworthy because typically at this point in the week, the Saturday games are receiving more bets than the Sunday games.
Although it's been years since the days of Emmitt Smith and Troy Aikman, the Cowboys are still considered by many to be "America's Team" and therefore receive tons of public support regardless of their opponent. The Green Bay Packers, led by MVP favorite Aaron Rodgers (who closed the season at -800 to win the award), have also been one of the most popular teams over the past several years.
One of the biggest plot points in this highly anticipated matchup concerns the health of Rodgers. The 31-year old star quarterback originally hurt his calf during a Week 16 win against Tampa Bay and re-aggravated the injury in a Week 17 win over Detroit. The injury was initially reported as a calf strain, but a tweet from ESPN's Adam Schefter on Thursday indicated that the injury might be more serious than that.
Packers QB Aaron Rodgers' calf muscle has a slight tear in it in addition to be significantly strained, per… http://t.co/EHDVeLczQv

— Adam Schefter (@AdamSchefter) January 8, 2015
Rodgers is still expected to play, but this news has impacted the betting line across the sports betting marketplace. The Packers opened as a 6.5-point favorite at CRIS while many of the more square/public books opened Green Bay -7. Despite receiving 54% of spread bets, this line has steadily declined during the week and the Packers have dropped to -5 at CRIS.
The line chart below shows the spread change since opening at CRIS:

Some bettors would not consider this to be a major line move since it did not affect any of the traditional key numbers for NFL bettors which include 3, 7, 10 and 14. However, our research reveals that, since 2003, 5.58% of all NFL games have finished with a 6-point margin. That makes "6" the fourth most common margin of victory, which indicates that this 1.5-point line move is fairly significant.
For the latest odds and public betting trends, make sure to visit our free NFL odds page. Have any questions for the staff at Sports Insights? Make sure to utilize our live chat or call us directly at 877-838-2853.
David Solar is the Content Manager at Sports Insights and can be reached directly at david@sportsinsights.com.