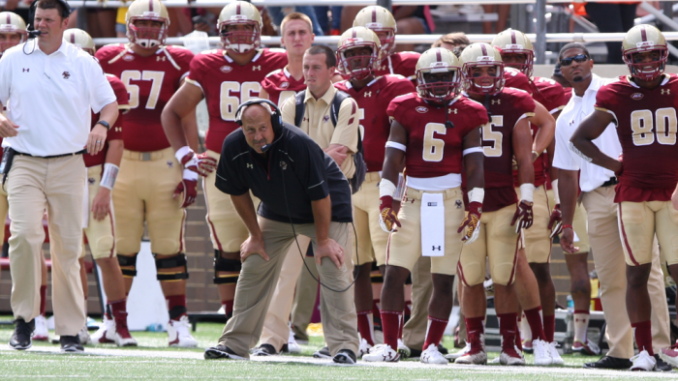 Sportsbooks Adjusting for Heavy BC Action
The Boston College/Northern Illinois matchup on Friday night has been available to bet for over 2 months and there's been lopsided action on BC. Sportsbooks were hard-pressed to find bettors willing to take Northern Illinois at +1.5 and eventually moved the line to +2 and +2.5.
Boston College (83% of bets) is getting the biggest share of spread bets for Week 1, listed -2.5 at NIU.https://t.co/fUJXKGHZIB pic.twitter.com/bLPMvbNvYt

— Sports Insights (@SportsInsights) August 21, 2017
Still, roughly 80% of tickets came in on BC. Here's a look at the line history at Bookmaker from the opener back in June to the line on Monday afternoon:
Since BC/NIU is not exactly a marquee game that attracts tons of betting tickets, we know that some sharp money was responsible for moving the BC line up from -1.5. Sportsbooks then moved BC to -3.5, then -4, then -4.5 which finally attracted some NIU bettors.
We're still seeing about 70% of tickets on BC, but at this point the value on the spread is all but gone on the Eagles. Early bettors had a couple months to grab a better line on BC and now that it's reached -4.5, we could see some sharper action on the other side. Some books like Pinnacle won't even move up higher than +3.5, likely knowing that sharps will swoop in as soon as they do.
Another aspect of this game to watch for is the total, which opened 46 and is now at 50. BC has been renowned for playing low-scoring games the last few years, so the increasing point total may not bode well for them. We've tracked nearly 75% of bets on the UNDER, but the total keeps increasing. Don't be surprised if we see both teams scoring close to 30 points apiece.
Premium and Pro members can access all bet signals, betting percentages, line moves, major injuries, best bets and more.