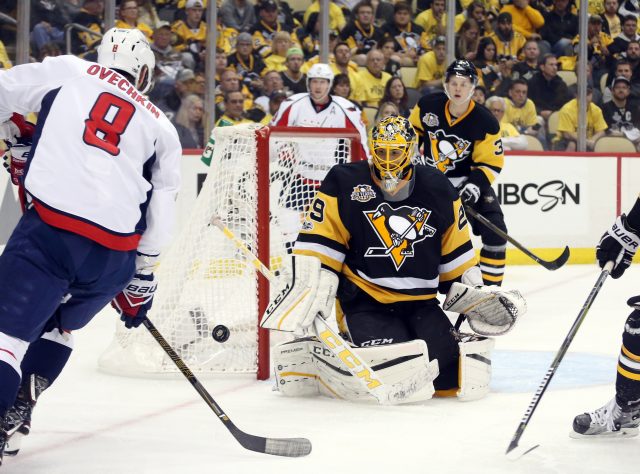 Sharps Taking the Capitals in Decisive Game 7
Last Wednesday the Pittsburgh Penguins (57-36, +4.20 units) put the Washington Capitals (62-32, +8.14 units) on the brink of elimination with a 3-2 victory. This win gave Pittsburgh a commanding 3-1 series lead, and many writers started bemoaning yet another postseason letdown from Washington. Fast forward one week and the NHL's best regular season team is on the verge of advancing to the conference finals.
In tonight's do-or-die matchup, Washington opened as -169 home favorites at the market-setting Pinnacle sportsbook. Although public betting has been evenly balanced, the Capitals have actually moved 20 cents from -169 to -189. That's because sharp bettors have been hammering the chalk at an alarming rate.
"We've incurred quite a bit of smart money on the Caps' moneyline tonight," according to Scott Cooley, a spokesman from Bookmaker. "Tickets are fairly split on the game, but money handle favors the home squad 75-25."
[click image below to enlarge]

As you can see from the line graph, there was a Pinnacle steam move triggered on Tuesday evening which caused the Capitals to move from -169 to -182. Pinnacle caters to professional bettors, which means they take higher limits and have sharper line moves. The Pinnacle NHL steam move has gone 302-304 with +4.1 units won this season, and steam moves triggered at market-setting sportsbooks are excellent indicators of sharp action.
Since that time, the line has bounced around several times before settling at Washington -189. The screenshot below displays the full line history for tonight's game.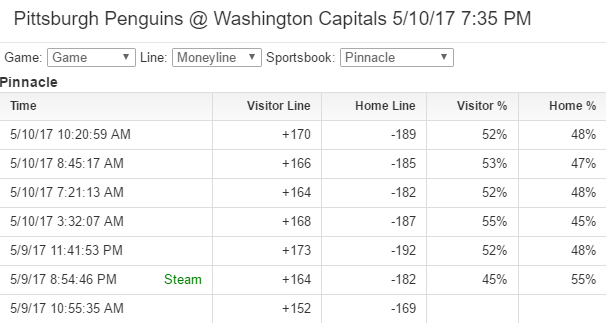 It's important to realize that our only sharp money indicator came when the Capitals were still available at -169. Based on implied probabilities, this indicates smart bettors believe Washington has better than a 62.83% chance of advancing. Additionally, bettors need to understand they shouldn't be chasing steam unless they're able to get the same number as the sharps.
Sportsbook Insider Pro subscribers have access to real-time odds, public betting trends, money percentages, bet signals (including steam moves and reverse line movement alerts), injury alerts, value meter, line watcher, line predictor, and many other unique features. Looking to try our service? Sign up now for a 4-day trial and start winning today!
Have any questions for the staff at Sports Insights? Make sure to utilize our live chat or call us directly at 877-838-2853.