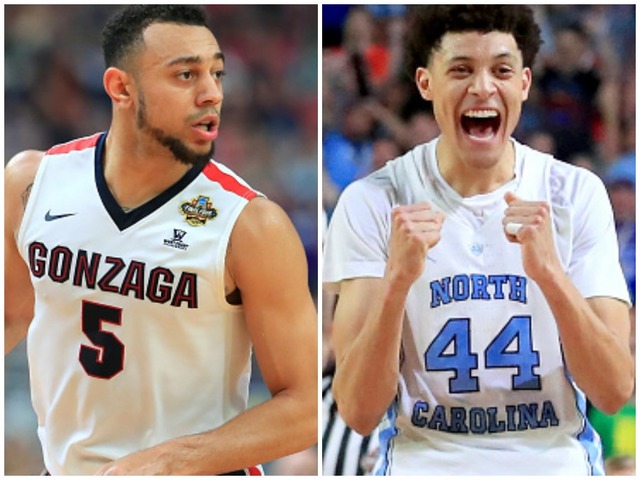 Sharp Money Taking a Side in Tonight's National Championship Game
There will be no shortage of storylines this evening when the North Carolina Tar Heels (32-7 SU, 19-16 ATS) face off against the Gonzaga Bulldogs (37-1 SU, 24-10 ATS) in the national championship game. This matchup is being billed as "blue blood" against "new blood" as North Carolina seeks its sixth national championship while Gonzaga will be making their first appearance in the title game.
But make no mistake, Gonzaga is hardly a Cinderella story and they have actually sat atop most power rankings (including the widely respected Ken Pomeroy's) for the majority of the season. The Bulldogs have posted the nation's third-best ATS record this season and rank first in adjusted defensive efficiency, but that hasn't stopped bettors from doubting Mark Few's squad. Gonzaga received just 51% of spread tickets against South Carolina in the Final Four, 34% of tickets against Xavier in the Elite Eight, and are once again being avoided in tonight's title game.
North Carolina opened as 2-point favorites at the market-setting Pinnacle sportsbook, and the early ticket count has favored the chalk. Although public betting is fairly even, the Tar Heels have received a slight majority with 54% of spread tickets at our contributing sportsbooks.
[click image below to enlarge]
Although the public is leaning towards the chalk in this matchup, North Carolina has actually dropped from -2 to -1 since opening. That can be partially explained by our money percentages, which indicate Gonzaga is actually receiving 60% of spread dollars. Even though more tickets are taking the favorite, more money is backing the 'dog. This indicates that large wagers (often placed by sharper bettors) have taken Gonzaga plus the points.
[click image below to enlarge]

It's important to realize that large wagers aren't always indicative of sharp money. As an example, a $20,000 wager from a casual bettor won't necessarily cause a sportsbook to adjust their lines, but a $5,000 wager from one of their sharpest players often times will. To confirm whether sharp money was responsible for this line move, I spoke with Scott Cooley, a spokesman for Bookmaker.eu.
"We've seen a good bit of sharp money on the 'Zags over the last 24 hours," stated Cooley. "Public is pretty split."
One interesting observation is that most of the market is still hanging North Carolina -1.5 and only four offshore sportsbooks have moved to North Carolina -1; Bookmaker, Buckeye, Jazz and Pinnacle. Those are arguably the sharpest offshore sportsbooks, which validates our assertion that sharp money is taking Gonzaga. It also highlights the importance of having access to multiple books and shopping for the best line.
We constantly advocate a contrarian approach to sports betting, and fading the public continues to be an effective strategy during March Madness. Since 2005, teams receiving less than 50% of spread tickets have gone 431-386 ATS (52.8%) during the NCAA Tournament including a 37-22 ATS (62.7%) record this year. Although public betting is fairly balanced, it will be interesting to see if public bettors pounce on North Carolina as game time approaches.
While public betting has been fairly evenly split on the spread, there's been some fairly one-sided public on the total. Casual bettors live their life by the mantra "life's too short to bet unders" and that's clearly the case in tonight's game. At the time of publication, 69% of tickets and 72% of total dollars wagered had taken the over. This one-sided public betting was confirmed by Cooley, but with one addendum. "Public is hammering the over and we do have some smart money there as well, but not a ton of it."
With both public and sharp bettors taking the over, the total has increased from 153.5 to 154.5 at Pinnacle. There hasn't been any buyback yet, so it will be interesting to see whether one-sided public betting continues to inflate this number. For what it's worth, the over has gone 40-25 (61.5%) during this year's tournament.
[click image below to enlarge]
Our college basketball Best Bets have gone 242-202 (54.5%) with +20.72 units won this season after going 180-140 (56.3%) with +25.6 units won during the 2015-16 season. We have a pending Best Bet on tonight's national championship game, which is available exclusively to Sportsbook Insider Pro subscribers.
Interested in receiving our pick? Sign up now for a 4-day trial of Sportsbook Insider Pro. In addition to our Best Bets, subscribers have access to real-time odds, public betting trends, money percentages, steam moves, reverse line movement alerts, contrarian plays, our nightly betting hangout and many other unique features.
Have any questions for the staff at Sports Insights? Make sure to utilize our live chat or call us directly at 877-838-2853.