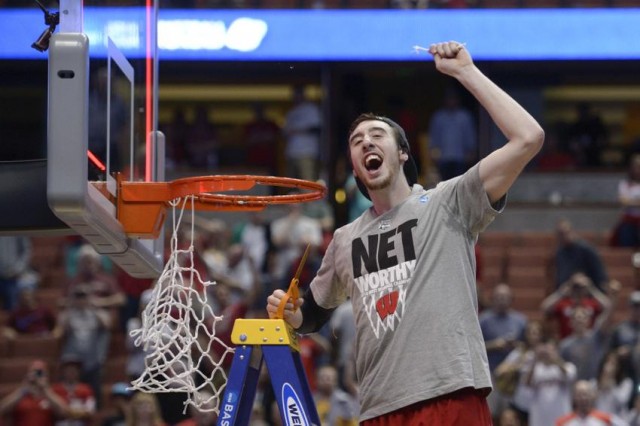 Where is Sharp Money Falling in the Final Four?
Warren Buffet is likely laughing his way to the bank after seeing almost every bracket fall to shambles before the first round even ended, but he doesn't have to be the only person making money during March Madness.
Throughout the NCAA tournament we have revealed some of the top historical trends whether it be the most profitable seeds for bettors or betting trends providing value during the Round of 32 or Sweet 16 and Elite Eight. Unfortunately our sample size is too small to extract much from the top trends during the Final Four; however, we do have a number of sharp money indicators for Saturday's games.
In the first game, the public betting has been extremely even with 52% of bettors taking Connecticut and 48% of bettors on Florida. At Pinnacle, which is one of the market-setting offshore sportsbooks, Florida opened as a 6.5-point favorite and the line has been bouncing back and forth all week between -6 and -6.5.
Between the split pubic betting trends and the limited line movement, sharp money doesn't seem to have picked a side in this game; however, the more interesting line movement has been in regards to the total.
After opening at 125, we've seen 67% of bettors take the over. This is particularly interesting when you note that Florida's defense allows just 57.6 points per game (PPG) and the under has gone 22-11-1 this season. Similarly, Connecticut's defense allows just 63.7 PPG and the under has gone 23-13 in their games this season.
The line graph below, which is available to our Sportsbook Insider members, shows the movement on the total since opening at Pinnacle.

In the night-cap, the 8th-seeded Kentucky Wildcats opened as 2-point favorites at CRIS against the 2nd-seeded Wisconsin Badgers. Although you would expect the public to take the higher seed as an underdog, Kentucky was receiving 61% of spread bets, at the time of publication.
Despite receiving a majority of public bets, Kentucky has dropped to -1 at CRIS. When the line moves in the opposite direction of our public betting data, it's known as reverse line movement — a strong indicator that sharp money likes Bo Ryan's Badgers.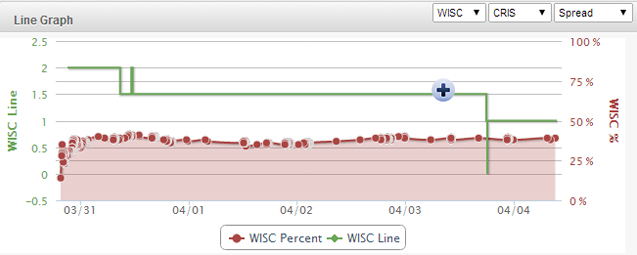 As you can see, sharp money immediately took Wisconsin which moved the number from +2 to +1.5 before public betting pushed the line back-up to +2. There was immediate buy-back from sharp bettors to move the Badgers back down to +1.5. The line remained steady for a few days before more Wisconsin money hit the market Thursday.
You will also see an injury indicator from Thursday morning after our injury department downgraded Kentucky C Willie Cauley-Stein (6.8 PPG, 6.1 RPG and 2.9 BPG) from questionable to doubtful with an ankle injury.
Although Wisconsin is currently listed at +1 at CRIS, the majority of the sports betting market is still at +1.5 with Bovada shading their number to +2 (-115). No matter which side you like in this game, we always recommend monitoring the market and shopping for the best line.
Looking for the latest real-time odds and public betting percentages? Make sure to check out March Madness Central for all of your Final Four needs, and try our 4-day Pro trial to receive any picks and bet signals for these games.
[adrotate group="4″]