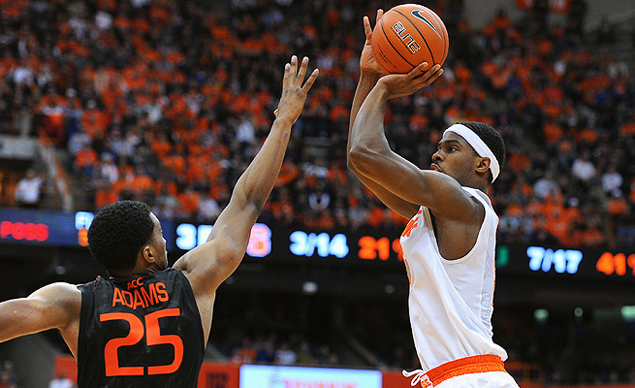 Most Profitable NCAA Tournament Seeds for Bettors
While the majority of the sports world is focused on filling out brackets this week, bettors are less worried about straight up (SU) wins and are instead analyzing point spreads in order to find value and get the 2014 NCAA Tournament off to a profitable start.
With this in mind, we developed a Free Edition of our Bet Labs software to inspire bettors to build winning systems this college basketball postseason.
Using Bet Labs, we isolated all Round of 64 games (since 2005) to determine which seeds have been the most profitable for bettors. For example, should bettors be focusing on No. 1 seeds because of huge mismatches in the Round of 64 or is there really value backing trendy No. 12 seeds against No. 5's?
To perform the analysis, we loaded the Free version of Bet Labs and applied the Tournament (set to NCAA Tournament) and Round (set to Round of 64) Filters (located inside the Tournament Info leftside category) to isolate only Round of 64 games.
The image below shows our system with these two filters correctly applied:

Next, we returned to the Tournament Info category of filters and added the Seed Filter. From this popup, we quickly noticed that No. 3 seeds have been the most profitable and analyzed them further by setting the slider to 3 and 3 (essentially looking at only No. 3 seeds).
This slider can be used to examine a range of seeds as well.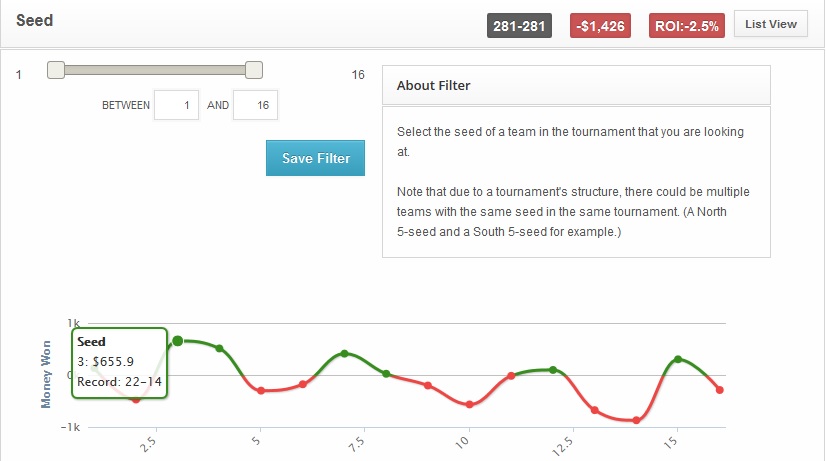 After saving the Seed Filter, we quickly see that No. 3 seeds are 22-14 (61.1%) ATS (against the spread) in the Round of 64 for a profit of +6.56 units and an ROI of +18.2%. This completed system is shown in the image below.

We then clicked the "Edit" link next the Seed Filter in our system and tested all seeds for Round of 64 performance. With the analysis finished, we determined that No. 3, No. 4 and No. 7 seeds have been the most profitable in the Round of 64, dating back to the 2005 NCAA Tournament.
The results are summarized in the table below.
| Seed | ATS Record | Units Won | ROI |
| --- | --- | --- | --- |
| No. 3 | 22-14 (61.1%) | +6.65 units | +18.2% |
| No. 4 | 21-15 (58.3%) | +5.12 units | +14.2% |
| No. 7 | 20-15 (57.1%) | +4.12 units | +11.8% |
* Closing lines from Pinnacle were used to determine ATS records, units won and ROI.
Want to recreate our analysis or build your own winning college basketball systems? Launch our Free College Basketball Edition of Bet Labs and get started now!