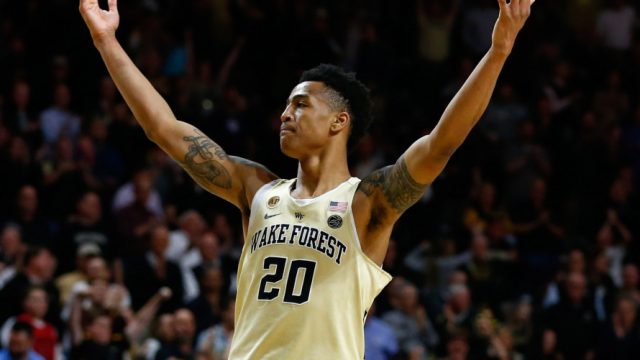 Sharp Money Affecting the Kansas State-Wake Forest Line
Wake Forest (19-13 SU, 16-14 ATS) was firmly on the bubble entering Selection Sunday, but the Demon Deacons cracked the 68-team NCAA Tournament field and will face fellow 11-seed Kansas State (20-13 SU, 17-11 ATS) in tonight's First Four matchup. There have been twice as many bets placed on this game than any other game tonight, and early public betting has been incredibly one-sided.
The Demon Deacons opened as a pick 'em at the market-setting Pinnacle sportsbook, which matches up almost perfectly with our bracket simulator predictions. According to our matchup tool, Wake Forest should defeat Kansas State in 49.6% of simulations. The winner of this matchup will face Cincinnati in the Round of 64.
Although our bracket simulator gives Kansas State a slight edge in this matchup, public bettors have been hammering Wake Forest. Not only has the percentage of spread tickets (65%) favored the Demon Deacons, the percentage of money splits have been even more drastic with 86% of all spread dollars taking Wake Forest.
As you can see from the screenshot below, the majority of spread tickets have taken Wake Forest at all seven of our contributing offshore sportsbooks.

With the market steadily pounding Wake Forest since the line opened on Sunday evening, oddsmakers were forced to adjust their number from a pick 'em to Wake Forest -1. There weren't been any steam moves triggered on Wake Forest, which indicates public perception was solely responsible for that 1-point line move.
Soon after this line had been inflated by public money, sharp bettors pounced on Kansas State plus the points across the sports betting marketplace. This triggered several bet signals, including the BetUS steam move (173-150 ATS this season) on Kansas State +1. Although the majority of bettors were taking Wake Forest, this sharp money caused Kansas State to move from +1 to -2 within minutes.
[click image below to enlarge]

Sharp bettors allowed public bettors to hammer Wake Forest before capitalizing on the artificially inflated lines. This is a crucial component of our contrarian strategy, especially in these heavily bet NCAA Tournament games. This also shows how sportsbooks value their sharpest bettors. Even though most of the money was taking Wake Forest, sportsbooks moved against the money due to sharp action.
This game is the quintessential example of "Sharps vs. Squares" or, if you prefer, "Pros vs. Joes." Although casual bettors are taking Wake Forest, sharp bettors are clearly taking Kansas State. That's easily confirmed by the steam moves and reverse line movement.
We can also glean some interesting information by observing our moneyline percentages. In games with very small spreads, casual bettors are increasingly willing to take the favorite on the spread and underdog on the moneyline. These casual bettors love the idea of getting plus-money by taking the underdog on the moneyline, and don't want to lay additional juice by taking the favorite.
Wake Forest (-115) was receiving 52% of moneyline tickets and 89% of moneyline dollars before flipping from the favorite to the underdog. Now that casual bettors are getting plus-money on the Demon Deacons, I would anticipate that even more moneyline wagers will be placed on Wake Forest.
It's obvious that sharp bettors loved Kansas State +1, but that doesn't mean they're still offering value at -2. Getting the best of the number is crucial to long-term sports success, which is why it's so important to have access to real-time information.
Interested in checking out our new money percentages and line charts for every college basketball game? Sign up now for an extended 6-day trial of Sportsbook Insider Pro. In addition to the features shown in this post, subscribers also have access to our entire suite of live odds, public betting data, and our red-hot Best Bet picks.
Have any questions for the staff at Sports Insights? Make sure to utilize our live chat or call us directly at 877-838-2853.