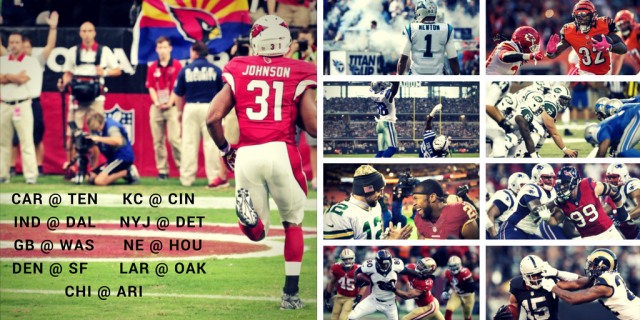 Saturday Preseason Breakdown: Week 2
Saturday marks the largest slate of NFL preseason games thus far in 2017, with nine matchups for bettors to sink their teeth into. Though preseason games tend to be rather unpredictable, that doesn't necessarily translate to low popularity among sports bettors. Let's take a look at some of the notable games.
Panthers at Titans, 3:00 PM EST
The Titans are a popular pick to be a breakout team in 2017, and that sentiment is already making an impact in the betting world, with 67% of bettors on the Tennessee spread this afternoon. After opening at -2.5 at BookMaker, the Titans' have moved to -4 due to their heavy backing. According to head coach Mike Mularkey, they're expected to have RB DeMarco Murray (hamstring) in the lineup, though WR Eric Decker (ankle) will likely be out. QB Cam Newton (shoulder) is not expected to play for Carolina, and LB Luke Kuechly is out with sore ribs.
Chiefs at Bengals, 7:00 PM EST
One of the most heavily bet games tonight, this matchup has seen by far the most line movement. Cincinnati opened as -2 favorites, but are now at +2.5, creating a scenario where a playoff team has favorable line movement against a non-playoff team, a generally profitable preseason bet. This game also offers some rare depth at quarterback, with Patrick Mahomes and AJ McCarron backing up Alex Smith and Andy Dalton, respectively. Mahomes was impressive in his preseason debut last week, completing 7 of 9 for 49 yards and a touchdown. He's expected to play the third quarter after Smith runs the offense in the first half.
Colts at Cowboys, 7:00 PM EST
At -5.5, the Cowboys are the most heavily favored team in Saturday's games. Despite that, they're still receiving 72% of spread bets, and 93% of moneyline bets against Indy. Given the unpredictable nature of preseason games, I'd argue that such a big spread creates some value on the Colts, but by that same line of thinking, it is the preseason, and who really knows.
Packers at Redskins, 7:30 PM EST
Washington opened at -3.5 at Pinnacle, and have since moved to -3 despite an even 50-50 split among spread bettors. Moneyline bettors are a bit more decided, however, with 60% taking Green Bay at +140.
Aaron Rodgers has not been ruled out, though lead running back Ty Montgomery (lower leg) likely will not play. For Washington, QB Kirk Cousins will likely start, though it has not been announced how long the starters will play.
Patriots at Texans, 8:00 PM EST
The Texans opened as -1 favorites, but have since moved to -1.5 with 52% of spread bettors backing Houston. As often is the case with lines around one point, moneyline bettors are on the other side, willing to give up that one point advantage for a slightly higher payout. 53% of moneyline bettors are taking New England at +110.
Assuming the word out of New England is true, we should be seeing the first of Tom Brady since Super Bowl LI. After resting their starters last week, the Patriots are expected to begin the game with most of the starting lineup on the field, though LB Dont'a Hightower and RB Mike Gillislee are expected to sit with injuries. Don't expect to see Rob Gronkowski on the field, either. Gronk hasn't played in a preseason game since 2012 and is recovering from back surgery.
Broncos at 49ers, 10:00 PM EST
After opening as -1 favorites, San Francisco has moved to -3 against the Broncos tonight. They've got 59% of spread bettors on their side, but just 47% of moneyline tickets. Both sides are coming off wins last week. The Niners beat Kansas City 27-17, while the Broncos knocked off the Bears, 24-17.
For Denver, Paxton Lynch will be making his case to start in week one of the regular season. His competitor Trevor Siemian started last week against Chicago and went 6 of 7 for 51 yards, but only put up three points. Lynch has had a great week of practice and tonight's game has the potential to significantly impact his role for the 2017 season.
Brian Hoyer will start at QB for San Francisco and will be replaced by C.J. Beathard, likely at some point in the first half.
Getting ready to bet on NFL games? Try our pro membership, with which you will receive best bet picks for all major sports, bet signals, public betting and dollar percentages, and more. Follow us on Twitter @SportsInsights to make sure you are up to date on blog posts, injuries, and sports betting information.