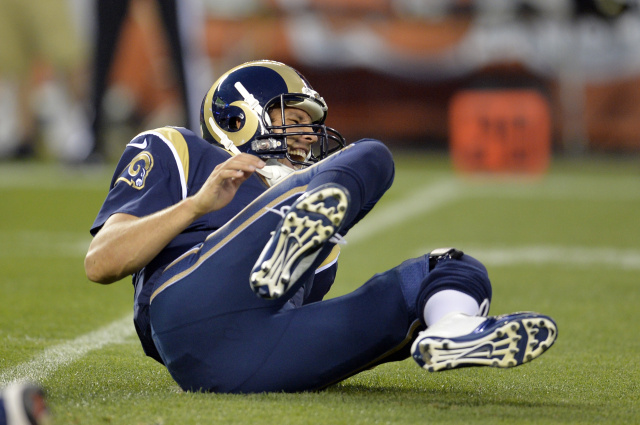 Sam Bradford's injury impact on the Rams
Yesterday the St. Louis Rams got the news they didn't want to hear that QB Sam Bradford will be lost for another entire season with a torn ACL in his left knee. While some fans don't believe the injury will hold the Rams back that much, oddsmakers have their take on how big of an impact he can be.
As soon as the news broke, books across the market took down the Rams' line for their opening game:
The #Rams Week 1 game vs. Minnesota is off the board, as is their Season Win Total. Shaun Hill is the likely candidate to start the year.

— SportsInsights.com (@SportsInsights) August 24, 2014
It only took books less than an hour to reconsider their lines and futures, and Vegas book CG Technology was the first to re-open the game:
Vegas book @CGTechnology_ reopens Rams as 4-point favorites over Vikings in Wk 1. Were 6-point favs before Bradford injury.

— David Payne Purdum (@DavidPurdum) August 24, 2014
By Sunday night, most sportsbooks had re-posted a number of future odds on St. Louis. Clearly sportsbooks believe there's a dropoff from Bradford to Hill, as he's worth 1 win plus the juice over the course of the season:
With Bradford out, #Rams Season Win Total drops from 7.5 (o-145) to 6.5 (u-135) at Sportsbook. Super Bowl odds drop from +6,000 to +8,500.

— SportsInsights.com (@SportsInsights) August 25, 2014
Sportsbook.com also moved St. Louis to win the NFC from +3,200 to +5,000, which is tied for the worst odds in the conference along with the Vikings, Cowboys, and Buccaneers.
By Monday morning, the Rams were already down to -3.5 after re-opening at -4.5 at Sportsbook.com for Week 1 against Minnesota, so we've already seen a 3-point impact in their first game. However, another squarer sportsbook, Sports Interaction, re-opened the line at -6 and has yet to see any movement on it. There will clearly be discrepancies around the market regarding weekly odds and futures so it's crucial to shop for the best line.
We know that Sam Bradford has talent, but has that translated into a productive and successful NFL career? And is there actually more value to Rams bettors now that Shaun Hill is at the helm?
Sam Bradford has gone 24-25 ATS for -1.63 units in his career as a starter, while Shaun Hill has gone 18-8 ATS for +9.09 units.

— Bet Labs Software (@Bet_Labs) August 25, 2014
We'll continue to post any changes or line postings across the market, and as always, leave your comments below.
[adrotate group="4″]