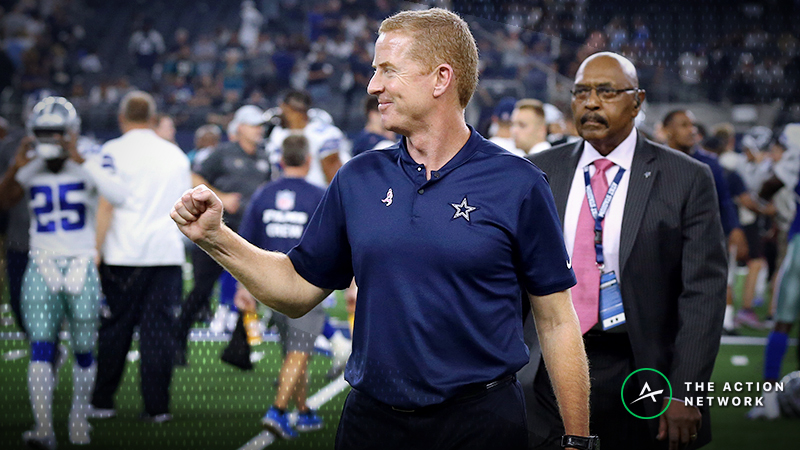 Saints-Cowboys Betting Odds: Both Teams Attracting Sharp Action at Different Prices
Winning long-term bettors play numbers, not teams. Tonight's New Orleans Saints-Dallas Cowboys Thursday Night Football matchup (8:20 p.m. ET, FOX) provides a fantastic example of how value is based on betting lines, not simply which teams are playing.
In fact, professional bettors can be on opposite sides of the same game, especially at different prices.
The Saints opened as 7.5-point road favorites against the Cowboys across the sports betting market. The line is now New Orleans -7, suggesting that Dallas money has pushed the number down to a touchdown throughout the week.
While that is true, bettors should not rely solely on opening and closing lines when diagnosing line movement.
The line history for Saints-Cowboys shows that this number has ping-ponged between 7 and 7.5 a handful of times since opening.
Why? Because wiseguys have been hitting both sides of this matchup, depending on the value offered.
Sports Insights' Bet Signals — which track and report professional betting action in real-time — have triggered an astounding 10 Steam and Reverse Line Moves, combined, on the Cowboys.
On the other hand, the Saints have attracted two sharp money indicators themselves.
Interestingly, all 10 Cowboys signals were triggered at +7.5, while sharps only hit the Saints at -7.
From 2003-2017, 9.2% of all NFL games finished with a margin of seven points, trailing only three (15%) in terms of frequency. This makes sense considering field goals and touchdowns (plus extra points) are the most common ways to score.
As a result, some bettors with the resources to move the market snagged Saints on the key number of seven, while others (and the majority of sharps at the time of writing) made sure to jump on the Cowboys at +7.5, off the key number.
So when your buddies ask you which sides the sharps are on tonight, it's safe to reply "both."
This article was originally posted on ActionNetwork.com by PJ Walsh. Sports Insights is part of The Action Network.