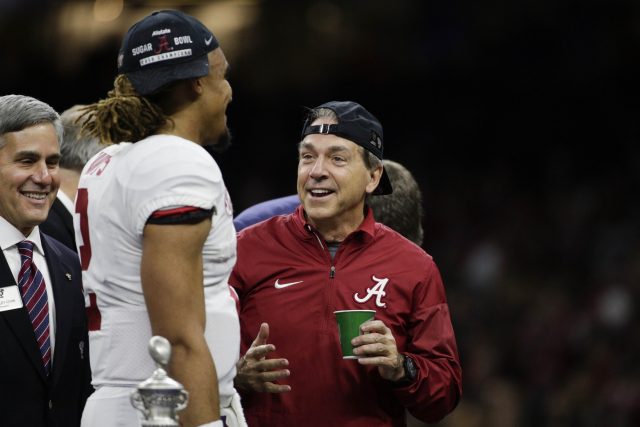 #RollTide: Alabama's Now the Most Heavily Bet Team in CFB Title History
Today, there are ten major US sports games being played. One of them is kind of a big deal. That's right, a clash between the Blue Jackets and Maple Leafs is set to take place in Toronto, a city that truly loves its hockey.
With young phenom Auston Matthews leading the squad, Maple Leafs nation now has hope for the first time in a long time. They also….
…crap.
I'm being told by some of my coworkers that the College Football Natty Championship game is actually more important to some folks. Don't tell the boys in blue up nord, as they say in Canada.
With Alabama back in yet another championship game against the Georgia Bulldogs, we're seeing them get a great deal of public support. With 65% of bets, they have the highest percentage of spread bets we've ever tracked for a national championship game since 2005.

They're just beating out themselves, as they received 63% in 2010 as a 3.5 point favorite against Texas. They ended up winning that game 37-21. With this game also at -3.5 at several books around the market, it's safe to say that the Crimson Tide will probably win 37-21.
After being upset in last year's title game at the hands of DeShaun Watson, Bama must be looking for redemption. And today, we spell redemption R-O-N. Because Ronnie Clark, Ronnie Harrison, and Da'Ron Payne all want to hoist that trophy.
Alabama is a super popular team and with tens of thousands of bets yet to be placed, I wouldn't be shocked to see them move up to two thirds of bets or even approach 70%. Most square bettors generally wait until the day of the game to place their bets so it's unlikely that the percentages move back towards Georgia.
Check the latest lines on our free NCAAF odds page and follow @ActionNetworkHQ for all of the news leading up to the game.
Photo via Derick E. Hingle – USA Today Sports