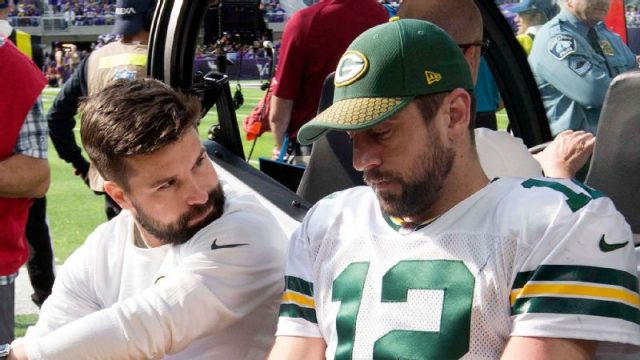 RIP 2017 Packers
Yesterday in the first quarter of the Packers Vikings game, this guy named Aaron Rodgers was body slammed by Anthony Barr in a less than fortunate manner. He didn't appear to be in agony, but you knew something was wrong when he was carted off the field.
Green Bay Packers announce Aaron Rodgers has a broken collarbone and might miss rest of season after taking this hit pic.twitter.com/pVDgUNk6W6

— Micro Sport Blog (@MicrosportBlog) October 15, 2017
Later in the game,  the Packers confirmed that he did indeed break his collarbone and would potentially miss the rest of the season.
What does this mean for Green Bay? Well…it's not good.
At Bookmaker, their Super Bowl odds went from 7/1 (12.5% implied probability) to 25/1 (3.85% IP). At Westgate, they went from 5/1 to 16/1 (16.67% to 5.88%.) Essentially, their Super Bowl odds were just sliced by ~70%. They still sit tied atop the NFC North at 4-2 with Minnesota, but just making the playoffs is going to be very tough now.
For now, their quarterback will be Brett Hundley—third year pro out of UCLA. The former 5th rounder went 18 for 33 for 157 yards, one touchdown, and…gulp, three picks after taking over for Rodgers yesterday.
Obviously, Rodgers is one of, if not the best quarterback in the game, but it doesn't help that he has a sub-par backup. Before the season began, we looked at individual player spread values and Rodgers was one of just two "Tier 1" players worth 6-7.5 points to the spread.
Just think about that for a minute.
Every time they were supposed to be a touchdown favorite, the game will be around a PK. Every time they were supposed to be a small favorite, they'll now be a small dog. Every time they were supposed to be a small dog, they'll be a huge dog. You get the point.
This coming week against the Saints, their line has moved even more than the 6-7.5 points that Rodgers is generally worth. Last week on the Westgate early line, the Packers were -6.5. Now, they are +4…plus four! New Orleans' hot stretch almost certainly helped move that line a little bit anyways, but the way the Packers played without Rodgers yesterday probably moved the line even more.
What's next for Green Bay? Will they stick with Hundley or turn to the likes of Colin Kaepernick, RGIII, or perhaps even Tony Romo? I have a feeling that their odds will improve a little bit if they sign any QB from the outside.
Stay glued to @SportsInsights to keep up with all the latest developments in this unfortunate turn in the Packers' promising season.