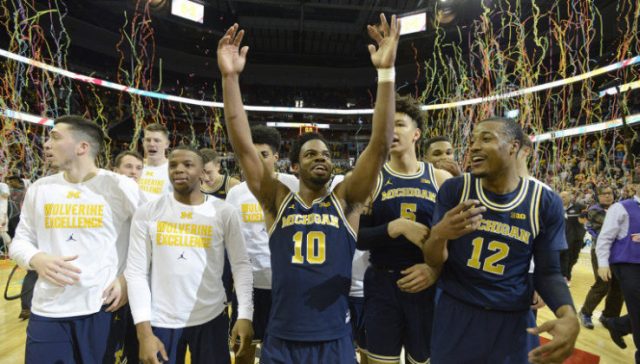 Public Money Moving Oklahoma State-Michigan Line
In Friday's most heavily bet game, the 7th-seeded Michigan Wolverines (24-11 SU, 16-16 ATS) will take on the 10th-seeded Oklahoma State Cowboys (20-12 SU, 16-10 ATS). Last week, Michigan overcame an emotionally draining travel experience to win their first Big Ten tournament since 1998. Conversely, Oklahoma State is entering the tourney on a down note after losing their last three games.
Momentum is clearly favoring the Wolverines, and bettors have been quick to react to these recent events. After opening as 1-point favorites at the market-setting Pinnacle sportsbook, Michigan has received 73% of spread tickets and 62% of spread dollars. This influx of public money has caused the Wolverines to move from -1 to -2.5 across the sports betting marketplace.
[click image below to enlarge]
With the market steadily pounding Michigan since the line opened on Sunday evening, oddsmakers have been forced to adjust their number multiple times, eventually landing at the current line of Michigan -2.5. There haven't been any steam moves triggered on the Wolverines, which indicates public perception has been largely responsible for this 1.5-point line move.
As you can see from the screenshot below, the majority of public bettors are taking Michigan at all seven of our contributing sportsbooks.
[click image below to enlarge]

One of the more interesting storylines in this matchup will involve the head coaches. Since hiring John Beilein, Michigan has gone 14-10 ATS in the Big Ten Tournament and 11-5 ATS in the NCAA Tournament. In fact, Beilein is the best postseason coach in our historical database. For Oklahoma State, Brad Underwood is in his first season as head coach after leading Stephen F. Austin to three consecutive NCAA Tournament berths including two first round victories as double-digit seeds. Beilein has an established track record, but Underwood has been very successful in his own right.
In addition to this one-sided public betting on the spread, casual bettors are also hammering Michigan on the moneyline. At the time of publication, 57% of moneyline tickets and 68% of moneyline dollars were taking the Wolverines. That's fairly surprising since casual bettors often take small favorites on the spread and small underdogs on the moneyline.
Oklahoma State is currently +120 on the moneyline, but our bracket simulator gives the Cowboys a 49.8% probability of winning. That probability equates to implied odds of +101, meaning there might be slight value taking the underdog on the moneyline.
I should also note that parlay percentage is an excellent indicator of square money. You won't find many sharps betting parlays since they're usually a losing proposition and, at the time of publication, 81% of bettors who parlayed or teased this game had taken Michigan.
Casual bettors are prone to overreacting to recent results, so we recommend buying on bad news and selling on good news to capitalize public perception. With Michigan's recent Big Ten Tournament win fresh on the minds of casual bettors, this may be the ideal opportunity to sell high on the Wolverines and take advantage of an artificially inflated line. We still haven't seen sharp money take a side, but this free line value is a hallmark of the contrarian betting strategy.
Interested in checking out our new money percentages and line charts for every college basketball game? Sign up now for an extended 5-day trial of Sportsbook Insider Pro. In addition to the features shown in this post, subscribers also have access to our entire suite of live odds, public betting data, and our Best Bet picks.
Have any questions for the staff at Sports Insights? Make sure to utilize our live chat or call us directly at 877-838-2853.