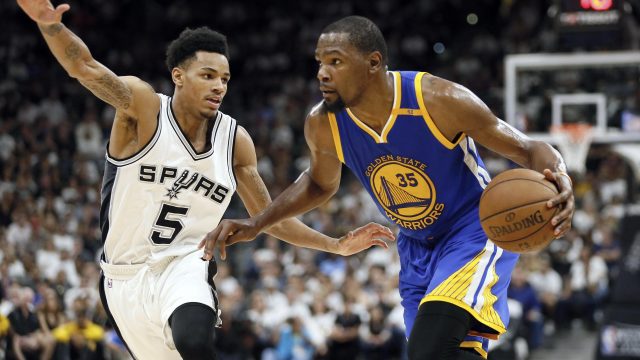 Public Hammering Golden State in Game 4
No NBA playoff team has ever come back to win their series after losing the first three games. That puts the San Antonio Spurs (49-46 ATS overall, 23-25 ATS at home) in a tight spot as they look to extend their series against the Golden State Warriors (48-43 ATS, 24-21 ATS on the road). The good news? It wouldn't be the biggest playoff upset this year following the Celtics come from behind victory last night.
Sportsbook Insider subscribers have access to our historical archive, which displays the public betting trends and line movement for every game in our database. The screenshots below show our archived information for the first three game of this series.
May 14, 2017 (Game 1)

May 16, 2017 (Game 2)

May 20, 2017 (Game 3)

The Spurs have historically been one of the most profitable teams for spread bettors, and it's rare to see them close as underdogs. Since 2005, San Antonio have closed as the 'dog on just 216 occasions — easily the fewest times of any team over that stretch. Perhaps that explains why bettors were willing to take the points in Games 1 and 2.
Prior to the start of the Western Conference Finals, the Spurs had never closed as more than 13-point underdogs on the road and 6-point underdogs at home in our historical database. Both of those numbers have been surpassed as San Antonio closed as 13.5-point road 'dogs in Game 2 and 9-point home 'dogs in Game 3.
The Warriors opened as 9-point road favorites for tonight's matchup at the market-setting Bookmaker.eu, and early public betting has been extremely one-sided. Not only has the percentage of spread tickets (71%) favored the Warriors, the percentage of money splits have been even more drastic with 76% of spread dollars taking Golden State.
As you can see from the screenshot below, the majority of spread tickets have been placed on the Warriors at all seven contributing sportsbooks.
[click image below to enlarge]

With the market steadily pounding Golden State since the line opened, oddsmakers have been forced to adjust their number multiple times, eventually landing at the current line of Warriors -12. Although it may appear that public money is solely responsible for this 3-point line move, there are other factors at play.
[click image below to enlarge]

Less than two minutes after opening, the Warriors moved from -9 to -10 at Bookmaker. When Kawhi Leonard (ankle) was downgraded from questionable to doubtful, the Warriors were steamed from -10 to -12. Public money briefly caused the line to tick up a half-point, but there was immediately sharp money buyback on the Spurs +12.5.
"It's very one-sided for tonight's action," confirmed Scott Cooley, a spokesman from Bookmaker. "We did get some sharp money on the Spurs in Game 3, but that's not the case here as both betting parties are on the chalk. We do not expect Leonard to be active, but if he is, you will a 2-3 point dip in the spread."
The Warriors are the most public team in the league, so it's not surprising to see bettors taking them to cover. However, it's worth noting that many bettors have been taking the Spurs to win straight up. According to our public betting trends, 66% of moneyline bettors have taken the Spurs (+711) in tonight's game. That would be the sixth biggest playoff upset in our database, and the second biggest upset during the Conference Finals.
For what it's worth, teams leading their series 3-0 have gone 35-17 SU and 28-21-3 ATS. That's good news for all of the public bettors hammering Golden State this evening.
Sportsbook Insider Pro subscribers also have access to real-time odds, public betting trends, money percentages, bet signals (including steam moves and reverse line movement alerts), injury alerts, value meter, line watcher, line predictor, and many other unique features. Looking to try our service? Sign up now for a 4-day trial and start winning today!
Have any questions for the staff at Sports Insights? Make sure to utilize our live chat or call us directly at 877-838-2853.