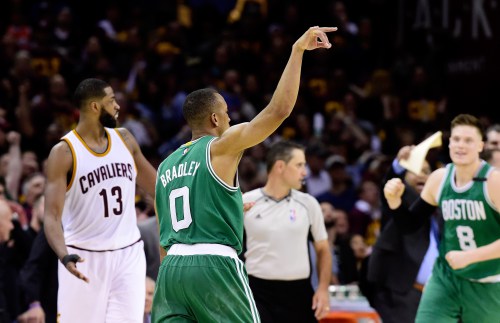 Celtics Pull Off Biggest Playoff Upset We've Ever Tracked
To use the words of Magic Johnson, the Celtics "got blew out" the first two games of the series against Cleveland. To make matters worse, Boston had home-court advantage and the #1 seed, but the Cavs came to Boston and thrashed the Celtics from the start. Following Game 2, it was announced that Isaiah Thomas would miss the rest of the playoffs with a hip injury. Hope was mostly gone for Boston.
Before Game 3 even started, local radio host Tony Mazz basically counted them out:
I know we're going to fight about this, but it's impossible to conclude that Isaiah Thomas and the Celtics have not quit.

— Tony Massarotti (@TonyMassarotti) May 20, 2017
The Celtics opened +14 for Game 3 and even moved to as high as +18.5 at some sportsbooks following the news of IT. More than 80% of spread bets and money were on Cleveland until the line eventually started falling back down to +15.5 due to some sharper money. Cleveland still closed with 69% of spread tickets and 68% of spread money, similar to Game 1 and Game 2, but the outcome would ultimately be different.
Game 3 started like the first two games with the Cavs taking a 16-point halftime lead at halftime. The Celtics reached +2372 on the live moneyline but slowly started chipping away in the second half. Then with the game tied at 108, this happened:
ICYMI, here's the shot that won Game 3 for @celtics#ItsNotLuck #NBAPlayoffs #ThisIsWhyWePlay pic.twitter.com/Dvn60rW3ow

— NBA.com (@NBAcom) May 22, 2017
Avery Bradley's three-pointer with 0.1 seconds left sealed the win for Boston and got them back into the series. With Boston closing +15.5 on the spread and +1681 on the moneyline, it was the largest playoff upset that we've ever tracked in our database going back to 2005. It was also the third-biggest upset including regular season games, surpassed only by the Lakers (+17.5) vs. GS in March 2016, and the Kings (+15.5) at Utah in November 2009. There have now been 294 NBA teams to close +15 or higher since 2005. Only 8 have won the game straight up including the Celtics last night.
For what it's worth to New England fans, the Patriots were +1600 on the live moneyline before they came back to win Super Bowl 51, slightly lower odds than +2372 that the Celtics reached last night. To look at it from the other side, Cleveland was -3050 on the moneyline, meaning you would have had to bet $3,050 on Cleveland to win $100. But of course if you bet that, you lost.
Despite the big win by Boston in Game 3, they opened +15 for Game 4 in Cleveland.
Keep up with all the latest odds, betting percentages, injuries, line predictions and more at our Free Live Odds page.