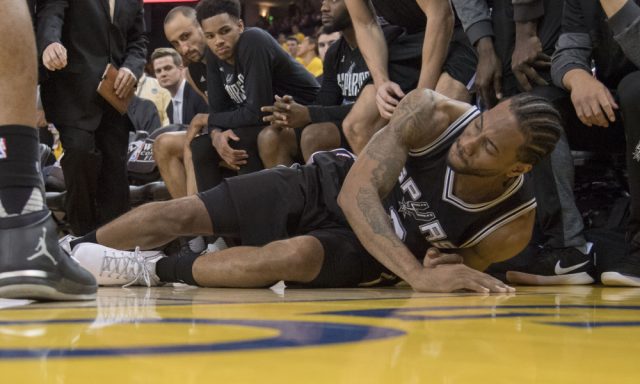 How Many Points is Kawhi Leonard Worth to the Spread?
On Sunday night, the Golden State Warriors overcame a 25-point deficit to defeat the San Antonio Spurs 113-111 in Game 1 of the Western Conference Finals. Stephen Curry and Kevin Durant combined for 74 points in the victory, but the key storyline was the injury to Spurs star Kawhi Leonard. The two-time Defensive Player of the Year, who dealt with an ankle injury throughout the team's series against Houston, reaggravated his injury after landing on Zaza Pachulia's foot.
The Spurs closed as 10-point underdogs at Bookmaker in Game 1, but sportsbooks were forced to hedge their risk with Leonard's status in question for Game 2. San Antonio opened as 12-point underdogs and the line moved from Spurs +12 to +13 once it became clear that Leonard was closer to doubtful than probable. When Leonard was officially ruled out on Monday afternoon, the line moved from Spurs +13 to +14 across the marketplace.
[click image below to enlarge]

Before the season, we wrote that Kawhi Leonard is viewed by oddsmakers as a Tier 2 player, trailing only LeBron James and Russell Westbrook in terms of his value to the spread. Although it varies based on the situation, we wrote that Kawhi is typically worth roughly four points to the spread, and that appears to be the case in this situation. The Spurs were +10 with Leonard in the lineup for Game 1 and +14 without Leonard in the lineup for Game 2.
With Tony Parker already sidelined for the remainder of the season, this injury really stings for the Spurs. It's not often that the Spurs are overmatched, as evidenced by the current spread. Dating back to 2005, the Spurs have only been double-digit underdogs on seven occasions and they've never closed as larger than a 13-point underdog.
Leonard's impact can also be seen on the total, which dropped from 210 to 208 immediately after this announcement was made. Kevin Durant and the Warriors will obviously benefit from Leonard's absence on the defensive side, but the Spurs will miss his scoring even more.
Sportsbook Insider Pro subscribers also have access to real-time odds, public betting trends, money percentages, bet signals (including steam moves and reverse line movement alerts), injury alerts, value meter, line watcher, line predictor, and many other unique features. Looking to try our service? Sign up now for a 4-day trial and start winning today!
Have any questions for the staff at Sports Insights? Make sure to utilize our live chat or call us directly at 877-838-2853.