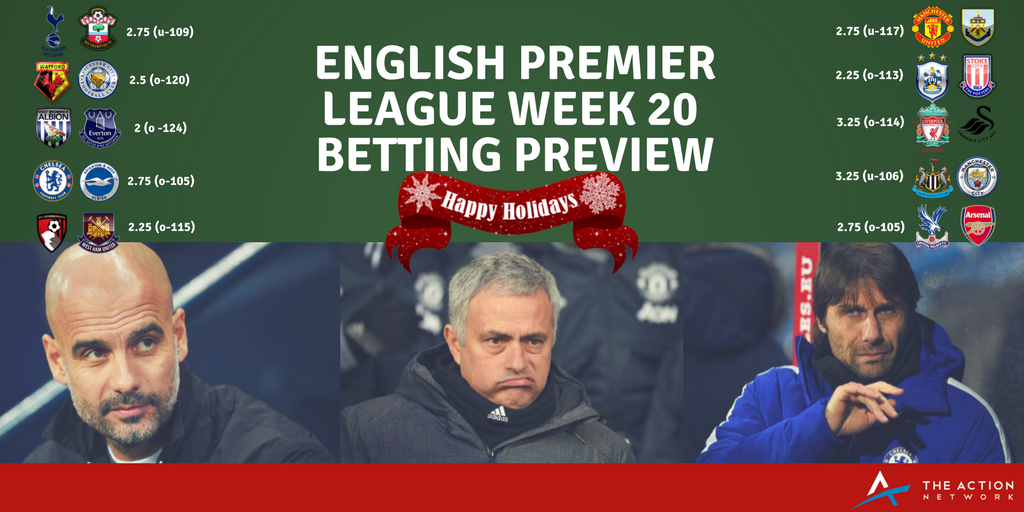 Premier League Week 20 Betting Preview: Boxing Day Bonanza
Last weekend Manchester City had no problem at home beating Bournemouth 4-0 en route to their 17th straight Premier League win. We also got a thrilling 3-3 draw between Arsenal and Liverpool, as well as a late comeback by Leicester City vs. Manchester United to draw 2-2. Value plays went just 1-3 but lost only -0.76 units as the Swansea/Crystal Palace Draw at +224 salvaged the day. Hopefully you're also following on Twitter (@ArsenalDMC) since I had some late value plays on Tottenham ML and Leicester City +0.5 goals to make it a profitable weekend.
Here's a look at last week's results, season trends, biggest payouts, title odds, and value plays for Week 20.
Week 19 Results:
Home 3 of 10 (-3.80 units)
Away 2 of 10 (-3.94 units)
Draw 5 of 10 (+8.70 units)
Season Results:
Home 85 of 190 (-4.14 units)
Away 58 of 190 (-18.22 units)
Draw 47 of 190 (-1.48 units)
It's always good to take these season trends with a grain of salt since a couple weeks can really swing things. Draws are nearly profitable on the season now after a big Week 19, while road teams have slipped considerably.
Season's Biggest Payouts:
Burnley (+1125) at Chelsea in Week 1
Huddersfield (+875) vs. Man Utd in Week 9
Crystal Palace (+695) vs. Chelsea in Week 8
Tottenham/Swansea Draw (+695) in Week 5
West Ham (+655) vs. Chelsea in Week 16
Title Odds via Paddy Power:
Man City -5000 (55 points)
Man Utd +2000 (42 points)
Chelsea +8000 (39 points)
Liverpool +10000 (35 points)
Arsenal +12500 (34 points)
Tottenham +25000 (34 points)
Burnley +200000 (32 points)
Tuesday the 26th is Boxing Day in the UK, but I won't pretend to know 100% what the holiday entails. What I do know is that there are eight matches on the slate and there's definitely some value lurking around.
If you're tired of betting on draws all the time, this is the week for you. The first play with value is West Brom +147 vs. Everton. Even after re-watching Everton matches over the past few weeks, it's hard to figure out how they keep racking up points. They've drawn against the better teams (Liverpool 1-1, Chelsea 0-0) while finding ways to beat Swansea 3-1 and Newcastle 1-0, but there's nothing convincing about them. Even though West Brom have managed just 2 wins in 19 matches all season, a home match against Everton is a perfect opportunity to get their season back on track. They're also a nice contrarian pick with just 21% of bets (compared to 70% on Everton), and a bit of reverse-line movement from +157 to +147. Take the home side to grab all 3 points in this one.
The next value play will be a moneyline parlay on Arsenal/Chelsea/Liverpool/Tottenham which pays out around +250 depending on the prices. The shortest moneyline and biggest worry would be Arsenal (-121) but they're a nice contrarian favorite as the public is loading up on Crystal Palace at home. Chelsea, Liverpool, and Tottenham are all big favorites at home with high totals, so they all should be able to take care of business.
The last value play of the week is a big underdog, and I can't remember the last time I took a dog this large to win outright. It could turn out to be a reach, but at the price of +1236 I think there's some value on Newcastle at home to snap Manchester City's unbeaten streak. No one is really expecting Man City to slip up this week, and all the pundits are predicting 2, 3 and 4-goal victories for Man City. However, Newcastle are coming off two solid road games (1-0 loss at Arsenal, 3-2 win at West Ham) and return home over the holiday period with confidence. Of course Newcastle should be big underdogs at home, but not this high– take the +1236 and hope for a post-Christmas miracle.
Most Lopsided Action Around the Market:
64% on Leicester City (+183) at Watford
58% on West Ham (+167) at Bournemouth
Biggest Line Moves at Pinnacle:
Huddersfield (+174 to +147) vs. Stoke City
Newcastle (+1313 to +1160) vs. Man City
Value Plays (21-25 season record, +22.02 units, 48% ROI):
West Brom (+147) vs. Everton
Newcastle (+1236) vs. Man City
Arsenal/Chelsea/Liverpool/Tottenham parlay (+250)
As always, you can track all the latest Premier League line moves, betting percentages, market data and more with a Premium or Pro membership.