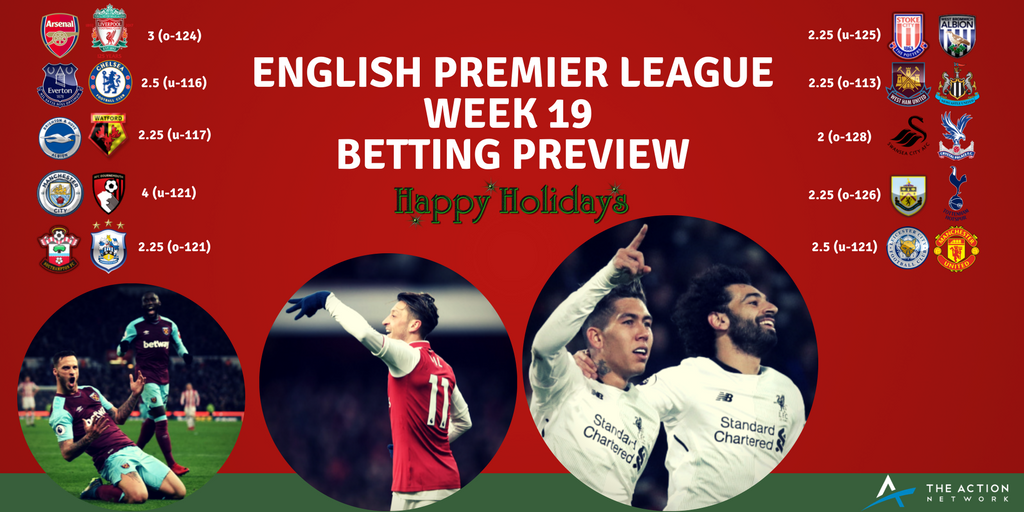 Premier League Week 19 Betting Preview: Relegation Battles and Road Favorites
Manchester City just keep on rolling as they easily beat Tottenham 4-1 last weekend for their 16th-straight victory, a record for English football. Just last month they were available at +1400 to finish the season without a loss, and now they're listed at +400 to do so. My value plays on both Manchester draws fell short, but Burnley/Brighton did play to an exhilarating 0-0 draw at +195 odds to essentially make last week a wash. Here's a look at last week's results, season trends, biggest payouts, title odds, and value plays for Week 19.
Week 18 Results:
Home 4 of 10 (-3.94 units)
Away 5 of 10 (+6.68 units)
Draw 1 of 10 (-7.11 units)
Season Results:
Home 82 of 180 (-0.34 units)
Away 56 of 180 (-14.28 units)
Draw 42 of 180 (-10.18 units)
Season's Biggest Payouts:
Burnley (+1125) at Chelsea in Week 1
Huddersfield (+875) vs. Man Utd in Week 9
Crystal Palace (+695) vs. Chelsea in Week 8
Tottenham/Swansea Draw (+695) in Week 5
West Ham (+655) vs. Chelsea in Week 16
Title Odds via Paddy Power:
Man City -4000 (52 points)
Man Utd +2000 (41 points)
Chelsea +6600 (38 points)
Liverpool +10000 (34 points)
Tottenham +25000 (31 points)
Arsenal +12500 (33 points)
Burnley +200000 (32 points)
Week 19's biggest matchup is on Friday afternoon between Arsenal and Liverpool. Here's how the betting market looks in the hours leading up to the match:
Betting %'s for Arsenal/Liverpool

34% on Arsenal (+152)
50% on Liverpool (+181)
16% on Draw (+276)

70% on Over 3 (-122)

— ArsenalDMC (@ArsenalDMC) December 22, 2017
Bettors have leaned toward Liverpool and the Over in this one, but we may be surprised to see a low-scoring affair. I'd obviously love Arsenal to take all three points, but I could easily see these teams playing to a 1-1 draw. I'll be laying off this one as I tend to do with Arsenal games, but will hope that the defenses show up.
As for value plays, I'm eyeing two draws on matches with close lines and low totals: West Brom/Stoke Draw (+222) and Swansea/Crystal Palace (+224). All four of these teams are near the bottom of the league table and in danger of relegation. Every point matters for these teams and while each would like a win, these matches are going to be close battles. Swansea just fired another manager and I expect the players to put in a solid effort. Premier League teams have too much pride to simply give up after a manager is axed, and while I think Swansea are clearly the worst team in the league this season, I believe they'll get something from this weekend. As for Stoke/West Brom, we've seen Stoke really struggle the past couple weeks but should be able to rebound at home. West Brom have played well against tough competition in their last two matches and should be able to get a point on the road. There's a great chance that at least one of these games ends in a draw, so take both to turn in a profit.
Another draw that I really like is West Ham/Newcastle at +238. These teams are both trending in opposite directions with West Ham putting a string of results together under new manager David Moyes, while Newcastle have earned just one point in their last eight contests. Nearly 80% of bets have taken West Ham to win at home but I think that's a little bit overstated, and there's been some reverse-line movement toward the draw.
The last value play of the weekend will be a two-team moneyline parlay on Chelsea (-150) and Tottenham (-177) which pays out +160. I'm basically fading the trendy underdogs in both matches as Everton (+500) is getting more than 50% of bets at home vs. Chelsea, and Burnley (+595) is getting nearly 40% of bets at home vs. Tottenham. I'm also selling high on both home teams– Everton have been able to win and draw games without playing well, so I expect that to end against a quality Chelsea side. Burnley keep finding ways to win/draw but Tottenham should be able to pick them apart on the road. At +160, I love the value on Chelsea and Tottenham both winning.
Most Lopsided Action:
79% on West Ham (+116) vs. Newcastle
73% on Man Utd (-110) at Leicester City
46% on Everton (+500) vs. Chelsea
Biggest Line Moves:
Leicester City (+391 to +340) vs. Man Utd
Crystal Palace (+196 to +144) at Swansea
Value Plays (20-22 season record, +22.78 units, 54% ROI):
Stoke/West Brom Draw (+222)
Swansea/Crystal Palace Draw (+224)
West Ham/Newcastle Draw (+238)
Chelsea/Tottenham Moneyline Parlay (+160)
Don't forget, Premier League Week 20 matches will be played on Tuesday/Wednesday of next week and I'll have a preview ready by Monday night (Christmas Day).
As always, you can track all the latest Premier League line moves, betting percentages, market data and more with a Premium or Pro membership.