Is Peyton Manning Really a Bad Cold-Weather Quarterback?
Following Monday night's collapse against the Patriots, Peyton Manning's ability (or inability at that) to perform in cold weather has been a very hot topic among fans and analysts. Everybody seems to be throwing around different stats to back their own opinions, motivating us to look back in our database to find a betting market perspective.
When executing analysis like this, we always prefer using against the spread (ATS) records as a measure of how a team, or player in this instance, performs because point spreads include a level of "expectation" that straight-up wins and losses do not.
Since Monday's game concluded, there has been a theme of cold weather vs. high winds used to determine whether Manning truly experiences a decline in bad weather.
Using our Bet Labs data analysis software, we created a system to test each of these situations and found some interesting results.
Since 2003, Manning has not played up to his expected level of performance in cold weather by posting a 1-5 (16.7%) record ATS. For the purposes of the analysis, we defined cold weather as any game with a kickoff temperature of 32 degrees Fahrenheit and below. On the other hand, Tom Brady's 16-10 (61.5%) ATS record in cold weather games confirms what most of us already thought regarding his level of performance in below-freezing temperatures.
With the cold weather debate settled, we moved on to wind speed at kickoff to see if the King of Flutterballs really struggles when the wind kicks up. When creating this system, we used wind speeds of 15 mph and higher as our definition of "high winds".
Surprisingly, Monday night's game was the first time since 2003 that Manning did not cover the spread in high winds. In fact, Manning is 4-2 ATS since the start of the '03 season in these games and his return on investment (ROI) of 30.9% for anyone betting on each of these games is actually higher than Brady's ROI of 9.3%. In full disclosure, Brady has a much bigger sample and a very respectable 15-12 ATS record in windy games.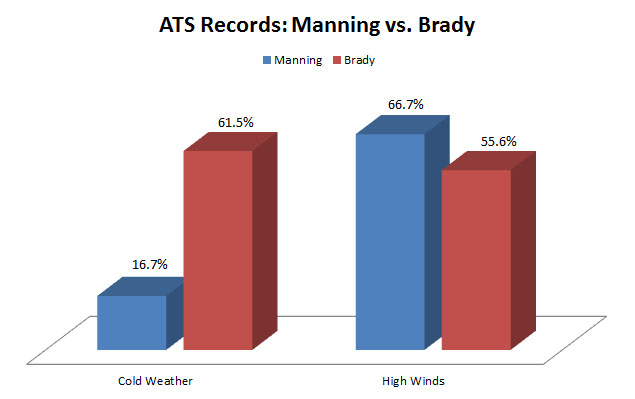 On a side note, we found it interesting that, in terms of both units won (-11.28)  and ROI (-66.4%), Brett Favre, who is universally regarded as a great bad-weather quarterback, is the worst signal caller in our database in windy games.
Note: Our database of closing lines from Pinnacle and weather data dates back to 2003, so results for games played before the 2003 season were not included in our analysis.
Interested in performing your own weather analysis or creating your own NFL betting systems? Try our Bet Labs software now for only $25.
[adrotate group="3″]