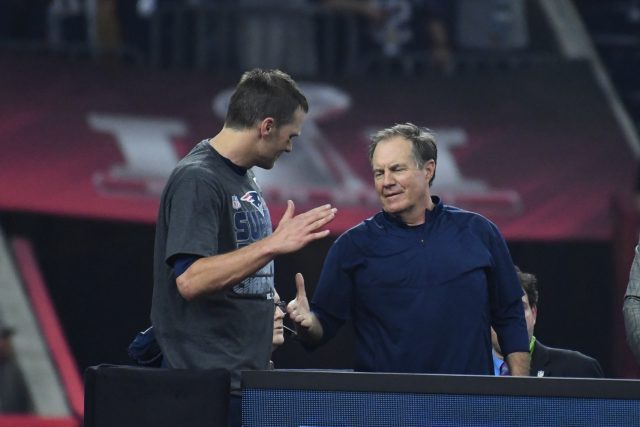 Patriots Playoff Trends: Brady, Belichick Have History of Covering Amid Controversy
On Sunday, Keith, Danny, and I watched an NFL wild-card game between the Bills and Jaguars that we will almost surely never forget. After three long and miserable hours of incomplete passes, punts, QB rushing attempts and expletive-laced tirades in the office, the game finally…fittingly…came to an end with a Nathan Peterman interception.
The bad news is that we can never get those three hours of our lives back. The good news is that we now know who the Patriots will be playing in the divisional round.
One of these teams hasn't been higher than 5/1 to win the Super Bowl all season

The other is currently 15/2 to win…just this game pic.twitter.com/1iCmVqkQQu

— The Action Network (@ActionNetworkHQ) January 7, 2018
Do bettors even care about the opponent or will they be betting on New England either way?
With the Patriots opening up against the Titans as a 13.5/14 point favorite, they find themselves in a familiar situation. This will be the sixth time since 2003 that they've been a double-digit favorite in the playoffs. During that same timeframe, there have only been 10 double-digit playoff favorites in the rest of the league combined.
There is a twist this time. Though controversy is seemingly always swirling around the Pats, the most recent story that came to light details internal strife between their three most important people: Tom Brady, Bill Belichick, and Robert Kraft. It's definitely troubling if you're a Pats fan looking toward the future, but could this potentially motivate them on their push for ring No. 6?
Legit conversation in betting circles: The story about the Pats turmoil makes you more likely to bet on them in playoffs.

— The Action Network (@ActionNetworkHQ) January 7, 2018
Over 60% of voters are more likely to take the Pats due to the kerfuffle. When you take into the account that the Patriots almost always get the majority of bets in the first place, you could see them getting some very lopsided support this offseason.
In last season's divisional round against the Texans, the Patriots received 70% of bets as a whopping 16-point favorite. They won by 18. They've received 60% of spread bets 12 times in the postseason since 2003, while no other team has more than six. Of course, we all know how they attract plenty of bets in the regular season too.
How about the spot? Here are some trends about the Patriots and teams in this particular situation dating back to 2003. Shout out to Evan Abrams and John Ewing for the help.
| Trend | ATS Record |
| --- | --- |
| Pats as Double-Digit Favorite since 2015 (Post-Deflategate) | 11-3 |
| Rest of NFL as Double-Digit Favorites since 2015 | 29-36 |
| Brady as Touchdown Fav in Wild Card & Divisional Rounds | 6-2 |
| Brady as Touchdown Fav in AFC Champ and Super Bowl | 0-3 |
| DD Favorites since 2015 with more than a week of rest (reg +postseason) | 4-17 |
| #1 Seeds as a touchdown+ favorite | 8-17-1 |
| Favorites with more than a week off in the playoffs | 36-51-1 |
| Brady as a favorite with more than a week off in the playoffs | 10-11 |
There are some trends that really stick out in my mind. For one, the extra rest has been quite overrated when it comes to spread betting. In the regular season, favorites off a bye week have done quite well, but that has been far from true in the postseason.
Brady has traditionally had no trouble running up scores in the early rounds of the postseason, but has struggled to live up to lofty expectations in the AFC Championship and Super Bowl.
We saw that Brady did not like having his name dragged through the mud after Deflategate. He's made that quite clear by winning two Super Bowls and demolishing spreads on a regular basis over the past few seasons, as the Pats have gone a league-best 36-16-2 ATS since the allegations were made following the AFC Championship game in 2015. Perhaps this new situation will light a fire under the rear end of a man who needs no motivation to thrive in the first place.
What would it take for you to bet on the Titans?
How many points would the #Titans need to get for you to bet on them at New England?

— The Action Network (@ActionNetworkHQ) January 8, 2018

I'm sure two touchdowns is plenty for some of you, but others may want to bet on the Pats no matter what. I've even seen the infinity symbol floated around by some folks. Don't tell Dan, Dan, the Titans man, though.
In the early going, the Pats are getting nearly 80% of spread bets…shocker! It will be very interesting to see how the line and percentages shake out over the next six days.
For updated lines and percentages throughout the week, be sure to check our free NFL odds page. 
Photo via Kirby Lee-USA TODAY Sports