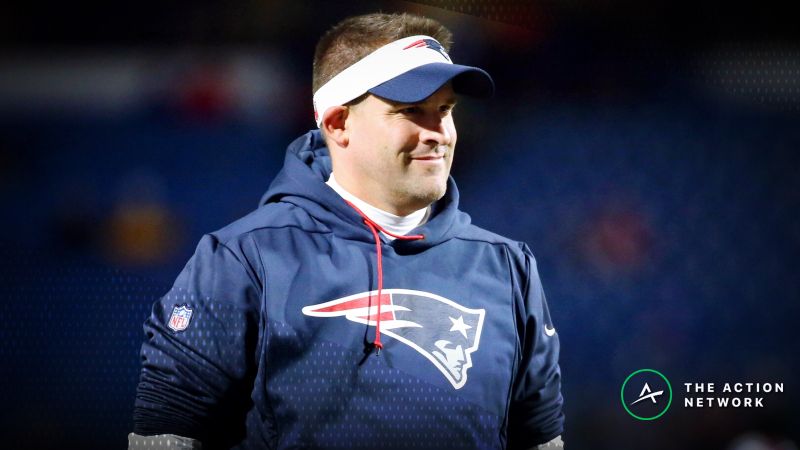 Josh McDaniels Among Favorites for Next Packers Head Coach
Two weeks ago, there were grumbles on the Sunday Night Football broadcast between the Packers and Vikings that Mike McCarthy's time in Green Bay could be coming to an end. Just one week later, it did.
I don't care how many Super Bowls you didn't reach with Aaron Rodgers as your quarterback, if you lose to the Cardinals at home, you're getting the boot.
Offensive coordinator Joe Philbin will take the reigns for the remainder of Green Bay's disappointing 2018 campaign.
However, odds have already been set for the next Packers head coach and Philbin is just 100-1 to land the gig.
The Favorites
No, not the podcast.
John DeFilippo +200
For those unaware, John DeFilippo is in his first year as Minnesota's offensive coordinator. The Vikes are middle of the pack with 22.9 points per game, but probably more important to his résumé is his quarterbacks coach gig with the Eagles from 2016-2017.
In addition to winning the Super Bowl, DeFilippo helped Carson Wentz turn in an MVP caliber season before getting hurt and, oh yeah, coached Nick Foles to a Super Bowl victory and MVP.
Josh McDaniels +225
The Pats' OC nearly became the Colts' head coach this past offseason before he changed his mind to stay with New England. The general consensus at the time was that he stayed because the Patriots "promised" him the head coaching job once Bill Belichick decides to head for the hills.
However, perhaps an even more enticing option for McDaniels would be to pack up and leave for Green Bay. He'd still get some years with Rodgers as his quarterback and some shots at a Super Bowl. Meanwhile, the Patriots' succession plan for the post-Brady era went out the window when they traded Jimmy Garoppolo.
Adam Gase +500
The only current NFL head coach with half-decent odds, Adam Gase is all alone at the number three spot on the list. Why? I'm not entirely sure. His time in Miami has been up and down, complicated by injuries to Ryan Tannehill. He's kept them afloat with a 6-6 record this season despite Brock Osweiler starting five games, so I don't see him getting fired by the Dolphins and hitting the job market. Would Green Bay really seek out his employment?
Jim Harbaugh +800
Headed to the Peach Bowl, Jim Harbaugh and the Wolverines are coming off an ugly 62-39 defeat at the hands of Ohio State. If he's had enough of the college football scene for now, well…
"If Jim Harbaugh is looking to come back into the NFL, Packers might be interested." – Packers reporter @RobDemovsky on @dpshow

— Andrew Perloff (@andrewperloff) December 3, 2018
The Longshots
Marvin Lewis +20000
According to reports, Aaron Rodgers has contacted Packers ownership requesting a head coach who has never won a playoff game. Just kidding.
Nick Saban +25000
Look, Nick Saban doesn't need to prove anything. However, if he wants to prove he can coach in the NFL, this could be the optimal time and place. Aaron Rodgers > Joey Harrington, Daunte Culpepper and Cleo Lemon.
Urban Meyer +50000
Unlike Saban, Urban Meyer has never tested the NFL coaching waters. His time at Ohio State may be coming to a close, but he's been adamant that he'll be back with the Buckeyes next year.
Brett Favre +100000
Something tells me this won't happen. He probably has better odds of starting at quarterback for a team next year, to be honest.
Odds via BetDSI
This article was originally posted on ActionNetwork.com by Mark Gallant. Sports Insights is part of The Action Network.