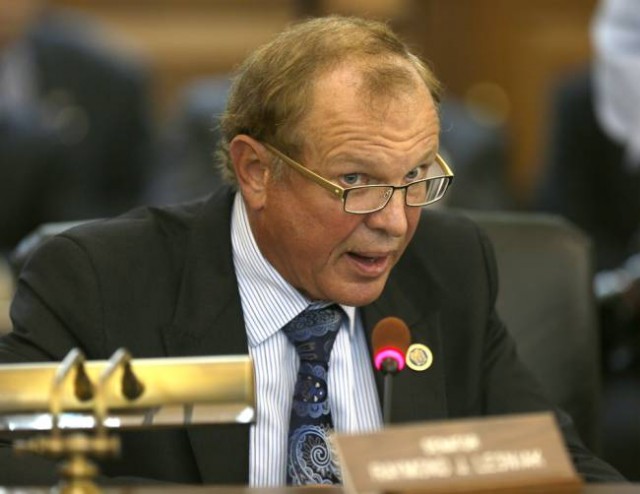 One Step Forward, One Step Back: New Jersey's Push for Legal Sports Betting Now Stuck in Judicial Limbo
Just a few short weeks ago, New Jersey's push to bring legal sports betting to the Garden State looked promising.
It all began on October 16th, when the New Jersey assembly passed a sports betting bill that partially repealed the state's prohibitions on sports betting. The new legislation didn't just squeak by with a majority vote, it passed by a landslide, 73-4.
The very next day, October 17th, Governor Chris Christie (R) signed the bill into law, paving the way for legal sports betting at casinos and racetracks licensed by the state. After years of incremental victories and disappointing setbacks, it finally looked like legal sports betting was coming to New Jersey.
As soon as the bill passed, one of New Jersey's oldest race tracks, Monmouth Park, went on record saying they would begin accepting legal bets on sports starting on Sunday, October 26th.
State Senator Ray Lesniak (D), who has been one of the most vocal proponents of legal sports betting, vowed to be the first person to place a legal bet in New Jersey.
"It's been a long fight to get this done, and I plan to celebrate and take my victory lap at Monmouth Park next Sunday," he said.
REALITY SETS IN
Unfortunately, these hopes were quickly dashed as the powers that be teamed up to throw a wrench into the operation. Just three days after Christie signed the sports betting bill into law, the NCAA, NFL, MLB, NBA and NHL filed a motion in US District Court to prevent New Jersey from offering sports betting.
The sports leagues argued that New Jersey's new sports betting bill violated the 1992 federal ban on sports betting, known as the Professional and Amateur Sports Protection Act (PAPSA), and thus is illegal and must be stopped.
"It's the leagues' last hurrah to perpetuate their stranglehold over sports betting which they condone and exploit to their own benefit," Lesniak said.
One day later, the sports leagues filed a temporary restraining order against New Jersey's legal sports betting effort.
After several days of legal filings, US District Judge Michael Shipp of Trenton sided with the sports leagues and granted them the temporary restraining order they were seeking. Just like that, the back and forth fight to bring legal sports betting to New Jersey was stopped dead in its tracks.
As a result of the ruling, Monmouth Park, along with all of the other licensed racetracks and casinos in New Jersey, was now barred from taking in bets. Despite the bad news, Senator Lesniak refuses to give up the fight.
"It's incredibly disappointing," he said. "It's very, very important to both our casinos and racetracks, so we're going to continue to pursue it."
Lesniak also took to twitter and expressed his confidence that this bill would eventually be passed:
If the NFL thinks they're going to wear me out, think again guys.

— Senator Ray Lesniak (@SenatorLesniak) October 24, 2014

WHERE DO WE GO FROM HERE?
At this point, the fight to bring legal sports betting to New Jersey is caught in judicial limbo. More hearings are set for the District Court and Third Circuit Court of Appeals, where the sports leagues are trying to turn the temporary restraining order into a permanent restraining order.
The biggest loser in all of this, aside from all of the East Coast sports bettors hoping to make legal wagers, is the state racetracks and casinos that were banking on the sports betting bill passing and being put into motion.
As David Purdum of ESPN Chalk noted, Monmouth Park had been preparing for over a month to take in bets starting October 26th. This included turning their sports bar and restaurant into a sportsbook as well as hiring new employees and forming an independent regulation committee. The Park was expecting thousands of sports bettors to attend Sunday's opening. This would have brought tons of new revenue to a state badly in need of an economic shot in the arm, not just for Monmouth Park but for area restaurants, hotels and neighborhood establishments.
Unfortunately, the major sports leagues are more interested in protecting the status quo than improving the livelihood of citizens and local economies that would benefit greatly from legalized sports betting.
SO YOU'RE SAYING THERE'S A CHANCE
While pro leagues take a tough, anti-sports betting stance in the legal world, some leagues, like the NBA, take a completely different approach when discussing the issue in public.
Just yesterday, NBA Commissioner Adam Silver did an interview with Bleacher Report, saying, among other things, "I do think that sports betting on a widespread, legalized basis in the United States is inevitable."
He also added that, despite the NBA being extremely opposed to sports betting in the past, the league would be open to participating "in the regulatory framework [around sports betting] that will be designed around our game."
Silver went on to say that "Sports betting, if done in an appropriate regulatory environment, is not necessarily an evil."
It's hard to tell if Silver is being honest or just telling fans what they want to hear. After all, the NBA is one of the main sponsors of the legal fight to stop sports betting in New Jersey. However, on the glass half-full side of things, at least one commissioner of a major US sports league is publicly voicing support for legal sports betting and not just dismissing it outright, which has been the common approach to legal sports betting in the past.
If only Silver could convince Roger Goodell, Gary Bettman, Bud Selig's successor Rob Manfred, and the higher ups in college sports to rethink their rigid opposition to legal sports betting, then we might actually see it become a reality, not just in New Jersey but in other states as well.
[adrotate group="4″]