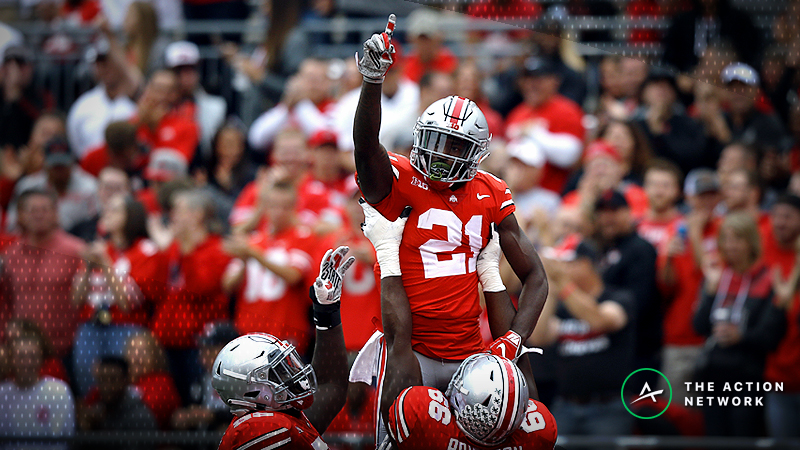 Analyzing the Massive Ohio State-Penn State Over/Under Movement
Sharp bettors wasted no time jumping on the point spread for Saturday's Ohio State-Penn State game (7:30 p.m. ET), and now they've set their sights on the over/under.
According to The Action Network's public betting data, this Big Ten showdown has attracted 46% more action than any other Week 5 college football game.
Professional bettors have clearly been a large part of that, highlighted by how much they've already moved this over/under. This total opened at 66, and behind 74% of over/under dollars, has steadily increased to 72 throughout the week.
Sports Insights' Bet Signals have been very active already, triggering Steam Moves at over 68.5 and again at 70.5, explaining why this total has settled in at 72.
Steam Moves are defined as sudden and uniform line movement across the entire sports betting market that is usually a sign of sharp or respected bettors getting down on the same wager at multiple sportsbooks all at once.
Penn State's highest total on record is 65.5, and there have been only 20 Big Ten totals over 70 since 2005, according to our BetLabs' database, with the over going 13-7. Only three of those 20 games were between two Big Ten teams.
Not only is Ohio State-Penn State the biggest matchup of the weekend, but it's also attracting plenty of money from sharp and recreational bettors with ample time for more.
Be sure to download The Action Network's mobile app to track the latest line moves and how our experts are betting this game.
This article was originally posted on ActionNetwork.com by PJ Walsh. Sports Insights is part of The Action Network.