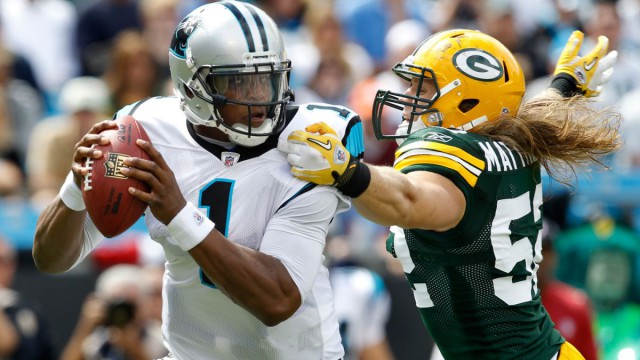 NFL Week 9 Opening Line Report
We are now halfway through the NFL season, and a record four teams (CAR, CIN, DEN and NE) are still undefeated. In fact, there are currently just five AFC teams and six NFC teams with winning records which shows the drastic divide between the league's best and worst teams.
Last week there were a number of season ending injuries to key players including with Le'Veon Bell, Steve Smith and Cameron Wake. Other stars — including Keenan Allen, Matt Forte and Joe Haden — will be out indefinitely after suffering serious injuries in Week 8. However, the two games that are currently off the board are due to question marks surrounding the starting quarterback.
Titans QB Marcus Mariota (Knee) is currently listed as questionable for Sunday's game against the Saints while Jets QB Geno Smith (Shoulder) is listed as questionable for Sunday's game against the Jaguars.
The table below shows the look ahead lines from April via CG Technology compared to the opening and current odds at CRIS. Each week we'll examine the biggest moves and analyze how oddsmakers' expectations have changed since the offseason
| Matchup | Opening Line (11/1) | Current Line (11/3) | Look Ahead (4/25) |
| --- | --- | --- | --- |
| CLE at CIN | CIN -10.5 | CIN -10.5 | CLE -2.5 |
| OAK at PIT | PIT -7 | PIT -4.5 | PIT -9.5 |
| JAX at NYJ | OFF BOARD | OFF BOARD | NYJ -5 (With Geno Smith) |
| STL at MIN | MIN -3 | MIN -2.5 | PICK 'EM |
| MIA at BUF | BUF -3 | BUF -3 | BUF -2 |
| TEN at NO | OFF BOARD | OFF BOARD | NO -7 (With Marcus Mariota) |
| WAS at NE | NE -13.5 | NE -14 | NE -8.5 |
| GB at CAR | GB -1.5 | GB -1.5 | N/A |
| ATL at SF | ATL -3 | ATL -4.5 | SF -6 |
| NYG at TB | NYG -1.5 | NYG -2.5 | NYG -2 |
| DEN at IND | DEN -3 | DEN -3 | IND -1 |
| PHI at DAL | PHI -1.5 | PHI -3 | DAL -2.5 (With Tony Romo) |
| CHI at SD | SD -4.5 | SD -3.5 | SD -4 |
The first game that jumps off the board is Thursday Night's game between Cleveland and Cincinnati. It would appear that oddsmakers at CG Technology clearly posted a bad number when they released look ahead lines back in late April. Somehow the Bengals were listed as 2.5-point road underdogs even though they were also listed as 2-point road favorites for their Week 13 showdown.
It's also interesting to monitor the early line movement for Sunday's Falcons/49ers game. Before the season, San Francisco was actually listed as a 6-point favorite. After a rough off-season and a 2-6 record through 8 games, the 49ers opened as a 3-point home underdog.
Once it was announced that Blaine Gabbert would replace Colin Kaepernick as the starting quarterback, San Francisco dropped from +3 to +4.5. At the time of publication, this was the most heavily bet game of the week.
The Raiders/Steelers line movement is also intriguing for a number of reasons. Pittsburgh was listed as a 9.5-point favorite before the season, but with star running back Le'Veon Bell out for the year they only opened as 7-point favorites. The Raiders have received 60% of early spread bets and have moved from +7 to +4.5 at CRIS. With Oakland coming off a 14-point win and Pittsburgh coming off a loss, this could be a great time to buy low on the Steelers and sell high on the Raiders.
In early betting Denver (98%), Green Bay (92%), New York Giants (85%) and Atlanta (80%) have been the most popular sides. This could create contrarian value on their opponent, so bettors should continue to monitor these lines and betting trends.
These numbers are subject to change throughout the week, so bettors should be sure to bookmark our free NFL odds page for updates lines, betting trends, injuries, futures and more.