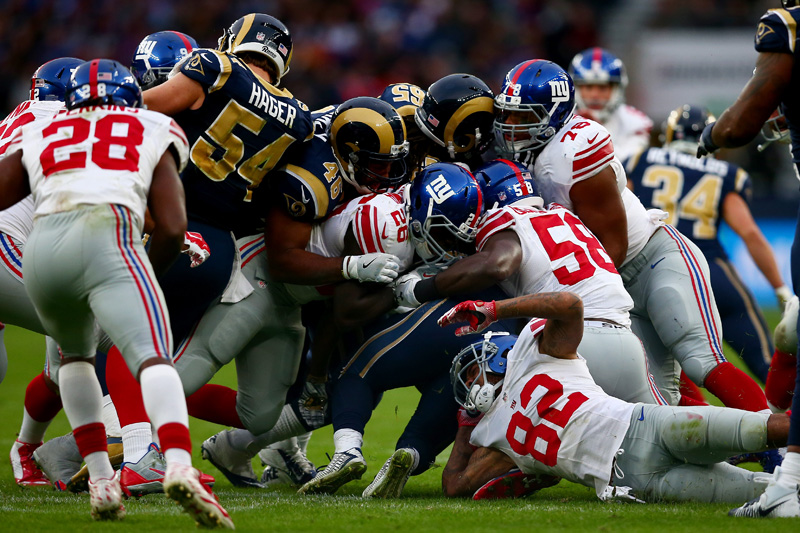 NFL Week 9 Report: Sharp/Square Divide on Giants vs. Rams
Every Friday, we use the tools included in our Sportsbook Insider Advantage membership to highlight key news, betting action and trends all NFL bettors need to know heading into the weekend.
Public loving the Rams? Well that's new…
In Monday's Action Network Newsletter, Chad Millman dropped the knowledge that the Rams were road favorites of more than a field goal for the first time since 2005. Bettors have gladly played the -3.5, making the Rams the most popular side of Week 9 in both percentage of tickets AND percentage of money, according to our Sharp Action Report.

So why hasn't the line moved?
Also available as part of our Sharp Action Report (pretty useful piece of content, right?) is a running list of which NFL sides are taking the most action from sharp bettors.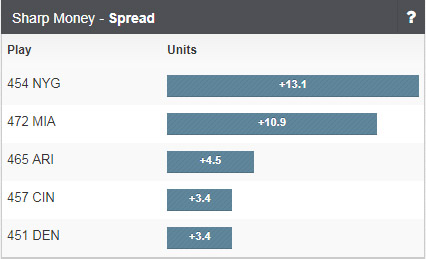 While recreational players can't throw their money at Jared Goff fast enough, professionals have spent the week pounding the hook which not only helps balance the books for oddsmakers, but also fires a warning shot that sharp money is ready to pounce should sportsbooks give into one-sided Rams action and adjust to 4.
Cash is king
Percentage of tickets provides some insight regarding the intricacies of betting markets, but being able to compare the percentage of actual dollars being wagered to tickets is even more enlightening.
As illustrated by our Sportsbook Insider betting activity dashboard, 65% of spread tickets are laying the 7.5 with the Eagles while 58% of spread dollars have taken the Broncos.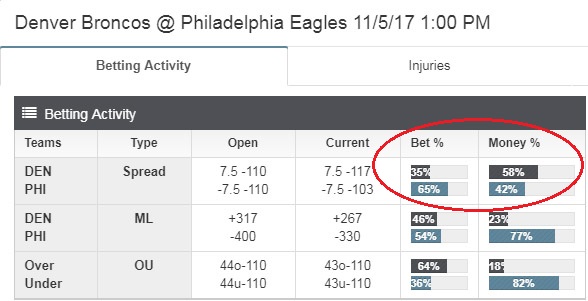 If you want to follow the masses, take the Eagles. If you want to follow the money, well, you know what to do.
Get updated odds, Sharp Action Report access, ticket and money percents and detailed weather data for all games in all sports – just $39 a month. Start your Sportsbook Insider Advantage membership now.