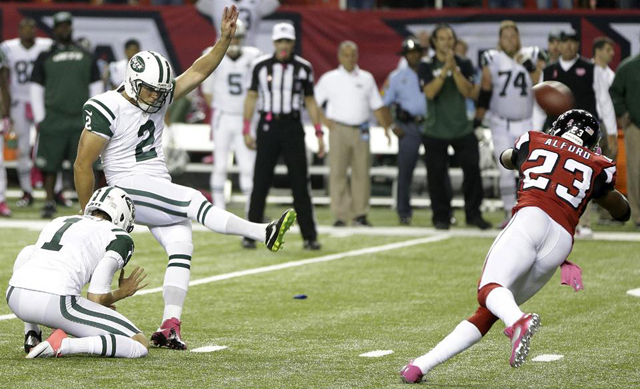 NFL Week 6 Betting – Line Moves that Matter
Note: This post was updated at 9:25 a.m. ET on 10/12 to reflect the most recent line movement regarding this game.
For the most part, NFL Week 6 has been quiet from a line-movement perspective. However, one game has seen an interesting adjustment that grabbed our attention.
Pittsburgh Steelers (pk) at New York Jets
Pittsburgh opened as a 2-point favorite at CRIS and climbed to -3 (+100) heading into New York's game against Atlanta on Monday Night Football. The Jets surprised both bettors and analysts by not only covering the 10-point spread, but kicking a field goal as time expired to beat the Falcons straight-up.
Following the Jets' victory, CRIS reopened this week's game as a pick 'em and the line immediately climbed as New York money hit the market. The line chart below shows this in more detail: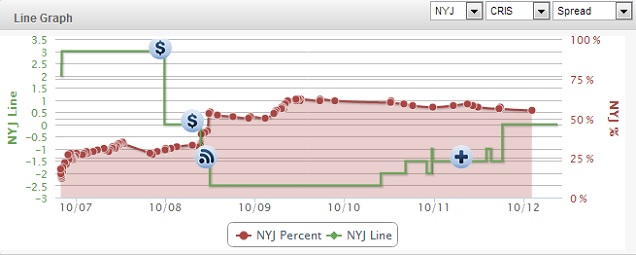 As you can see, the Jets sat as 3-point underdogs until late Monday evening. The game was then reopened with a big line adjustment to a pick 'em. At that point, the public began betting Jets, pushing the line to -2.5 on Tuesday where it remained until Steelers money dropped the line back down to a pick' em.
Why does this line move matter?
This line jumped 5.5 points based on nothing but public perception. Before New York's game kicked off Monday, this line settled in with Pittsburgh as 3-point favorites. Following the Jets' win against the Falcons, oddmakers knew the public would overreact to New York's impressive prime time performance in front of a national TV audience. As a result, the game was reopened as a pick and sportsbooks took Jets money until sharps jumped on the Steelers at +2.5 and +3 (paying extra juice).
Line moves this drastic are usually associated with breaking injury news or overwhelming sharp money hammering one team, however that is not the case in this game.
Want to know our favorite football bets this weekend? Try our Pro membership for $49 and access all of our College Football Week 7 and NFL Week 6 Best Bets through our website or smart phone app.