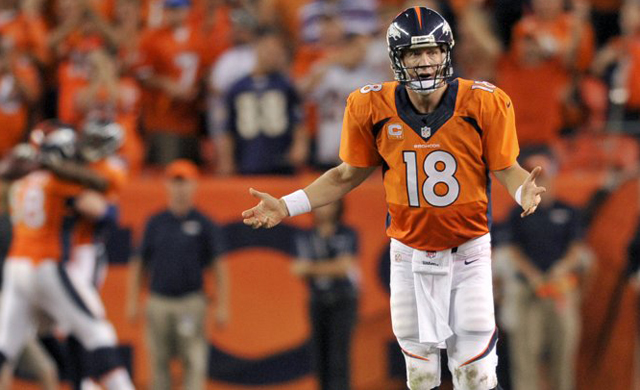 NFL Week 5 Betting – Line Moves that Matter
Having access to live odds and real-time betting data is a huge advantage for NFL bettors, but it's important not to go overboard and blindly follow every line move.
Instead, bettors must first determine why the line moved and pinpoint where the value lies with the new number. Oftentimes, the line adjustment kills the value that previously existed, meaning chasing the move will lead to betting bad numbers.
With this in mind, we looked ahead to NFL Week 5 point spreads and found two games with line movement that has piqued our interest.
Denver Broncos -7 (-120) at Dallas Cowboys
The Broncos opened as 5.5-point favorites at CRIS and have since moved to -7 (-120). Many sportsbooks have moved their numbers more drastically, including a handful now posting Denver at -9.

Not surprisingly, 85% of spread bettors have taken the Broncos, forcing sportsbooks to react by adjusting Denver to a larger favorite.
Why does the line move matter?
Our analysis of NFL key numbers reveals that 5.58% of NFL games (since 2003) finish with a 6-point margin of victory and 9.55% of NFL games land on 7, which has added value to bettors willing to take Dallas this week.
Furthermore, NFL teams that receive 20% or less of spread bets are 94-70 (57.3%) ATS since 2003, and 6-1 (85.7%) ATS this season, indicating that lopsided betting this drastic has provided line value historically.
San Diego Chargers -4.5 at Oakland Raiders
After CRIS opened San Diego at -5, 83% of bettors jumped on the Chargers, yet the line dropped to -4.5. With the large majority of action on San Diego, you'd expect the line to increase as it has in the Denver/Dallas game.
However, this line fell to -4.5, which is an example of reverse line movement.
Why does this line move matter?
Reverse-line movement indicates that public money likes San Diego, but sharp money is coming down on Oakland and the points.
Oakland, like Dallas, is receiving less than 20% of spread bets, hinting that the Raiders are another team offering contrarian value this weekend.
Note: Public betting trends will continue to fluctuate throughout the week, so be sure to check updated spread percentages on our smart phone app or our NFL Betting Trends page Sunday morning before deciding on these games.
Want to know our favorite football bets this weekend? Try our Pro membership for $49 and access all of our College Football Week 6 and NFL Week 5 Best Bets through our website or smart phone app.