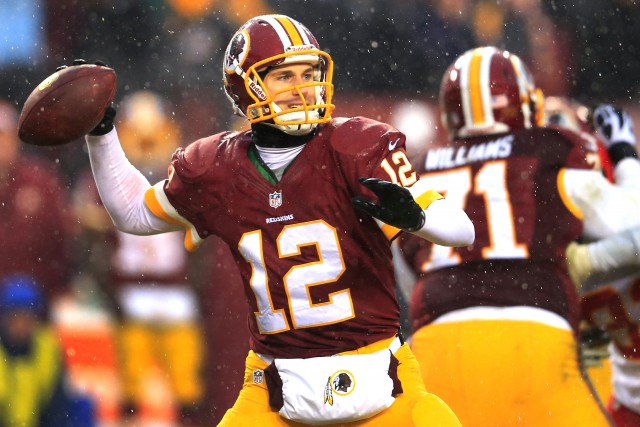 NFL Week 16 Opening Line Report
There are two weeks remaining in the season and just six teams have clinched a playoff berth, meaning that there are still six available spots in the postseason. This includes divisional battles in the woeful AFC South and NFC East — both of which feature a first place team with a .500 record.
A number of starting quarterbacks suffered major injuries last week which are influencing the Week 16 opening lines. This list includes Carson Palmer (Probable, Finger), Sam Bradford (Probable, Shoulder), Marcus Mariota (Out For Year, Knee), Andrew Luck (Out, Kidney) and Drew Brees (Questionable, Foot).
In addition, there are two games which have listed posted despite undecided quarterback situations:
Baltimore Ravens (+10.5) vs. Pittsburgh Steelers
Denver Broncos (-3.5) vs. Cincinnati Bengals
Peyton Manning is listed as questionable this week, but it seems safe to assume that Brock Osweiler will continue to start for the Broncos. With Joe Flacco out for the season, the Ravens have had a quarterback carousel with Matt Schaub and Jimmy Clausen both earning starts. This week, Texans cast-off Ryan Mallett could also be in the mix.
The table below shows the look ahead lines from April via CG Technology compared to the opening and current odds at CRIS. Each week we'll examine the biggest moves and analyze how oddsmakers' expectations have changed since the offseason.
| Matchup | Current Line (12/22) | Opening Line (12/20) | Look Ahead (4/25) |
| --- | --- | --- | --- |
| SD at OAK | OAK -5 | OAK -4.5 | SD -3.5 |
| WAS at PHI | PHI -3.5 | PHI -3 | PHI -7 |
| NYG at MIN | OFF BOARD | OFF BOARD | MIN -1.5 |
| CHI at TB | TB -2.5 | TB -3 | CHI -1.5 |
| CAR at ATL | CAR -7 | CAR -7 | ATL -1 |
| DAL at BUF | BUF -6 | BUF -6 | BUF -1 |
| JAX at NO | OFF BOARD | OFF BOARD | NO -8 |
| SF at DET | OFF BOARD | OFF BOARD | DET -1.5 |
| CLE at KC | KC -12.5 | KC -12.5 | KC -5.5 |
| IND at MIA | OFF BOARD | OFF BOARD | Pick 'Em |
| NE at NYJ | NE -3 | NE -3 | NE -4.5 |
| HOU at TEN | OFF BOARD | OFF BOARD | HOU -2.5 |
| GB at ARI | ARI -4.5 | ARI -4 | Pick 'Em |
| STL at SEA | SEA -13.5 | SEA -13.5 | SEA -6.5 |
| PIT at BAL | PIT -10 | PIT -10.5 | BAL -2 |
| CIN at DEN | DEN -3.5 | DEN -3.5 | DEN -4.5 |
Obviously due to injuries and overall performance, there have been some massive changes between the current odds and the preseason projections from CG Technology. The Raiders (6-8) have outperformed preseason expectations and the Chargers (4-10) have struggled mightily, which helps explain why the line moved from Chargers -3.5 to Raiders -4.5.
Before the start of the season, oddsmakers had similar expectations for the Atlanta Falcons and the Carolina Panthers in terms of Super Bowl futures, win totals, and divisional odds. However, the Panthers are just two games away from a perfect regular season while the Falcons just broke their six-game losing streak with a 6-point victory over the Jaguars. That helps explain why the line moved from Atlanta -1 to Carolina -7.
These numbers are subject to change before kickoff, so bettors should be sure to visit our free NFL odds page for the latest lines, injuries, public betting trends and more.
We would also suggest that customers sign up for a 4-day trial of Sportsbook Insider Pro for real-time odds, public betting trends, Best Bet picks, contrarian plays, steam moves, reverse line movement alerts and much more. Schedule a one-on-one demo with our customer service and we add four days onto your subscription for free!
There are five active sports leagues including NBA and College Basketball, where our Best Bets have combined to go 100-71 ATS (58.48%) with +21.0 units won. Begin your trial and start winning today.
Have any questions for the staff at Sports Insights? Utilize our live chat to speak with a customer service representative or e-mail us at help@sportsinsights.com.
David Solar is the Content Manager for Sports Insights and can be reached directly at David@sportsinsights.com
Join us live Sundays at noon ET
We're now holding our members-only live Sports Betting Hangouts Sunday mornings to prepare you for a full day of NFL games. Members, simply log into your account Sunday morning to access the hangout.
Not a member? Start a trial today to join our Sports Betting Hangouts held six days a week, plus all the other Sportsbook Insider Pro benefits.