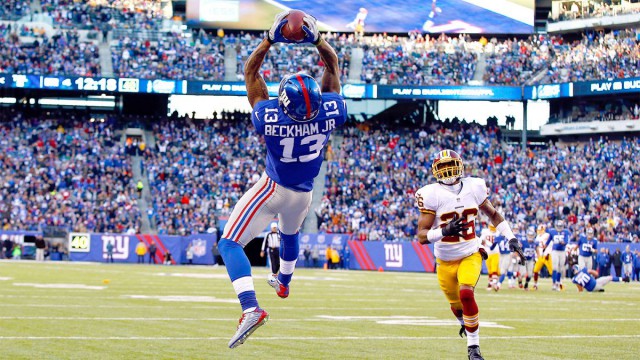 NFL Week 15: Updated Playoff Odds
As we enter the final three weeks of the NFL season, the postseason picture has begun to clarify. While the Panthers, Patriots and Cardinals have already clinched playoff berths, the Bengals, Broncos, Packers, Seahawks and Vikings could all potentially lock up spots with a win and/or losses from their closest competitors.
Barring a late season meltdown, there are effectively eight playoff spots that have been wrapped up. That means there are essentially three teams vying for two wild cards in the AFC, plus the division winners from the woeful AFC South and NFC East.
Every week our Bet Labs manager, Travis Reed, runs thousands of simulations to determine the most likely final standings for all 32 NFL teams. You can view his most recent simulations for the AFC South and NFC East:
Latest AFC South Simulation:

Texans 49.5%
Colts 40.1%
Jaguars 10.4%

— Bet Labs Sports (@Bet_Labs) December 15, 2015
Latest NFC East Simulation:

Redskins 37.6%
Giants 32.2%
Eagles 30.0%

— Bet Labs Sports (@Bet_Labs) December 15, 2015
These numbers came in contrast to the most recent odds at 5Dimes — one of the market-setting offshore sportsbooks. They listed the Colts (-145) as the favorite to win the AFC South and the Eagles (+135) as the favorite to win the NFC East.
The list below displays the odds for each team to win their division, along with the consensus point-spread for their Week 15 game. We should note that we eliminated the juice in order to calculate the implied probability for each team reaching the playoffs.
Philadelphia Eagles (6-7)
Yes +135, No -165
Implied Probability: 39.88%
Remaining Schedule: vs. Arizona Cardinals (+3.5), vs. Washington Redskins, at New York Giants
Washington Redskins (6-7)
Yes +180, No -240
Implied Probability: 32.20%
Remaining Schedule: vs. Buffalo Bills (+1.5), at Philadelphia Eagles, at Dallas Cowboys
New York Giants (6-7)
Yes +240, No -300
Implied Probability: 26.92%
Remaining Schedule: vs. Carolina Panthers (+4.5), at Minnesota Vikings, vs. Philadelphia Eagles
Dallas Cowboys (4-9)
Yes +5,000, No -15,500
Implied Probability: 1.00%
Remaining Schedule: vs. New York Jets (+3.5), at Buffalo Bills, vs. Washington Redskins
Before the start of the season we posted look ahead lines for every regular season game, but obviously a lot has changed over the past several months. For what it's worth, there have been a few "Game of the Year" lines posted, including one that could decide the NFC East.
In a game that could have major playoff implications, the Giants are listed as 2.5-point favorites for their Week 17 game against the Eagles

— Sports Insights (@SportsInsights) December 15, 2015
---
Indianapolis Colts (6-7)
Yes -145, No +115
Implied Probability: 52.86%
Remaining Schedule: vs. Houston Texans (PK), at Miami Dolphins, vs. Tennessee Titans
Houston Texans (6-7)
Yes +160, No -195
Implied Probability: 35.57%
Remaining Schedule: at Indianapolis Colts (PK), at Tennessee Titans, vs. Jacksonville Jaguars
Jacksonville Jaguars (5-8)
Yes +560, No -950
Implied Probability: 11.56%
Remaining Schedule: vs. Atlanta Falcons (-3), at New Orleans Saints, at Houston Texans
---
Although technically it's possible that a dark horse candidate can win out and crash the playoff picture, the most likely scenario has two of the following three teams making the playoffs: Kansas City, Pittsburgh or the New York Jets.
Kansas City Chiefs (8-5)
Yes -750, No +450
Implied Probability: 88.7%
Remaining Schedule: at Baltimore Ravens (-7), vs. Cleveland Browns, vs. Oakland Raiders
Pittsburgh Steelers
Yes -335, No +245
Implied Probability: 74.4%
Remaining Schedule: vs. Denver Broncos (-6.5), at Baltimore Ravens, at Cleveland Browns
New York Jets (8-5)
Yes +170, No -230
Implied Probability: 33.3%
Remaining Schedule: at Dallas Cowboys (-3.5), vs. New England Patriots, at Buffalo Bills
Based on the current odds at 5Dimes we can assert that oddsmakers believe that Philadelphia and Indianapolis will win their division, although the NFC East is clearly the tightest race. It also seems probable that Pittsburgh and Kansas City will snatch up those final two wild card spots.
---
These numbers are subject to change before kickoff, so bettors should be sure to visit our free NFL odds page for the latest lines, injuries, public betting trends and more.

Have any questions for the staff at Sports Insights? Utilize our live chat to speak with a customer service representative or e-mail us at help@sportsinsights.com.
David Solar is the Content Manager for Sports Insights and can be reached directly at David@sportsinsights.com.
Join us live Sundays at noon ET
We're now holding our members-only live Sports Betting Hangouts Sunday mornings to prepare you for a full day of NFL games. Members, simply log into your account Sunday morning to access the hangout.
Not a member? Start a trial today to join our Sports Betting Hangouts held six days a week, plus all the other Sportsbook Insider Pro benefits.