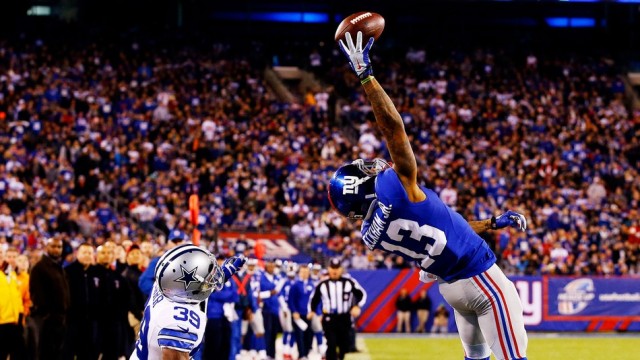 NFL Week 12 Betting Recap
– In Week 12 underdogs went 9-5 and are now 87-84 ATS this year. Home teams went 8-6 and are now 86-82 ATS on the year. It was also a nice week for contrarian betting as teams receiving less than 50% of spread bets went 9-5 ATS this week.
– The Oakland Raiders got their first win of the year on Thursday night, beating the Kansas City Chiefs 24-17. Oakland was listed at +300 to go winless at BetOnline prior to the game, and was +290 to beat KC.
– Sunday's most bet NFL games:
Lions-Patriots
Dolphins-Broncos
Packers-Vikings
Redskins-49ers
Cowboys-Giants
– Most popular parlays/teasers:
Packers (91%)
49ers (90%)
Patriots (85%)
Cowboys (85%)
– Despite having this weekend's highest over/under and putting up 50+ points in each of their last two games, Green Bay is listed behind Indianapolis, Philadelphia, and Denver for Sunday's top scoring team. The Eagles (+400) topped all teams with 43 points scored against Tennessee.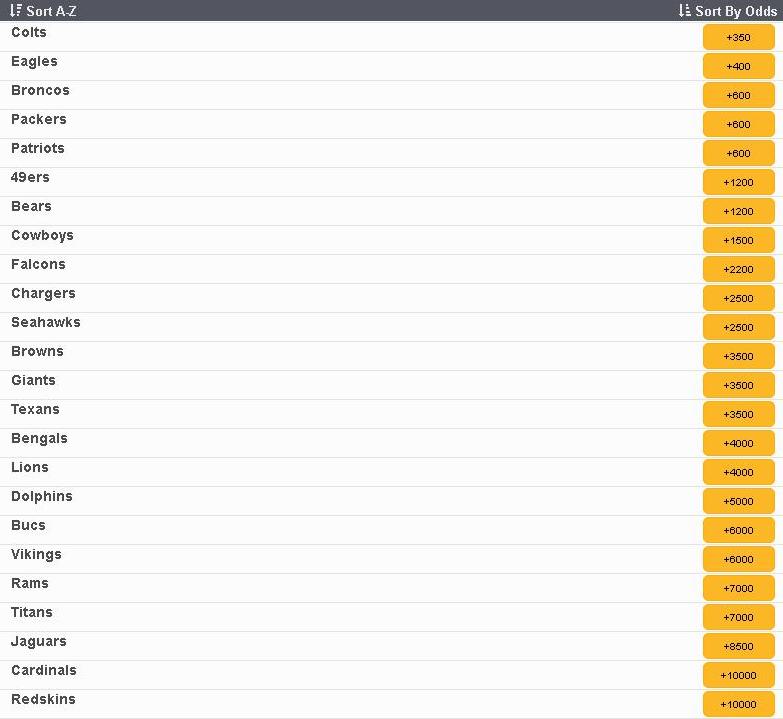 The #Patriots and #Packers have combined to go 213-148 ATS (59%) since the 2003 season.

— Bet Labs Software (@Bet_Labs) November 24, 2014
– In his first game back from suspension, BetOnline set the over/under for Josh Gordon receiving yards at 74.5 yards and the star receiver went off for 8 receptions and 120 yards. He was also listed at +100 to score a touchdown, but did not reach the end zone.
Thanksgiving Day odds (CRIS): Lions -6.5 vs Bears | OU 47.5 Cowboys -3 vs Eagles | OU 54 49ers -2 vs Seahawks | OU 40 — SportsInsights.com (@SportsInsights) November 24, 2014
#Packers #Patriots Total opened at 58 at Pinnacle, the highest opener on a total since December 25, 2004 (KC-OAK opened 59, closed 60). — Bet Labs Software (@Bet_Labs) November 24, 2014
It's early but #Packers (-3) are getting just 16% of spread bets vs. #Patriots. They haven't received <25% of bets since October 2008. — SportsInsights.com (@SportsInsights) November 24, 2014
NFL Futures (5Dimes) Patriots +425 Packers +490 Broncos +530 Seahawks +1150 Cardinals +1350 Eagles & 49ers +1800 Cowboys +2000 Colts +2150 — SportsInsights.com (@SportsInsights) November 25, 2014
– With Ryan Mallett (Pectoral) out for the season, Ryan Fitzpatrick will start at quarterback for the Texans on Sunday. Fitzpatrick is 5-4 ATS this season and 40-44 ATS all-time.
– There are currently four games off the board across the sports betting marketplace — all of which involve teams who played on Monday night: Cleveland at Buffalo, San Diego at Baltimore, New Orleans at Pittsburgh and Miami at New York Jets.
– NFL Week 13 current lines at Pinnacle versus preseason lines:
Chicago Bears at Detroit Lions (-7 | -3)
Philadelphia Eagles at Dallas Cowboys (-3 | -1.5)
Seattle Seahawks at San Francisco 49ers (pick 'em | -2.5)
Oakland Raiders at St. Louis Rams (-7| -5.5)
Cincinnati Bengals

(-3.5 | pick 'em) 

at Tampa Bay Buccaneers
San Diego Chargers at Baltimore Ravens (NA | -3)
Cleveland Browns at Buffalo Bills (NA | -2.5)
Tennessee Titans at Houston Texans (-6 | -5)
Washington Redskins at Indianapolis Colts (-10 | -6)
New York Giants (-2.5 | -5.5) at Jacksonville Jaguars
Carolina Panthers (-3 | -3) at Minnesota Vikings
New Orleans Saints at Pittsburgh Steelers (NA | -2.5)
Arizona Cardinals at Atlanta Falcons (+2.5 | -4)
New England Patriots at Green Bay Packers (-3 | -3.5)
Denver Broncos (-1 | -3) at Kansas City Chiefs
Miami Dolphins at New York Jets (NA | -1)
– Earlier this season we published an article about why former playoff teams were often undervalued following a loss. This system has gone 2-0 ATS this season and 63-31 ATS (+28.76 units) overall. Assuming the Chiefs continue receiving less than 30% of spread bets, they would be the third system match of the season.
– Most likely Super Bowl matchups via 5Dimes:
NE vs. GB +715
DEN vs. GB +744
NE vs. SEA +1755
DEN vs. SEA +1815
NE vs. ARI +2055
DEN vs. ARI +2130
NE vs. SF +2440
DEN vs. SF +2525
NE vs. PHI +2750
DEN vs. PHI +2850
– The first Super Bowl matchup future not featuring either the Patriots or the Broncos is IND/GB at +3275.
– Since last week the MVP odds remain essentially unchanged with two small exceptions: Texans DE JJ Watt moved from +2500 to 2000 and Packers WR Jordy Nelson made his debut at 50/1.
Aaron Rodgers -110
Peyton Manning +300
DeMarco Murray +1000
Andrew Luck +1200
Tom Brady +1200
JJ Watt +2000
Jamaal Charles +2500
Ben Roethlisberger +5000
Jordy Nelson +5000
Marshawn Lynch +5000
Rob Gronkowski +5000
– You can view the latest odds and public betting trends on our free NFL odds page, but here are some key Week 13 injuries to monitor:
Texans RB Arian Foster, Groin, Questionable
Broncos RB Montee Ball, Groin, Out
Vikings WR Cordarrelle Patterson, Knee, Questionable
Broncos CB Aqib Talib, Hamstring, Questionable
Broncos TE Julius Thomas, Ankle, Questionable
Cardinals WR Larry Fitzgerald, Knee, Questionable
Lions RB Reggie Bush, Ankle, Questionable
Chiefs S Eric Berry, Illness, Out For Year
– For the latest news and injury updates, make sure to visit our free NFL injury page.
– NFL Divisional Odds via Sportsbook.com
NFC East: Eagles -160, Cowboys +130
NFC North: Packers -1000, Lions +400, Bears +15000
NFC South: Saints -250, Falcons +280, Panthers +700, Buccaneers +15000
NFC West: Cardinals -150, Seahawks +300, 49ers +350
AFC North: Bengals +175, Ravens +200, Steelers +250, Browns +800
AFC West: Broncos -700, Chiefs +600, Chargers +900
– Early Super Bowl XLIX Line: NFC -1 | O/U 53.5
–  Have any questions for the staff at Sports Insights? Utilize our live chat to speak with a customer service representative or e-mail us at help@sportsinsights.com.
[adrotate group="4″]