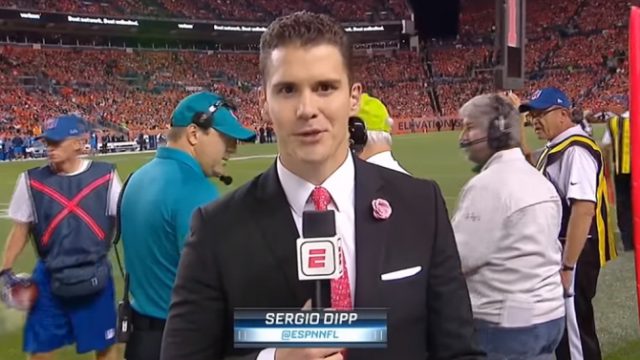 NFL Week 11 Opening Line Report: Wiseguys Can't Quit the Giants
Well, this past weekend ended up being rather uneventful. Let's hope week 11 is a bit more exciting! One thing that week 11 will certainly feature that week 10 did not is the return of our favorite sideline reporter. I'll give you a hint: he'll be having THE TIME OF HIS LIFE.
| Matchup | Bookmaker Current | Bookmaker Open | Westgate (11/7) |
| --- | --- | --- | --- |
| TEN @ PIT | PIT -7 | PIT -7 | PIT -7 |
| DET @ CHI | DET -3 | DET -3 | DET -2.5 |
| KC @ NYG | KC -10 | KC -12.5 | KC -9.5 |
| TB @ MIA | N/A | N/A | MIA -3 |
| BAL @ GB | BAL -2 | BAL -2.5 | BAL -3 |
| LAR @ MIN | MIN -2 | MIN -1.5 | MIN -3 |
| ARI @ HOU | N/A | N/A | ARI -2 |
| JAX @ CLE | JAX -7.5 | JAX -9 | JAX -7 |
| WAS @ NO | NO -9 | NO -8 | NO -7 |
| BUF @ LAC | LAC -4 | LAC -3.5 | LAC -3 |
| CIN @ DEN | DEN -2.5 | DEN-2.5 | DEN -2.5 |
| NE vs. OAK | NE -6.5 | NE -5 | NE -6 |
| PHI @ DAL | PHI -3 | PHI -3.5 | PHI -1 |
| ATL @ SEA | SEA -3 | SEA -3 | SEA -3 |
Bye week: Panthers, Colts, Jets, 49ers
Coming off a bye: Ravens, Chiefs, Raiders, Eagles
Let's start out by looking at the Chiefs vs. the Giants, perhaps the biggest disappointment in sports since the Red Sox signing of Pablo Sandoval.
KC (6-3 ATS) vs. NYG (3-6 ATS)
I'll be honest, I've bet on the Giants for a couple weeks in a row now. Not exactly helping my bankroll…
However, I may stay on the wagon this week, as they're a double-digit home dog, which they've only been twice since 2003. The last time it happened was in 2007 against the then-undefeated Patriots, where they lost by three points as a 13 point pooch.
Can you blame the books, though? The G-Men just lost to the freaking 49ers! And not even the Jimmy G 49ers, the C.J. Beathard 49ers. Nobody other than Mom and Pop Beathard even knew who this guy was before the season began.

With that being said, we've seen a few different bet signals triggered on the Giants. At Bookmaker, they quickly moved from +12.5 to +11 after opening and have since moved to +10, despite receiving just 20% of bets.
NE (5-4 ATS) vs. OAK (3-5-1 ATS)
The Pats and Raiders will head down to Mexico City to play in the clouds at 7,280 feet above sea level. At 86% of bets, the Patriots are getting the most lopsided support of any team this week and some books have already moved the line to -7.
With the other two 4 p.m. games being Bengals-Broncos and Bills-Chargers, this tilt should attract a high number of casual bettors, potentially creating some contrarian value. I doubt they'll be tuning in to watch the game, though, with the illustrious return of Sergio Dipp taking centerstage.
I need some Sergio Dipp props and I needed them yesterday.
PHI (7-2 ATS) vs. DAL (5-4 ATS)
This Sunday night game is very interesting from a betting perspective. The Cowboys are a home 'dog to their divisional-rival Eagles and are seeing just 19% of the early bets! Who would have guessed that?
Last week, without Ezekiel Elliott, the Cowboys sucked. Plain and simple. Meanwhile, the Eagles are coming off a bye and several shellackings in the weeks prior.

Even though the public doesn't like the Cowboys' chances, sharp bettors jumped on the opportunity to get Dallas +3.5, as we've tracked three bet signals on them and none on Philly.
Philly now sits at a juiced up -3 and could be there for a while. Given the Cowboys' popularity, situations such as this one don't happen very often. They haven't received fewer than 30% of bets at home since 2015, the season they finished 4-12.
Check the latest lines on our free odds page and try out the features you've seen above by trying out a pro membership.
Join us live Sundays at noon ET
We're now holding our members-only live Sports Betting Hangouts Sunday mornings to prepare you for a full day of NFL games. Members, simply log into your account Sunday morning to access the hangout.
Not a member? Start a trial today to join our Sports Betting Hangouts held six days a week, plus all the other Sportsbook Insider Pro benefits.