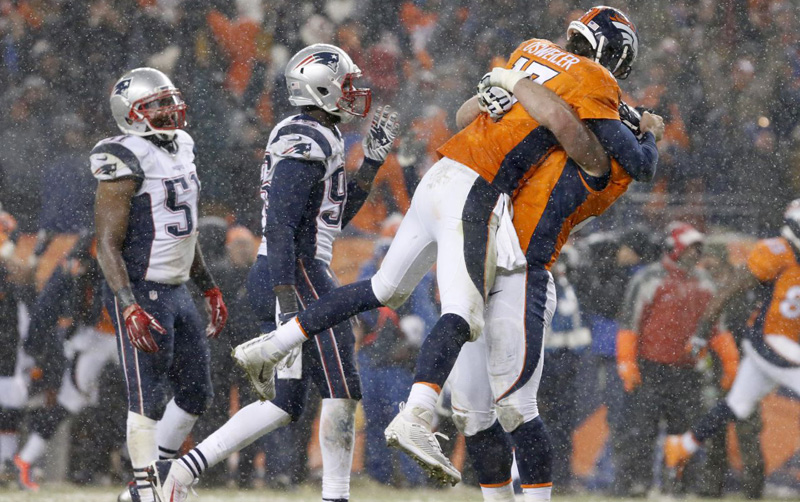 Like It or Not, Sportsbooks All-In on Brock Osweiler
The combination of the New England Patriots and Sunday Night Football is the perfect recipe for heavy public action. Throw in the Denver Broncos, coming off a 28-point loss to the Philadelphia Eagles, and that already massive handle is now extremely one-sided.
According to the Sharp Action Report, included in all of our Sportsbook Insider subscriptions, New England is by far the most popular Week 10 bet among NFL bettors in both percent of spread tickets and actual dollars wagered.
Not only will sportsbooks need Denver to keep this game close to survive normal spread bets, but New England is going to be a very popular leg in Week 10 teasers and parlays. A little-known but very valuable feature of our Sportsbook Insider Advantage subscription is the ability to track which teams are the most popular bets in teaser and parlay wagers.
A stunning 91% of bettors that included this matchup in parlays or teasers has taken the Patriots, meaning sportsbooks are going to be very nervous Sunday night should the public have a big day through the afternoon games. In terms of parlay exposure, here are the games to keep an eye on to determine just how badly the books are going to need Brock Osweiler to play like anyone other than Brock Osweiler.
| Team | Opponent | Parlay % | Line |
| --- | --- | --- | --- |
| Patriots | Broncos | 91% | -7.5 |
| Rams | Texans | 86% | -10.5 |
| Cowboys | Falcons | 86% | -3 |
| Titans | Bengals | 77% | -4.5 |
| Lions | Browns | 75% | -10.5 |
Want to take our Sharp Report, real money splits and betting percentage data (including parlay percents) for a spin this weekend? All our included in our new Sportsbook Insider Advantage subscription for only $39/month.