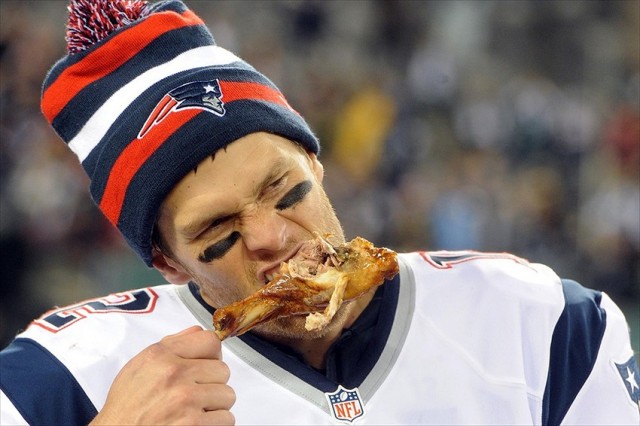 NFL Thanksgiving Day Betting Guide
Although Christmas seems to get all the love, is there any better holiday than Thanksgiving? After all, it features arguably the four most popular American pastimes: eating, drinking, napping and watching football…not necessarily in that order. Tomorrow's slate of action features three exciting games including:
Chicago Bears at Detroit Lions (-7) at 12:30PM et
Philadelphia Eagles at Dallas Cowboys (-3) at 4:30PM et
Seattle Seahawks at San Francisco 49ers (-1) at 8:30 PM et
Regardless of whether you're enjoying Thanksgiving Day football with friends and family or using it as an escape from those very same people, we've got you covered with everything that you need to know.
1) Favorites Have Been Vastly Underrated
In the past we've discovered that when two teams face each other on short rest, the favorite has been historically undervalued. According to our Bet Labs software, favorites are 55-41 ATS since 2003 when playing on 4 days of rest or less. This seems to give the edge to Detroit, Dallas and San Francisco, but additional research reveals even more.
By using the "Thanksgiving Day" filter listed under "Tournament Info" we're able to highlight every Turkey Day game dating back over a decade. This research revealed that favorites have gone 19-7 on the last Thursday of November including a 12-0 record for favorites of at least five points. Looking to bet the moneyline? Favorites have gone 23-2 straight up during time period.
2) QB Performance
Mark Sanchez has certainly exceeded expectations in his limited time as the Eagles quarterback, passing for at least 300 years in all three of his starts this season. However, the last time Sanchez played on Thanksgiving this happened: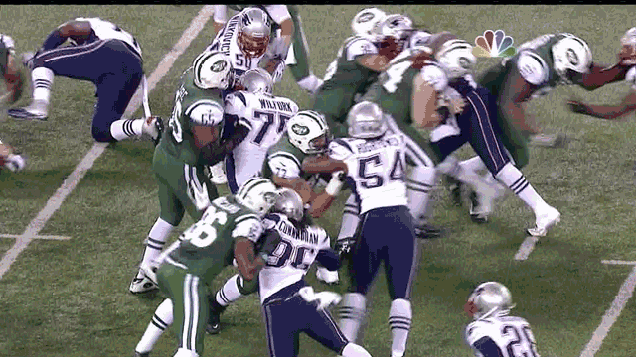 We're cautiously setting the over/under on butt fumble references at 3.5 although you can't blame the production crew if they milk this clip for all it's worth. It's the gif(t) that keeps on giving. That said, you have to feel sorry for Mark Sanchez when your entire career is overshadowed by one humiliating play.
While many fans regard Sanchez as a subpar quarterback, he's actually the third most profitable quarterback playing in tomorrow's games. Meanwhile, bettors would have lost 26.7 units betting on every single Jay Cutler game — 12+ units more than the second worst quarterback (Daunte Culpepper).
The list below displays the all-time ATS (against the spread) record for each starting QB along with their record on Thanksgiving.
Russell Wilson 27-16 ATS (0-0)
Colin Kaepernick 21-13 ATS (0-0)

Mark Sanchez 31-33 ATS (1-1)

Tony Romo 55-61 ATS (4-3)
Matt Stafford 29-40 ATS (2-2)

Jay Cutler 44-68 ATS (0-0)
3) 1st and 2nd Half Betting
Earlier in this piece we mentioned how favorites have provided tremendous value to bettors when playing on short rest, and that applies to 1st or 2nd half bettors as well. Since 2003, favorites have gone 16-8 on the 1st half line while favorites have gone 20-6 on the 2nd half line. Second half bettors may also be interested to know that favorites of at least 3.5 points have gone 12-2 ATS while teams winning at halftime have gone 15-10 ATS.
4) Winning Teams
Additional research revealed that teams who won at least 9 games the previous season have gone 10-3 ATS on Thanksgiving. That's worth noting because the Seahawks (13), 49ers (12) and Eagles (10) all fit this criterion, though Seattle and San Francisco face each other so we would avoid this matchup.
We also found that teams coming off a win have gone 19-15 on Thanksgiving. When we hide all duplicates (when two teams off a win play, the resulting record will always be 1-1), that record moves to 7-3.
5) Stout Defenses
Additional research found that teams allowing less than 110 rushing yards/game have gone 20-12 ATS on Thanksgiving, however, only Dallas (107.2) and Philadelphia (109.0) fit these criteria.
We also learned that teams allowing 23 points per game or less have gone 19-12, but once we eliminate all duplicates that record moves to 11-4. The only team with a defense of this caliber is the Detroit Lions who are allowing just under 16 points per game.
6) Buy on Bad News, Sell on Good News
We often advocate a contrarian strategy which not only includes betting against the public, but also capitalizing on market overreactions. Teams coming off of a loss are typically undervalued, and that edge is amplified when teams are coming off a blowout loss. Since 2003, teams coming off a loss of 20+ points have gone 322-275 (53.9%) with +29.01 units won including a 22-18 ATS mark this season.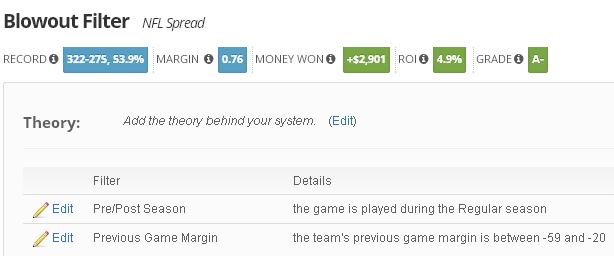 Based on this information, the Lions could be offering value following their 34-9 loss in Week 12 against the Patriots.
7) Player Props
On Wednesday morning the popular offshore sportsbook Bovada posted player props for all of the Thanksgiving Day games. Bettors can select which player they believe will record the most passing yards, rushing yards and receiving yards this Thursday. The table below displays the current odds and will be updated if additional props are posted.
Passing Yards
| Player | Team | Odds |
| --- | --- | --- |
| Matthew Stafford | Detroit Lions | +200 |
| Mark Sanchez | Philadelphia Eagles | +250 |
| Tony Romo | Dallas Cowboys | +350 |
| Jay Cutler | Chicago Bears | +500 |
| Colin Kaepernick | San Francisco 49ers | +700 |
| Russell Wilson | Seattle Seahawks | +1200 |
Rushing Yards
| Player | Team | Odds |
| --- | --- | --- |
| Demarco Murray | Dallas Cowboys | +100 |
| LeSean McCoy | Philadelphia Eagles | +300 |
| Marshawn Lynch | Seattle Seahawks | +500 |
| Matt Forte | Chicago Bears | +700 |
| Joique Bell | Detroit Lions | +1000 |
| Frank Gore | San Francisco 49ers | +1200 |
| Russell Wilson | Seattle Seahawks | +1800 |
| Colin Kaepernick | San Francisco 49ers | +2500 |
Receiving Yards
| Player | Team | Odds |
| --- | --- | --- |
| Calvin Johnson | Detroit Lions | +350 |
| Golden Tate | Detroit Lions | +350 |
| Dez Bryant | Dallas Cowboys | +450 |
| Jeremy Maclin | Philadelphia Eagles | +500 |
| Alshon Jeffrey | Chicago Bears | +700 |
| Brandon Marshall | Chicago Bears | +900 |
| Anquan Boldin | San Francisco 49ers | +1000 |
| Michael Crabtree | San Francisco 49ers | +1400 |
| Matt Forte | Chicago Bears | +1400 |
| Jordan Matthews | Philadelphia Eagles | +1500 |
| Doug Baldwin | Seattle Seahawks | +3300 |
This weekend only we're extending our Sportsbook Insider Pro trial from 4 to 6 days, so sign up today and receive two additional days of real-time odds from 50+ sportsbooks, public betting trends, Best Bet picks, Bet Signals and more. Right now we have four pending College Football Best Bets (61-45, +10.39 units) with additional picks set to be released shortly.
Have any questions for the staff at Sports Insights? Utilize our live chat to speak with a customer service representative or e-mail us at help@sportsinsights.com.
[adrotate group="4″]