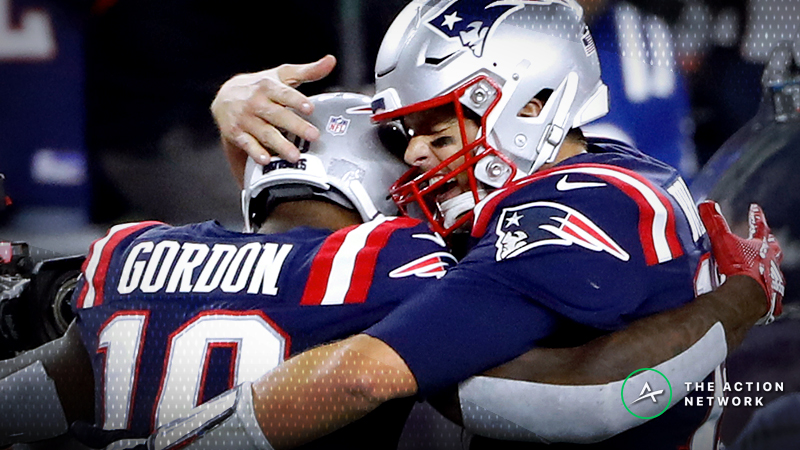 Week 8 NFL Survivor Pool: Is It Time to Use New England?
It's Week 8 of your NFL survivor pool. Last week we pondered whether or not we could trust the Colts, and it turns out we could. The hapless Bills couldn't get anything going, and Indianapolis didn't even give us a sweat.
We didn't get any big upsets to help us out (good try Tennessee) and give us more equity, but hopefully you have positioned yourself for a run toward the end of the season.
Note that I will give advice on teams that I have already used in my pools. We have all taken different paths to get to this point, so I'll treat every team as an option.
Let's take a look at the win percentages for every game in Week 8 and beyond:
There are five teams with projected win percentages of 70% or higher. I've also included the Bears on the next table as they are a popular option this week.
The most popular pick is the Steelers. They are coming off a bye and play the Browns, who have struggled to close out games. The two teams met in Week 1 and tied.
Pittsburgh is the worst play of the week considering the pick percentages. Other teams have higher win percentages and give you more contrarian value.
I added Chicago because 17% of picks are taking the Bears right now. The Bears are touchdown favorites and haven't had much value in earlier weeks.
But if you look at the schedule, they are projected to be the best option next week against the Bills. It's a weak slate of options in Week 9, and my plan as of now is to use Chicago then.
The model thinks the Chiefs shouldn't be 10-point favorites against their division rival, and there are better options down the road for Kansas City, including Week 10 against Arizona.
The choice comes down to the three teams with the highest projected win percentages this week: Patriots, Rams or Texans.
The Texans have zero games remaining that look viable while the Rams and Patriots both have three. If you look ahead, you'll see that most of those options come at the very end of the season.
The Pick: New England Patriots
New England has good options remaining, but they are in Weeks 14, 16, and 17. I would guess most of your pools will be over by then anyway. Saving the Pats could end up like Andy Reid having three timeouts left heading into halftime.
The Texans are tricky because they hold no future value. If you are in a bigger pool that expects to go the distance, then you can make the case for Houston, but taking the Patriots gives you the most expected value this week.
My projected plan is to use Patriots, Bears, Chiefs, Ravens and Chargers over the next five weeks, but that is almost assuredly going to change. Still, it's a good exercise to plan out future weeks to help with your current options.
As always, if you have any questions feel free to hit me up on Twitter @BetLabsTravis.
This article was originally posted on ActionNetwork.com by Travis Reed. Sports Insights is part of The Action Network.