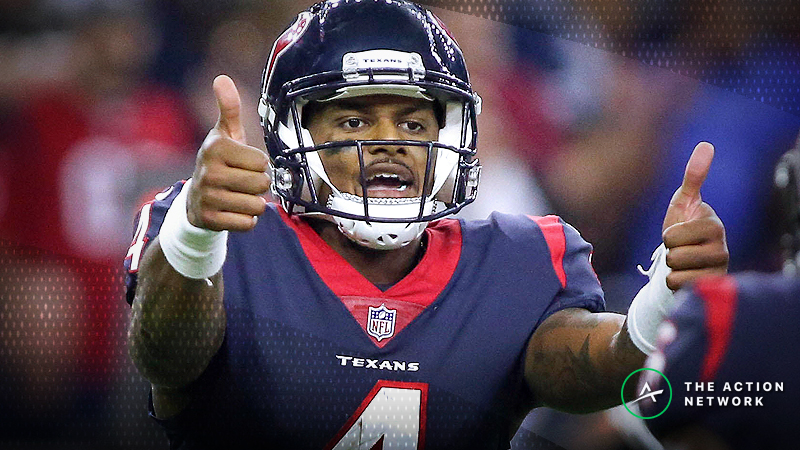 Week 6 NFL Survivor Pool: Is Picking Houston a Problem?
Last week there were a couple of close calls. My favorite choice was the Bengals, who scored 24 points in the fourth quarter to get past the Dolphins.
The Panthers needed a 63-yard field goal to squeak out a win over the Giants. The Titans weren't so lucky as they lost in Buffalo as the fourth-most popular pick.
Many survivors decided to avoid the mess and just take New England in the Thursday night game against the Colts. The Patriots cruised and no sweat was needed, but I think having New England in later weeks will pay off.
Let's take a look at Weeks 6-17 for all 32 NFL teams.
The model gives four teams at least a 70% chance to win this week. I'll also add the Falcons who just missed the cut.
Here are the key stats for Week 6. Games Left refers to the number of games left in which each team is projected to have a win percentage of 70% or higher this season.
Let's quickly eliminate the Rams as an option this week. They have two receivers in concussion protocol, there's a chance of snow in Denver, and most importantly, they have five games remaining on the schedule from which to pick.
As quickly as I added Atlanta to the table, we can quickly dismiss the Falcons as well. The model is higher on the Falcons than the betting market is, but there are too many good options this week to go that contrarian.
That leaves the Vikings, Texans and Packers. When looking at the pick percentages this week, this is actually a pretty easy call.
The Pick: Houston Texans
We saw this same thing happen in Week 4. The Bills won the previous week, so everyone got cold feet going against them. In addition, Houston doesn't have much future value as its only other reasonable play comes in Week 8 against Miami.
Week 8 happens to be the week New England plays Buffalo for the first time. While many were able to cruise through Week 5 with the Patriots, it may come back to bite them in a couple of weeks.
This article was originally posted on ActionNetwork.com by Travis Reed. Sports Insights is part of The Action Network.