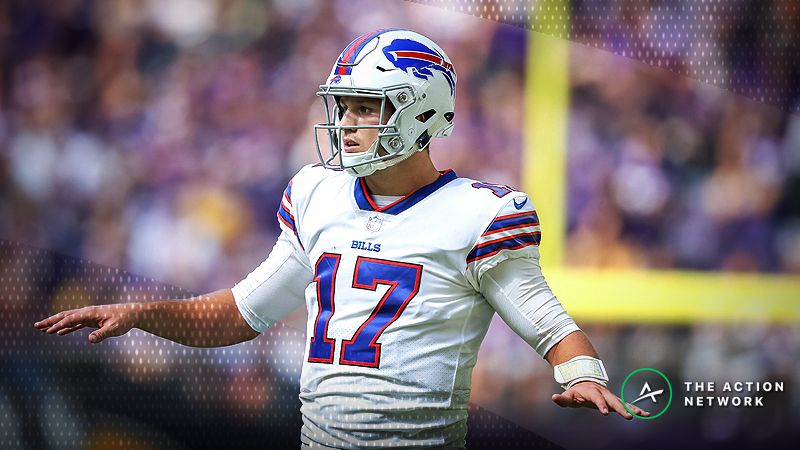 NFL Second-Half Betting: Look for Blowouts and Big Underdogs
The Buffalo Bills pulled off the NFL's biggest upset since 1995 with their 27-6 win over the Minnesota Vikings last week. Few expected the Bills to be competitive, let alone win outright.
Despite the staggering 16.5-point spread, 68% of bettors laid the points with Minnesota. Trailing, 27-0, at halftime, the Vikings were listed as 13-point second-half favorites.
Desperate to recoup a surely lost full-game bet, 88% of gamblers wagered on Kirk Cousins & Co. to rebound in the second half. Once again, Minnesota failed to reward bettors, outscoring Buffalo just 6-0 in the final two quarters.
Bettors did not Vike That.
The Bills winning outright was stunning but Sean McDermott's team covering the second-half spread was expected.
Here are two profitable strategies for wagering on NFL second-half spreads:
Take large second-half underdogs
Take teams that are winning big at halftime
So you don't fall into the same trap as the Vikings bettors in Week 3, let's walk through each betting tactic and explain why it works.
First, for anybody unfamiliar with the concept of second-half (2H) betting, it is simple: Whenever a game goes into halftime, oddsmakers will post lines for the second half of the game. This solely reflects the points scored in the second half, not the final score.
Large Second-Half Underdogs
Since 2003, second-half underdogs are 1,631-1,628-115 (50%) against the spread (ATS). While it has not been profitable to wager on all second-half dogs, there has been value betting teams getting seven or more points.
According to Bet Labs, second-half underdogs of at least seven points have gone 147-98-25 (60%) ATS since 2005.
It is difficult to cover a big spread in the NFL, especially when a team only has two quarters to accomplish the feat.
Winning Big at Halftime
A popular belief among casual bettors is that teams that struggle in the first half are likely to make the necessary halftime adjustments to get back in the game, and teams winning big are likely to regress. However, our data shows that teams winning after two quarters keep on winning.
A larger first-half margin of victory leads to a better second-half win rate. Since 2003, teams leading by 14 or more points at halftime are 425-354-17 (55%) ATS in the second half.
Before running to the bathroom or grabbing another beer at halftime, check the second-half spread. If a team is a large underdog or winning big, history suggests it will be undervalued by the betting market.
This article was originally posted on ActionNetwork.com by John Ewing. Sports Insights is part of The Action Network.