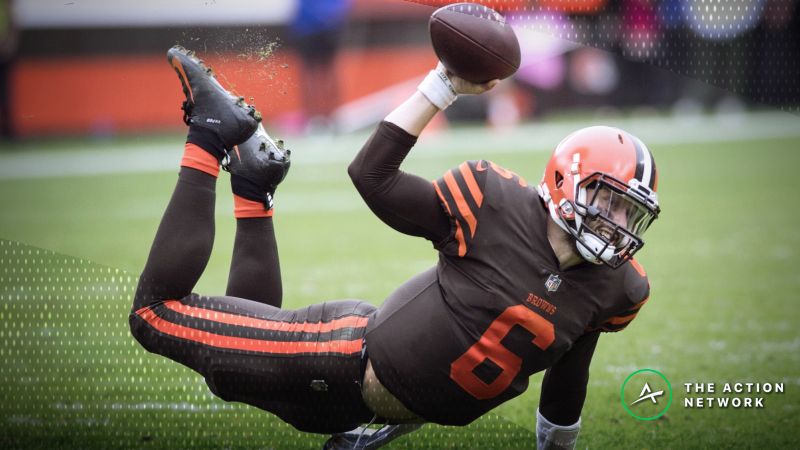 Bettors Fading Mayfield, Browns in NFL Week 9
Public bettors are attempting to fight their way out of the hole they dug over the first handful of weeks this season. Overall, teams getting at least 70% of spread bets are just 8-15-1 against the spread (ATS), but were 3-1 ATS in Weeks 7 and 8.
The GOAT Nick Mullens got the public off to a poor start on Thursday night, easily destroying the Raiders despite receiving just 29% of bets.
Here are the rest of the public's favorite plays in Week 9:
Kansas City Chiefs (-9) at Cleveland Browns
1 p.m. ET Sunday, CBS
At 84% of bets, the Chiefs are easily the most popular pick of the week. They opened at -8.5/-9 around the market and can be found anywhere between -8 and -9 now.
Historically, teams getting at least 80% of spread bets have covered just 44.4% of the time since 2003.
Why the public loves the Chiefs: The Chiefs have been dag gum terrific ATS this season with a league-best 7-1 record. Generally speaking, bettors like to ride the hot hand so it's not surprising to see Kansas City getting the large majority of bets.
Meanwhile, the Browns are axing staff members left and right. Lord knows what they'll look like this weekend and I guess bettors are waiting to see how they look before putting hard-earned coin on the line.
Pittsburgh Steelers (+2.5) at Baltimore Ravens
1 p.m. ET Sunday, CBS
This big divisional showdown is a lopsided affair, with Pitt getting 77% of bets as a slight road pooch.
Teams getting 70% or more bets have covered slightly over 48% of the time, but have fared a bit worse against divisional opponents. Out of 1,200+ teams in our database that have received at least 70% of bets, just 70 have been underdogs.
Fun fact: This could be the fourth straight week that the Ravens close as 2.5-point favorites.
Why the public loves the Steelers: If this game was played a few weeks back, I'm sure the betting percentages would be different.
However, with the Steelers winning and covering three straight games and the Ravens losing and failing to cover in three of their past four, bettors are expecting the trends to continue.
Detroit Lions at Minnesota Vikings (-5.5)
1 p.m. ET Sunday, FOX
This game has the most interesting line movement of the bunch. Minnesota, which is receiving 74% of bets, moved from -5.5 to -3.5 at BookMaker within the first 24 hours of opening.
On Tuesday, it moved from -3.5 to -5. On Halloween, the Vikings dropped back down to -4, but have since moved back to the opener of -5.5. What a roller coaster.
Why the public loves Minnesota: Minnesota hasn't exactly lived up to expectations this season, but it is still looked upon favorably compared to the Lions.
Folks still believe Minnesota can play like it did last season, but its defense is allowing nearly 10 more points than it did in 2017.
I'm actually a bit surprised more people don't like Detroit, which is tied for the second-best ATS record in the league at 5-2.
This article was originally posted on ActionNetwork.com by Mark Gallant. Sports Insights is part of The Action Network.