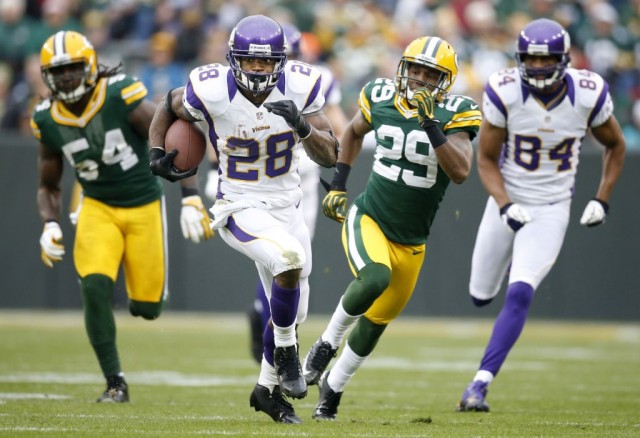 NFL Playoffs: Does Public Betting Create Postseason Value?
After a thrilling slate of Week 17 action, our playoff picture is set and there is no shortage of surprises. Both Peyton Manning and Adrian Peterson rebounded from potential career-ending injuries to lead their teams into the postseason. Three rookie quarterbacks were able to defy the odds and earn playoff berths. The Texans — who started the year with an 11-1 record — somehow lost three of their final four games, setting up a first-round matchup with the Bengals.
While all twelve of these playoff teams have to be excited with their seasons up to this point, the same can be said for contrarian bettors. Our NFL Marketwatch (7-4) and Best Bets (32-26) both produced profitable seasons while the 80/20 Betting Rule (88-68) continues to shine. However, many of our customers and followers have recently asked whether or not betting against the public has been historically profitable during the postseason as well. The simple answer: yes, it has.
The table below, using line data from Pinnacle, shows performance of contrarian betting on NFL playoff games since 2003.
| | | | |
| --- | --- | --- | --- |
| Filter | Record | Units Earned | Return on Investment |
| All Underdogs | 59-44 | +12.6 | 12.2% |
| Dogs Receiving <49% | 34-24 | +8.5 | 14.7% |
| Dogs Receiving <40% | 16-9 | +6.2 | 24.8% |
As you can see, underdogs have done an exceptional job of covering the spread during the postseason, but as we begin to add our betting against the public filters, we can improve our expected returns. When we add in our public betting data, there are fewer results (and thus a lower units earned), however, our return on investment (ROI) increases with each filter that we layer on.
The first filter we used was very basic, looking exclusively at underdogs receiving less than 49% of spread bets at our contributing sportsbooks. Those teams have an impressive 34-24 record and a 14.7% ROI. But when we get more specific and examine teams receiving less than 40% of spread bets, that ROI shoots up to 24.8%. It's worth noting that this is a somewhat limited sample size, however, it does fit with the regular season public betting trends we have observed.
During the regular season it is very strange to see an underdog receiving a majority of spread bets, however, clearly that trend changes once we reach the postseason. At the time of publication the Bengals (+4 at Houston), Vikings (+8 at Green Bay) and Colts (+6.5 at Baltimore) are all receiving a majority of spread wagers. Strangely enough, the only favorite receiving more than fifty percent of spread bets is Seattle — a three-point road favorite against Washington.
We will continue to monitor these games throughout the weeks, but make sure to check out our NFL Betting Trends page as these public betting trends continue to fluxuate.