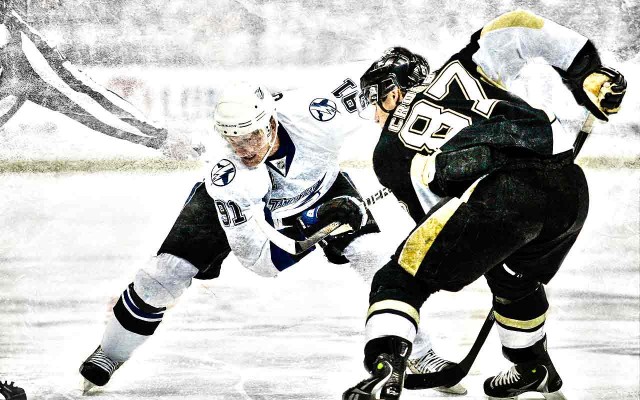 2013-14 NHL Betting Against the Public Report
The 2013-14 NHL Season is upon on and the dedicated team of statisticians and data analysts at Sports Insights have been working non-stop to update our popular series of "NHL Betting Against the Public" articles to help bettors improve their NHL betting results. Although hockey does not carry the same popularity as basketball, football or even baseball, there is an incredible betting opportunity to sharp bettors.
To determine the sweet spots for betting against the public, our first move was to consult our Bet Labs software and create a new NHL betting system. We were already well aware that our contrarian philosophy had been historically profitable, so our first objective was to find the ideal betting percentages for betting against the public. By adjusting the slider on the "Moneyline %" filter, we easily ascertained that it was most profitable to bet on teams who receive less than 35% of public wagers.
Our next move was to find the ideal moneyline range. We were already well aware that the public loves to bet on favorites and thusly the value would come from betting against the public and examining solely underdogs. Knowing this information, we decided to add the "Moneyline Range" filter. Pinnacle — whose lines are used within Bet Labs — typically increases the juice on their lines at +170, so we hypothesized that there would be value lost if we included huge underdogs. This theory was quickly verified, and our ideal moneyline range was determined to be in between +101 and +180.
As you can see in the graph below, this very basic system of taking underdogs of under +180 and receiving less than 35% of money line bets had produced positive results.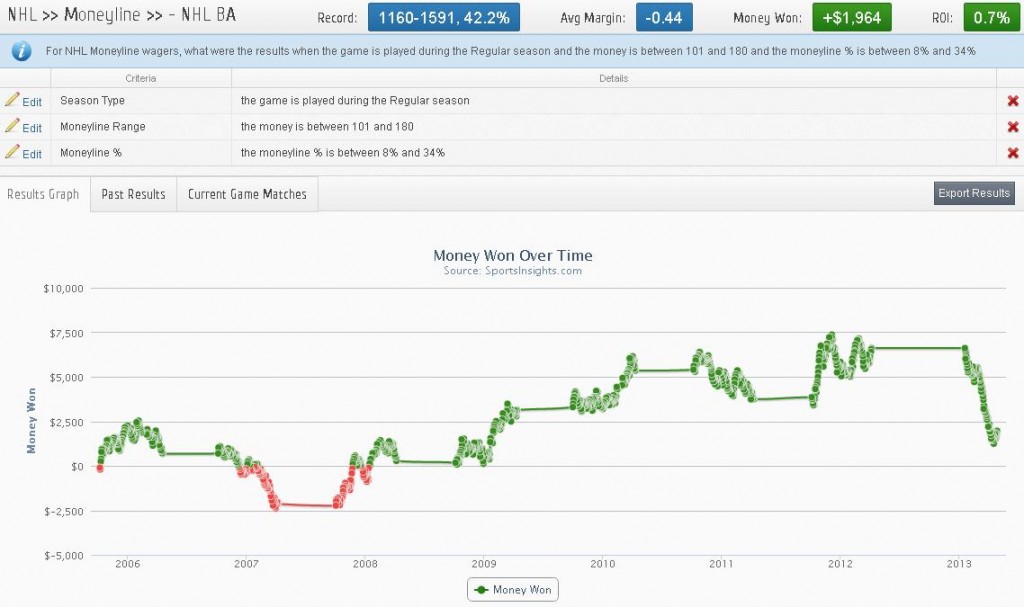 While this system has been historically profitable, you may notice a large downturn last season. In fact, last year this system lost 46.49 units or 70.3% of this systems previous value. Our theory for this massive collapse is that the increased number of back-to-back games during the strike shortened season disproportionately affected underdogs, and sportsbooks were slow to adjust.
Although this system has been historically profitable and shows a definitive edge for betting against the public, there are a number of filters we knew could be added to easily increase our return on investment. In both baseball and hockey we have noticed that a correlation between higher totals and an increased winning percentage for underdogs. The reasoning is simple: High-scoring games are less predictable, and this benefits the team receiving plus money. By simply focusing on games in which the total was at least 5.5, we are able to more than double our ROI from 0.7% to 1.5%.
We are also aware that the general public tends to vastly overrate home field advantage, and this is an exceptional loophole to exploit. Unlike baseball where every ballpark is unique and the home team receives the final at-bat, there is no discernible advantage for the home team in hockey. Still, the disparity between home and road underdogs is nothing short of mind-blowing. Since 2005, home teams fitting the aforementioned criteria have gone 424-601 for -53.92 units and a -5.3% return on investment. This is in stark contrast to similar road teams who have posted a 539-703 record, with a staggering +88.88 units won and a 7.2% ROI.
With a sample size of over 1,200 games, consistent year-to-year results (with the exception of last season's -2.25 unit loss), and broad ranges for our data, this system fits all three traits for a winning betting system. However, we're not done yet.
We constantly preach the importance of buying on bad news and selling on good. The public tends to overreact to recent trends and fail to take a step back and observe the broader picture. The public loves to bet teams in the midst of winning streaks and fade teams during losing streaks, and this can create yet another opportunity for sharp bettors to pounce on weak lines.
By using the "Win/Loss Streak" within Bet Labs, we can focus on teams who are in the middle of a losing streak. After adding this filter, our number of past system results is nearly cut in half, which causes a reduction in overall units earned (from 88.88 to 64.23). Despite this drop-off, our return on investment actually increases to 9.4% (10.8% if we don't include the strike shortened 2012-13 season).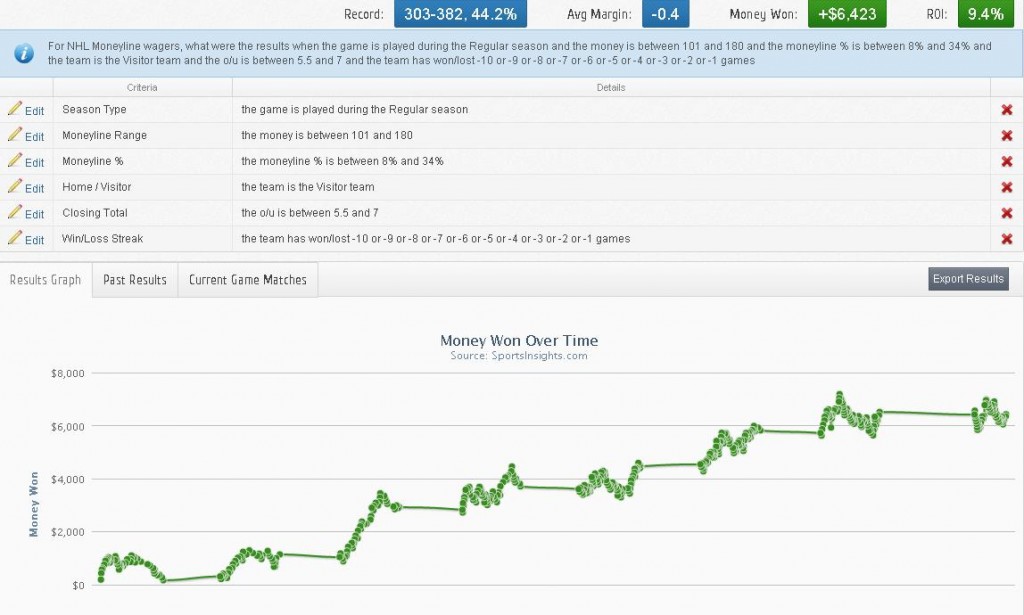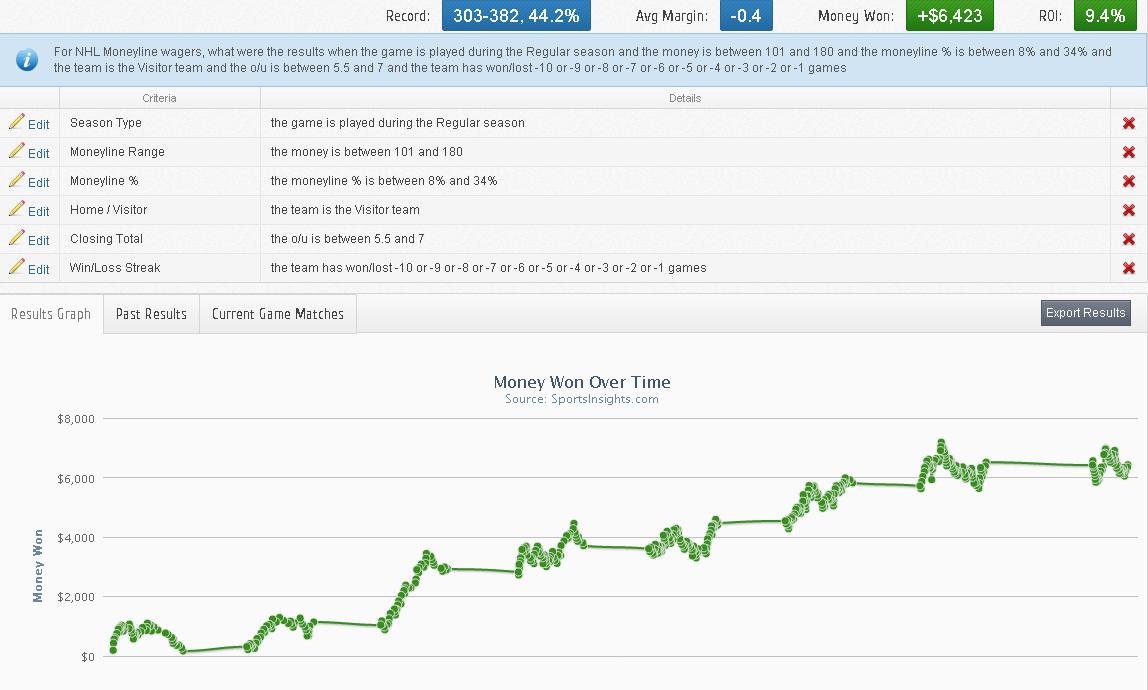 Want to be alerted every time a game fits these filters? Sign up for a 6-day Bet Labs trial for just $25 to follow this NHL betting system.